Middle Fork American River Rafting
Location
American River, CA
Adventure Level
Moderately Challenging
Minimum age
14
From
$169
Ultra-exciting and scenic, a Middle Fork American River rafting trip is a must-do for all rafting enthusiasts!
The Class IV Middle Fork of the American River rushes through a pristine, secluded canyon where a melee of pounding whitewater and the beauty of the Sierra Nevada foothills combine to offer an incomparable California whitewater rafting adventure near Sacramento. In 1889, in search of gold buried beneath the American River, miners blasted a tunnel through the side of a cliff to divert the water, creating one of the most unique whitewater features anywhere in the world. Now known as "Tunnel Chute," this tumultuous rapid drops six vertical feet before concluding with a celebratory float through a 90-foot tunnel. While Tunnel Chute is the heart-pounding highlight of this thrill-packed Middle Fork American rafting experience, numerous other Class III & IV rapids make the Middle Fork one of the best rafting trips in the country.
Trip Highlights
16 miles of Class IV California whitewater rafting combined with scenic Class I-II paddling in the Sierra Nevada
Float through a 90-foot-long tunnel blasted out by gold miners
Raft 9 major adrenaline-inducing rapids like Chunder, Parallel Parking, Texas Chainsaw Mama, and Final Exam
Delicious riverside picnic lunch
A Middle Fork American River rafting trip is an adventurous day trip or weekend getaway from San Francisco, Sacramento, or Lake Tahoe
Save 10% When you Book Online
What to Expect
Itinerary & Map
Itinerary at a Glance
We pride ourselves in running a relaxed and flexible schedule. Every Middle Fork American River rafting trip is different depending upon the group, other trips on the water, camp locations, and sometimes the weather. The following is a sample of what your trip might be like:
The morning of your trip, you'll meet up with your trip leader and fellow travelers at our meeting location near Auburn, CA. Once everyone has arrived, we will take a 45-minute shuttle ride to our put-in at Oxbow Reservoir.
At the put-in, the guides will unload and rig the boats, deliver an orientation and safety talk and fit you with your helmet and PFD (wetsuits and splash tops also included on all early-season and cold weather trips). Then, we're off down the river!
Aptly-named Good Morning—a big-wave Class III rapid—gets our blood flowing and hearts pumping right out of the gates on our Middle Fork American River rafting trip.
Several more Class II-III rapids come in quick succession. Then, the ominous roar of the famous Tunnel Chute is the presage we hear before the river rushes downward 25 feet through a man-made chute and then into a 90-foot tunnel blasted through the canyon wall. (Some guests and groups of guests may be asked by the guides to walk around Tunnel Chute.)
After Tunnel Chute, the thrilling action does not stop with big, steep rapids like Cathedral and Kanaka Falls. Then the river changes considerably, meandering over several miles of calm water and allowing us the opportunity to rest while gazing at the beautiful scenery. Now in the heart of Auburn State Recreation Area, steep walls covered in pine forests plunge down into the boulder-strewn river. In spring, the green hillsides are adorned with colorful wildflowers; later in the season, the hills turn a golden yellow that contrasts sharply with the green woods.
Come lunchtime, we will pull over to a beach for a delicious picnic prepared by your guides. This is the perfect opportunity to kick back and recount the day's highlights so far.
Back on the raft, we'll continue through the scenic flat water section before we prepare for another long stretch of continuous whitewater action. An intense Class IV drop, Chunder, provides thrills and chills before we get out of the boats and scramble around the roaring, 30-foot waterfall, Ruck-A-Chucky Falls. As we negotiate the rugged path around the side of the pounding falls, you can look back up to watch your guides maneuver the rafts down this dramatic stretch of whitewater.
Our day concludes with another mile and a half of great whitewater and rapids. As we reach our take-out, an OARS shuttle will be waiting to return us to our vehicles.
Meeting Time & Place
Location
Driver's Flat Trailhead on Foresthill Rd near Auburn – do not go down Drivers Flat Road which turns to dirt, our meeting location is just past this on the left (heading east).
Meeting time
8:00 AM
Return
Approximately 3:30 – 4:00 PM
Trip Map
Camp With Us!
Limited camping for rafters is available before and/or after your trip at the OARS American River Outpost in Lotus. All nights of camping are $15 per person/night. Advance reservations are required. Please ask an Adventure Consultant about the details of staying at our beautiful riverside camp.
Campground Amenities
Located on twelve gorgeous acres, stretching over a third of a mile on the riverfront, the OARS campground offers modern shower and bathroom facilities, a small store (cash currently not accepted; cards and electronic payments only), beach and river access, camp games, and free WiFi. All within a few minutes walk of Sierra Rizing Bakery & Coffee House and a handful of other local restaurants.
Don't have your own gear? Rental options include:
Sleep Kit (sleeping bag, pad, pillow & sheet): $25 per person
2-Person Tent: $30
4-Person Family Tent: $50
2-Person Pre-set Platform Tent (with 2 comfy twin beds, all bedding, and a private deck with two chairs): $99/night + $15/person/night camping fee
Please note that camping reservations must be made in advance of arrival and guests may check-in between 3:30 and 8 PM. Platform tents are refundable if canceled at least two calendar days prior to scheduled arrival; cancellations within 48 hours of scheduled arrival will be non-refundable.
Dates & Prices
Late May – September: Wednesday – Sunday
| 2023 Departures | Price |
| --- | --- |
| Whitewater Wednesdays | $169 |
| Weekdays | $179 |
| Saturdays | $199 |
| Sundays | $199 |
Full payment is required at the time of booking.
ADDITIONAL COSTS:
• $8 per person federal, state, and local access fees
• Wetsuits included/required on early season and cold weather day
The Need-to-Know Info
Trip Details
Included in Your Trip Cost
Skilled, professional guide service
Delicious, riverside picnic lunch
High-quality inflatable rafts and related river equipment including paddle, helmet, and personal flotation device
Wetsuits and splash tops included on early and late season trips, cold weather trips, and by advance request
Transfers from the meeting place to the river and back
Not Included in Your Trip Cost
Transportation to the meeting place and back
River access fees
Pre- and post-trip accommodations and meals
Insurance of any kind, including a travel protection plan
Gratuities
Wetsuit booties or shoes of any kind
The number and variety of boats on an OARS trip will vary based on water levels, the number of participants, and other factors we take into account when planning your adventure.
For Middle Fork American River rafting trips, please be aware that in the interest of safety for both guides and guests, we can only take 6 guests in each raft. We try very hard to not split groups, but sometimes, based on how different group sizes match up, it is simply unavoidable and we may ask you to share boat time with your fellow travelers. We thank you in advance for your understanding.
Learn more about the OARS Fleet and the boats that may be a part of your experience: Paddle raft
A delicious riverside picnic lunch is provided on Middle Fork American River rafting trips. We'll pull ashore mid-day and your guides will lay out an abundant spread of cold cuts, cheeses, veggies, and breads, or perhaps a fresh Caesar salad wrap or tasty taco salad for roll-your-own burritos. Lunch is always accompanied by fruit, cookies, cold water, and lemonade.
Please let us know if you have any dietary needs that we'll need to consider in planning your trip. More info about Meals & Dietary Restrictions can be found on our Trip Resources page.
Average Air & Water Temperatures
| | Air (Day) °F | Air (Night) °F | Water °F |
| --- | --- | --- | --- |
| May | 75-79 | 45-49 | 55 |
| June | 82-86 | 50-54 | 58 |
| July | 90-94 | 59-63 | 61 |
| Aug | 89-93 | 59-63 | 65 |
| Sept | 83-87 | 51-55 | 64 |
Whitewater
The Middle Fork of the American River offers a beautiful, boulder-strewn stretch of Class III-IV whitewater interspersed with scenic calm stretches.
Water on the Middle Fork of the American River is released during the summer months from hydroelectric facilities located upstream, which typically provides reliable flows for rafting several days per week throughout the commercial rafting season from Memorial Day through September. Such water releases are not subject to the control of El Dorado County or commercial rafting companies. It is important for our guests to understand that the water flow on the American is directly related to the demand for hydropower.
Before booking your trip with OARS, there are a few important considerations we'd like you to know about.
Physical Requirements: Your outdoor adventure will be an active participatory trip. Please inform us of any physical limitations you may have as soon as possible. If you exceed 260 pounds, please give us a call. Make sure you are exercising frequently in the months leading up to your trip and can meet our Essential Eligibility Criteria.
Whitewater Orientation: To increase your safety, we expect everyone to watch our Whitewater Orientation video before joining us.
Trip Forms: Each participant will need to complete the required trip forms online and submit them no later than 30 days prior to your trip, or immediately if booking within 30 days.
Reservations and Deposits
Full payment is required at the time of booking. Payments may be made by check, money order, or Visa/Mastercard (American Express and Discover incur a 3% processing fee). Prices are in US Dollars, and all payments must be made in US Dollars. Payment of the deposit establishes your acceptance of our complete Terms and Conditions. Individual departures and trip capacity are strictly limited by the managing agency.
Canceling your trip after your deposit has been processed will incur cancellation fees because OARS has absorbed costs on your behalf and will turn others away who would like to book the spaces we're holding for you.
Cancellations and Refunds
Your payment is fully refundable for 48 hours, less a 3% processing fee, after making a reservation when you reserve a trip 7 days or more prior to departure.
If you must cancel your reservation after the rescission period described above, your cancellation fee will be determined according to the schedule below. We regret we cannot make exceptions to the cancellation policy for any reason, including foul weather, poor air quality, wildfire activity, acts of terrorism, civil unrest, or personal emergencies. There is no refund for arriving late or leaving a trip early. For these reasons, we strongly urge you to consider purchasing a travel protection plan.
| Date of Cancellation | Cancellation Fee |
| --- | --- |
| 30 or more days before your trip | $15/person |
| 29 – 7 days before your trip | Payment can be transferred to another trip within the same year (or to a credit account for the following year) for $30/person transfer fee. No refund. |
| 6 days or less before your trip | 50% of the trip cost can be credited to another trip (within the same year) |
| Late arrivals or "no-shows" | No refund or credit |
Please note that different deposit/cancellation policies may apply for charter groups. Refer to the group organizer's confirmation email for details.
Canceled Trips
OARS reserves the right to cancel any trip due to insufficient registration or other factors that make the trip impractical to operate. In such instances, we will inform you at least 7 days before departure. Do not make nonrefundable travel arrangements unless you have spoken to your Adventure Consultant regarding the status of your trip.
If a trip must be canceled or postponed due to force majeure (factors outside the control of OARS), OARS will provide full credit for payments made toward future travel, or a refund less a 5% service fee plus any nonrefundable payments made on your behalf to 3rd-party suppliers. OARS will make good faith efforts to recover deposits made on your behalf to 3rd-party suppliers, however, we can't guarantee recovery of any or all of the advance payments made. OARS is not responsible for expenses incurred by participants in preparation for a canceled trip.
Transfers
If you need to move your reservation to a different trip during the same year, or to a credit account for the following year, there is a $15/person fee up until 30 days prior to departure for a one-time transfer of your payment. If we are 29-7 days prior to your trip departure, there is a $30/person fee to transfer to another trip, within the same year only. Transfer requests made 6 days or less prior to departure, 50% of your trip cost can be credited to another trip, within the same year only. Transfer requests made on the day of departure will be treated like a cancellation according to the schedule above.
O.A.R.S. West, Inc. is a permitted outfitter of the California Department of Parks and Recreation Gold Fields District.
Ancestral Lands Acknowledgement
We respect and recognize that many of the river canyons on state and federal lands where we operate are the ancestral homes of indigenous communities. Where we operate on the Middle Fork of the American River between Oxbow Reservoir and Greenwood Bridge, we acknowledge the territories of the Nisenan.
For You
You May Also Like
Location: California
Adventure Level: Moderately Challenging
Minimum Age: 12 – 14 (9 at low water)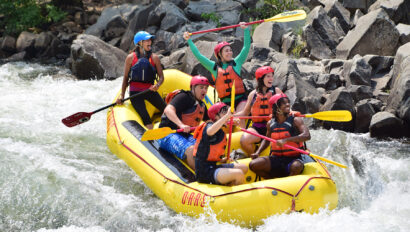 Location: California
Adventure Level: Easier to Moderate
Minimum Age: 8 (10-12 during high water)

Location: California
Adventure Level: Challenging
Minimum Age: 14 (16 during high water)

Can't Decide?
Use our Compare tool to find your perfect Adventure.