California's Best Whitewater
With headwaters cradled in Yosemite, the Tuolumne River shoots out of the Sierra's granite as a gin-clear cascade. The river builds as it drops through the Grand Canyon of the Tuolumne and into Hetch Hetchy Reservoir. Below the reservoir, the regulated releases create a reliable stretch of raucous whitewater that's hard to rival.
The most popular stretch for commercial whitewater rafting is the 18 miles of Wild & Scenic river canyon just outside Yosemite between the put-in at Merals Pool and the take-out at Wards Ferry Bridge. This section of the Tuolumne River features consistent Class III – IV+ rapids and demanding paddling. No roads reach this remote stretch of ruggedly beautiful canyon.
To ensure the Tuolumne River maintains its pristine state, launch permits are carefully allotted and only two commercial trips are allowed per day, each with no more than 20 guests. The regulations help preserve the Tuolumne's wild nature, while its technical rock-studded whitewater make it a California rafting classic.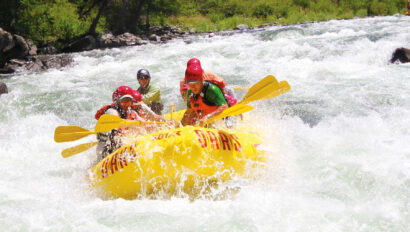 Location: California
Adventure Level: Moderately Challenging
Minimum Age: 14 (16 during high water)

Location: California
Adventure Level: Moderately Challenging
Minimum Age: 14 (16 during high water)

Our four guides made our three days on the Tuolumne River unforgettable. The white water was thrilling and the camping was relaxing, making this the perfect adventure for our family.

Joy

OARS Tuolumne River guest
Useful Travel Tips
Frequently Asked Questions
Have more questions?
What is the whitewater like on the Tuolumne River?
The Tuolumne River offers technical Class IV+ whitewater, which can run at roaring Class V levels when spring runoff is highest. In the 18-mile commercial rafting stretch, there are more than three dozen named rapids. Much of this whitewater requires active paddling from guests and skillful maneuvering by guides. The water level on the T is dam-controlled, with the highest water most likely in the spring and early summer. A few of our favorite rapids are listed below:
Mile 0.4 — Rock Garden (Class IV) At lower water flows, this boulder-strewn section is extremely technical. Rafts typically have to cross from river right to river left. At higher flows there is a large reversal near the bottom of the rapid. There is a beautiful sandy beach and campsite on river right. OARS sometimes uses this camp for multi-day trips on the Tuolumne River.
Mile 1.9 — India & Lower India (Class IV) There are two short chutes separated by a small pool. According to private boater and geologist Terry Wright, PhD., this rapid is named after India Fleming, who was 14 years old when she first ran the Tuolumne during one of the early exploratory kayak runs. Apparently, she was the first female to run this river.
Mile 4.4 — Sterns (Class IV) When the water flow is low, rafts must run a narrow chute between the left wall and a van-sized rock. Get turned sideways heading into this rapid and you will be sure to experience some real whitewater excitement!
Mile 5.4 — Clavey Falls (Class IV+) This rapid is one of the reasons the Tuolumne River is considered the jewel of California whitewater rafting. Your thrilling California whitewater experience in this rapid begins with two big drops. The first drop is considered "The Falls," and it can push boats into a frothy current, sending rafts into the left wall. There is a very large hole across the left half of the river just prior to the second drop. It is hard to miss the hole when the river flow is above 2000 cubic feet per second. Navigating your way through this rapid earns bragging rights in any setting.
Mile 9.5 — Gray's Grindstone (Class IV) Gray's Grindstone, one of the longest rapids on your Tuolumne River whitewater rafting trip, is over one-half mile long.
Mile 12.9 — Hell's Kitchen (Class IV) This rapid starts with Class III drops over a jumble of boulders, and then it turns into a slalom between large rocks.
What Tuolumne River trip is right for me?
There's a thrill-stacked 1-day Tuolumne River rafting trip, an adventurous 48-hour getaway with cool hikes up side canyons carved by cascading waterfalls, as well as a carefree 3-day Tuolumne River vacation, with lots of time to explore and relax while reconnecting with nature.
All three Tuolumne River trip options take you to the headwaters of the Tuolumne River, which originate in the internationally renowned wilds of Yosemite National Park. Each is a true wilderness expedition on the "Wild and Scenic" Tuolumne as it spills 18 miles through a secluded river canyon roaring with whitewater. The minimum age for all of our Tuolumne River trips is 14 (16 at high water), and we highly recommend an active level of fitness.
Conditions on the Tuolumne change seasonally. In the spring, expect higher flows, colder water, and cooler air temperatures. These early-season trips are best for those who want the most intense whitewater experience. Trips throughout the summer offer reliable, warmer temperatures with tons of swimming, but lower flows. Early fall trips can have mild temperatures, great fishing, and frequent wildlife sightings.
What specialty trips are available on the Tuolumne River?
OARS offers all-adult, wine, and craft beer tasting trips. Departure dates and details for these trips are listed on the 2- & 3-day trip pages.
Discover your next OARS Adventure