Canada Rafting and Multi-sport Vacations
The rivers and coastlines of western Canada, and the landscapes that envelop them, literally dwarf famous waters elsewhere in North America. Whitewater rafting in the Yukon and British Columbia offers ultra-diverse beauty and wildlife in breadths seen in few other parts of the world. From glacial headwaters, these rivers surge through narrow gorges and along horizons of endless temperate rainforest and storied high country desert to the coastline—teeming with wildlife.
Find Your Perfect Trip
Adventures in Canada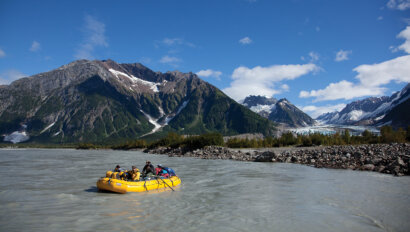 Location: Alaska, United States
Adventure Level: Moderately Challenging
Minimum Age: 13

Location: Canada
Adventure Level: Challenging
Minimum Age: 13

Location: Canada
Adventure Level: Easier to Moderate
Minimum Age: 8

We did more activities in one day than we normally do in a week. We saw a grizzly on our first morning and checked that off of the bucket list. We laughed so much on this trip. The scenery was amazing. The stories were entertaining. We will miss everyone at Bear Camp, as well as the lifestyle, dearly.

Tracy

OARS Bear Camp guest
Map
Frequently Asked Questions
Have more questions?
What trips does OARS offer in British Columbia?
OARS offers two unique options in Canada, including rafting on the incomparable Class IV Chilko-Chilcotin-Fraser Rivers or base-camping at a deluxe elevated safari camp on Chilko Lake for 4, 5, or 8 days of hiking, biking, rafting, sea kayaking, and horseback riding.
When are the grizzly bears most active?
Trips to Chilko Lake's Bear Camp during September and October are most likely to see grizzly bears.
Why travel with OARS in Canada?
OARS Canadian adventures are all but out-of-this-world, with wild whitewater well into the early fall, and all of our trips through the heartlands of British Columbia are padded with elegant meals and all the amenities.
Discover your next OARS Adventure