Experience unparalleled adventure as you stay at an elevated safari camp just outside T'sylos Provincial Park and explore beautiful British Columbia by raft, sea kayak, bike, and on horseback.
Bear Camp offers the Chilcotin region's most hospitable and unique accommodation experience. Situated at the headwaters of the Chilko River, the waterfront camp is comprised of deluxe safari tents built on top of wildlife viewing platforms and a spacious dining area and lounge overlooking the river. Exploring the best of what the region has to offer, this multi-day adventure touches on a variety of adventure disciplines: Kayaking, canoeing or stand-up paddleboarding on a crystal clear lake, horseback riding in snow-capped mountain ranges, hiking endless trails, biking remote roads and abundant double track, fishing for record trout, wildlife viewing—grizzly bear sightings are common on many trips—and inflatable kayaking or rafting a glacial waterway.
Trip Highlights
Scenic flight from Vancouver over Whistler & the Coast Range to Chilko Lake
Enjoy active days and dreamy nights on the banks of a turquoise alpine lake
Take in the views of the surrounding area from your elevated safari-style tent
Friendly guides & gourmet meals
Grizzly bear viewing (Sept. – Oct.)
What to Expect
Itinerary & Map
Itinerary at a Glance
We pride ourselves in running a relaxed and flexible schedule. Every Chilko Lake Bear Camp trip is different depending upon the group, other trips in the area, and sometimes the weather. The following is a sample of what your trip might be like:
Day 1
Vancouver to Bear Camp at Chilko Lake
The trip begins with a scenic flight over the mountains and glaciers of British Columbia.
Depending on our arrival time to Bear Camp, you may enjoy a hike, paddle on the lake, or casting a line for trout as a great way to unwind after your travels. A spectacular view, dinner, and an evening to discuss your coming days' activities will help you settle into the moods and rhythms of the trip.
The Adventure Continues
Day-to-Day at Bear Camp: Multi-Sport Activities or Bear Viewing
Chilko Lake is one of the world's premiere alpine lake destinations. During your trip, you will explore it unobtrusively by sea kayak, canoe, SUP, or fishing boat. While the day-to-day itinerary varies by trip, you will have the chance to experience the best of the best of this incredible destination through a variety of adventurous activities.
Surrounded by massive glacier-capped peaks and wilderness, you can spend the days paddling the lake and picnicking on sandy beaches. 
Some might hike nearby trails while others try their luck with a fly or spin rod. The Chilko is world-famous for its wild rainbow and massive bull trout. Learn to fly fish or take a spin rod on the lake, the choice is yours. There will often be time for a quick paddle on the lake or lounging around the fire before a sumptuous dinner.
You can explore the area by horseback, with many great destinations to choose from. Utilizing well-trained mountain horses, our local wrangler will treat you to a day of horseback riding in the mountains that you'll never forget. For those not keen on horses, we have options for hiking or biking on the double track and dirt roads surrounding the valley and lake. In any case, you'll be treated to breathtaking mountain scenery, vivid blue waters, and endless fields of wildflowers. After a glorious day in the mountains, we'll settle into our lakeside camp and enjoy the spectacular views and sunset.
On our river journey, we'll jump in our inflatable kayaks and challenge up to 21 miles of the Chilko River. For the less-intrepid adventurers, we have a comfortable, custom-designed drift boat where the ride is high and dry; ideal for soaking up scenery instead of waves. In either scenario, a riverside picnic will be in order and there should be plenty of time when we return to camp for fishing, hiking, biking, or a swim.
Late afternoons may be spent on a hike to Green Lake, while others may wish to do self-guided yoga, or kick back and enjoy a cold drink and watch the salmon and bald eagles.
During bear season (September & October trips) we highly recommend you join us for an early morning paddle, returning to camp for a delicious and hearty breakfast. Watching the bears as the sun rises is otherworldly and something everyone should experience. After breakfast, we have a host of other activities, which can also incorporate bear viewing.
The Last Day
Chilko Lake to Vancouver
After breakfast on day 5, we leave Bear Camp and head to a regional airport for the return flight to Vancouver, typically arriving late afternoon.
Meeting Time & Place
Location
Airport South – Vancouver's Regional Airfield
Meeting time
Varies based on flight time to Chilko region
Return
Approximately 3 – 4 PM to Airport South
Trip Map
Dates & Prices
| 2023 Departures | Price |
| --- | --- |
| September 14, 18, 22, 26, 30 | $4,995 |
| 2024 Departures | Price |
| --- | --- |
| September 3, 7, 11, 15, 19, 23, 27 | $4,995 |
| October 1 | $4,995 |
| 2024 Departures | Price |
| --- | --- |
| June 28 | $3,995 |
| July 2, 12, 16, 26, 30 | $3,995 |
| August 9, 13, 23, 27 | $3,995 |
| September 3 | $3,995 |
Rates include R/T flight & transport package to Chilko Lake. Per person based on double occupancy.
Deposit
$1000
Additional Costs
• 5% taxes & fees
• Mandatory emergency medical & evacuation coverage
SINGLE SUPPLEMENT
• 2023: Multi-Sport: $1250 | Bear Viewing: $2000
• 2024: Multi-Sport: $1000 | Bear Viewing: $2000

Ask about our 2-day Lava Canyon (Chilko River) extension and go rafting down the longest, continuous stretch of commercially-navigable Class IV whitewater in North America. Exclusive charter dates available upon request.
The Need-to-Know Info
Trip Details
Included in Your Trip Cost
Skilled, professional guide service provided by our affiliate operator
4 nights of accommodations in a deluxe safari tent
Roundtrip air & ground transport package to and from Chilko Lake
All meals from dinner on day 1 through breakfast on the final day, including beer, wine, and some liqueurs in camp
All activities and equipment as outlined in the itinerary
Not Included in Your Trip Cost
Transportation to and from Vancouver
Optional floatplane flight transfers (contact OARS for details)
Pre and post-trip accommodation (in Vancouver) and meals
Excess baggage charges
Single supplement fee
Insurance of any kind, including a travel protection plan or mandatory emergency medical & evacuation coverage
Optional activities like heli-hiking or heli-biking (min. number of participants required)
Fishing license
Gratuities
Situated at the north end of Chilko Lake and the headwaters of the Chilko River, Bear Camp offers the only facilities adjacent to Ts'yl-os Provincial Park. This unique lodge offers deluxe camping (if you can call it camping!) on raised wildlife viewing platforms.
Accommodations are spacious and deluxe safari tents are on the water's edge and feature a king bed or two double beds, indoor and outdoor lounging areas, spacious decks, and all the adventure opportunities one could imagine. Down duvets, hot showers, and catered dining take "camping" to new levels of comfort.
MEALS
Treat your palette to fresh gourmet cuisine starting with wholesome breakfasts, picnic lunches, indulgent hors d'oeuvres, and a glass of wine before your sumptuous family-style meal in the spectacular dining tent. The food is created from some of the finest local seafood, fresh organic produce, and perfectly prepared wild game. Throughout your stay, and in part because we have only 12 guests at once, you will have the thoughtful attention and service that you deserve.
We need to know as soon as possible about any dietary restrictions we must consider in planning your trip. If you have food allergies or necessary restrictions, we will do our best to accommodate your needs.
ACTIVITIES
The following activities are available at Bear Camp and included as part of your trip cost:
Lake paddling: Sea kayaks, canoes, and stand-up paddle boards (SUPs) are available for exploring Chilko Lake.
Hiking: There are wonderful hiking opportunities from our base at Bear Camp into Ts'yl-os Provincial Park. Choose from strenuous hikes with rewarding views, or mellow walks along the lake to secluded beaches and nearby Green Lake. Heli-hiking can also be arranged at additional expense (but is worth every penny) and visits a number of valleys and nearby glaciers.
River running: From camp, we offer the upper 21 miles of the Chilko River. This Class II+ section allows participants to inflatable kayak, raft or enjoy our comfortable, custom-designed drift boat. The drift boat ride is high and dry, ideal for soaking up scenery instead of waves. For the more adventurous, the inflatable kayaks put you right in the action. Choose from a half-day (10 miles) or an entire day (21 miles with a picnic lunch) and navigate some fun and scenic water that is still appropriate for any kiddos.
Wildlife viewing: There is a variety of wildlife in our neck of the Chilcotin region, but come late August and September as many as 2 million salmon come to spawn at the headwaters of Chilko Lake. By mid-September, more than 80 grizzlies and hundreds of bald eagles come to the mouth of the river to feed on nature's bounty. By boat, kayak, bike, and even horseback we can witness this amazing spectacle. In our drift boats and kayaks, we safely and silently float past bears often less than 50 feet away.
Horseback riding: Friendly horses and astute wranglers can tailor rides for all abilities on mountain trails, through fields of wildflowers, or riverside to beautiful waterfalls. You'll soon know what we mean by "happy trails." We utilize fit and well-cared-for mountain horses that will get you to places unimaginable.
Biking: Flowing double track, winding dirt roads, coasting along the river's edge, or gliding through pine-scented forests, we've got it all. Our fleet of Kona mountain bikes comes with vehicle support and a knowledgeable guide. What more could you want? Eliminate the hills? We can do that too!
Bushcraft: Meet survivalist expert, Mike Yates, a.k.a. "Grizz." Mike ran a survival school for decades and was better known as the Marlboro Man for the cigarette manufacturer's advertising series in Europe and abroad. Participants will see how to live off-the-grid, learn about plants and wildflowers as well as learn about constructing traditional log homes. By the day's end you will be ready to face even the worst zombie apocalypse…or at least light a fire and build a shelter!
Fishing: For fishing enthusiasts, Chilko Lake and the upper section of the Chilko River are truly world-class. You can fish from shore, in waders, or by boat (paddle, drift, or power). The river is "fly fish only, catch & release" and we have jon and drift boats and all the necessary gear to wade and fish this pristine waterway.
A half-day of guided fishing is included. Additional guided fishing may incur an additional cost and can utilize deluxe flat bottom river boats that have forward and aft fishing platforms with stanchions for stable casting. Float-plane or heli-fishing trips are also available at an additional cost.
OPTIONAL ADD-ONS
Several activities are offered for an additional cost and subject to availability/minimum number of participants. Inquire with one of our Adventure Consultants if you're interested.
Heli-hiking or biking: With two Bell (6 passenger) helicopters servicing the area, the heli-access opportunities are endless. Here you'll hike or ride at 7,000-9,000 feet elevation. Surrounded by mountaintops and wildflowers, grizzly sightings are common and the scenery second to none.
Rafting Lava Canyon: Paddle the longest, most continuous stretch of commercially navigable Class IV whitewater in North America on this 2-day adventure. The 2-day Lava Canyon add-on is available with any Bear Camp program. The last day of your scheduled Bear Camp program is day 1 of the Lava Canyon section, so adds one day total to your trip.
The weather is one of the few details we can't control. During late June through early August, the Chilko-Chilcotin region tends to be dry in climate and warmer than the coast. In mid-summer, daytime highs in the interior can reach the high 80's° F, while temperatures can drop significantly overnight. Rain is always a possibility in British Columbia. Be sure to follow our recommended equipment list, as our experience suggests a multi-layering approach with a range of temperatures and conditions in mind.
Late-season trips, from late August through October, can experience wild swings in temperature and weather.
Average Air Temperatures at Chilko Lake
| | High (°F) | Low (°F) |
| --- | --- | --- |
| June | 65 | 49 |
| July | 70 | 52 |
| August | 70 | 51 |
| September | 60 | 49 |
| October | 52 | 44 |
Before booking your trip with OARS, there are a few important considerations we'd like you to know about.
Purchase Travel Protection: In order to take part in this trip, each participant must have a minimum of Emergency Medical Evacuation coverage in place for the dates of the trip. Learn more about the plan we recommend.
Essential Travel Documents: A passport is required for travel to Canada. A visa is not required for U.S. citizens. Non-U.S. citizens should check with the consulate of Canada and/or their home country to determine the need for a visa and arrange one or both, accordingly.
Physical Requirements: Your outdoor adventure will be an active participatory trip. Please inform us of any physical limitations you may have as soon as possible. If you exceed 260 pounds, please give us a call. Make sure you are exercising frequently in the months leading up to your trip and can meet our Essential Eligibility Criteria.
Whitewater Orientation: To increase your safety, we expect everyone to watch our 23-minute Whitewater Orientation video before joining us.
Trip Forms: Each participant will need to complete the required trip forms within two weeks of making a booking. Refer to your confirmation email for the link to the online forms. If you prefer to fill out paper forms, please let us know right away. If you are reserving within 90 days of departure, your forms must be completed immediately to ensure we can properly plan for your trip.
Reservations and Deposits
An $800/person non-refundable deposit is required at the time of reservation. Deposits may be made by check, money order, or Visa/Mastercard (American Express and Discover incur a 3% processing fee). Prices are in US Dollars and all payments must be made in US Dollars. Payment of the deposit establishes your acceptance of our complete Terms and Conditions. Individual departures and trip capacity are strictly limited by the managing agency.
Canceling your trip after your deposit is processed will incur cancellation fees because OARS has absorbed costs on your behalf and will turn others away who would like to book the spaces we're holding for you. Final payment is due 90 days before departure. Accounts on which final payment has not been received 80 days before the departure date will be canceled without exception.
Cancellations and Refunds
Your deposit is fully refundable, less a 3% processing fee, for 7 days after you book when you submit a deposit 7 days or more before the final payment due date.
If you must cancel your reservation after the rescission period described above, your cancellation fee will be determined according to the schedule below. We regret we cannot make exceptions to the cancellation policy for any reason, including foul weather, poor air quality, wildfire activity, acts of terrorism, civil unrest, or personal emergencies. There is no refund for arriving late or leaving a trip early. For these reasons, we strongly urge you to consider purchasing a travel protection plan.
| Date of Cancellation | Cancellation Fee |
| --- | --- |
| 90 or more days before your trip | Full deposit |
| 89 – 0 days before your trip | 100% of the trip price/person |
Requests to transfer a date will be treated as a cancellation, per the terms above.
Canceled Trips
OARS International and the outfitter R.O.A.M. Adventures, Inc. reserve the right to cancel any trip due to insufficient registration or other factors that make the trip impractical to operate. Do not make nonrefundable travel arrangements unless you have spoken to your Adventure Consultant regarding the status of your trip.
If a trip must be canceled or postponed due to force majeure (factors outside the control of OARS), OARS will provide full credit for payments made toward future travel, or a refund less a 5% service fee plus any nonrefundable payments made on your behalf to 3rd-party suppliers. OARS will make good faith efforts to recover deposits made on your behalf to 3rd-party suppliers, however we can't guarantee recovery of any or all of the advance payments made. OARS is not responsible for expenses incurred by participants in preparation for a canceled trip.
Our Chilko Chilcotin Fraser Rivers trips are run by an affiliate company and arranged through O.A.R.S. International, Inc.
For You
You May Also Like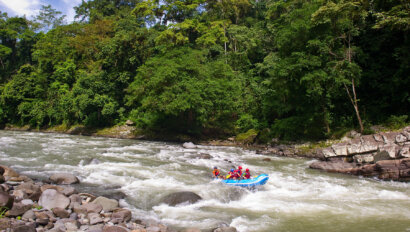 Location: Costa Rica, International
Adventure Level: Moderately Challenging
Minimum Age: 12

Location: Galápagos Islands, Ecuador
Adventure Level: Easier
Minimum Age: 8

Location: Baja, Mexico
Adventure Level: Easier to Moderate
Minimum Age: 5 (or younger based on abilities)

Can't Decide?
Use our Compare tool to find your perfect Adventure.