Baja Sea Kayaking & Whale Watching
Location
Baja, Mexico
Adventure Level
Easier to Moderate
Minimum age
5 (or younger based on abilities)
From
$1706
Explore the magic of both Baja coasts when you combine sea kayaking Espiritu Santo Island with whale watching in Magdalena Bay for the experience of a lifetime.
Our 11-day mid-winter sea kayaking adventure in the Sea of Cortez with whale watching in Magdalena Bay offers the experience of a lifetime for kayakers, bird and wildlife lovers, whale-watching enthusiasts, and outdoor adventurers.
Each year Pacific gray whales migrate from the Bering Sea and Chukchi Sea in Northern Alaska to the breeding grounds of Baja, Mexico's western shore, traveling up to 12,000 miles each year. This yearly trip makes the gray whale migration the longest annual migration of any mammal.
A portion of our Baja sea kayaking vacation involves exploring the exotic Island of Espiritu Santo in the Sea of Cortez. Guided sea kayak excursions are offered daily along the coast and to outlying areas. The whale-watching portion of this OARS adventure takes place in Magdalena Bay. We stay in safari-style beach camps and enjoy evening educational lectures, slide shows, and dining under the stars. We head into Magdalena Bay each day via a motorized skiff (skillfully and sensitively operated by local guides) where we can experience Pacific gray whales in close proximity. Our days also include exploring the Baja coastline, birdwatching, kayaking in mangrove estuaries, playing volleyball or simply enjoying a good book in the warm Baja sun.
Trip Highlights
Sea kayak near Espiritu Santo Island in the Sea of Cortez
Experience Baja whale-watching in Magdalena Bay during the Pacific gray whale migration
See birds, dolphins, Manta Rays & sea turtles
Paddle through mangroves, bird watch and stroll on the beach
Explore the coastline, birdwatch & paddle in mangrove estuaries
What to Expect
Itinerary & Map
Itinerary at a Glance
We pride ourselves in running a relaxed and flexible schedule. Every Baja sea kayaking and whale watching trip is different depending upon the group, other trips on the water, camp locations, and sometimes the weather. The following is a sample of what your trip might be like:
Day 1
Arrive in La Paz, Mexico
Make your way to La Paz and check in to the Posada LunaSol hotel. Once settled in your room, the evening is yours to explore the town's beachside promenade and dine at one of this vibrant town's many fine restaurants.
Day 2
Espiritu Santo Island
Enjoy an early breakfast and orientation with our guides at the hotel's cafe. You'll collect any rental gear you may have requested, then the group will transfer by motorized boat to the island of Espiritu Santo (approximately 2 hours). Lunch will be served upon arrival at camp. After lunch, we will go through a camp and kayak orientation, then depart for a short paddle, snorkel, or swim in the azul waters of this paradise. (B, L, D)
Days 3 – 5
Espiritu Santo Island
We'll spend the days kayaking, snorkeling, fishing, exploring on foot, and relaxing along the shores of the enchanted island of Espiritu Santo. Guided kayak excursions from 1-4 hours are offered both days along the rugged shoreline and to outlying islands. Camp is located in a large protected bay, allowing guests additional kayaking time right from camp to explore the sheltered bay. 
Other guided activities from camp include skiff excursions to nearby snorkeling "hot spots" including a sea lion rookery where we join these graceful creatures, swimming alongside them while enjoying their playful and curious nature firsthand. Nature walks into canyons draped with fig trees and fishing for sea bass and red snapper are other attractions. (B, L, D)
Day 6
Espiritu Santo Island and Return to La Paz
After a casual morning and breakfast on the island, we'll return by skiff to La Paz where we'll indulge in a hot shower and lunch. For the remainder of the day, you're free to explore the town. The guides and hotel staff are able to offer suggestions for destinations and restaurants for dinner. (B, L)
Day 7
Magdalena Bay
After an early breakfast at the hotel, we'll transfer by van to the Pacific side of the Baja Peninsula (approximately 4 hours). Upon arrival at the embarcadero in Lopez Mateos, we'll enjoy lunch before boarding the boats to go to our camp. En route, we whale watch for about 2 hours, arriving at camp later this afternoon. (B, L, D)
Days 8 – 9
Whale Watching
Motorized skiffs take us into the bay to view the magnificent gray whales. Two hours or more per day may be spent observing whales (whale watching by kayak is prohibited). Other activities include bird watching by skiff, easy kayaking in mangrove estuaries, and walking the coast and dunes of the barrier island. Each evening our knowledgeable naturalists present slide shows on gray whale natural history, behavior, and birds of the area. (B, L, D)
Day 10
Whale Watch and Return to La Paz
Enjoy early morning coffee with a continental breakfast before preparing your gear to leave camp. After a final whale-watching session, we will return to Lopez Mateos to board the vans for the return ride to La Paz. Showers await us back at the hotel. Dinner is on your own tonight at one of many authentic establishments La Paz has to offer. (B, L)
Day 11
Enjoy breakfast at the hotel before starting your travels home or on to your next destination in Baja. (B)
Meeting Time & Place
Location
La Paz, Mexico
Meeting time
Anytime on Day 1
Return
Day 9 for flights home (morning flight from La Paz or afternoon flight from San Jose del Cabo)
Trip Map
Dates & Prices
| 2024 Departures | Adult Price | Youth Price |
| --- | --- | --- |
| January 22*, 31 | $1,895 | $1,706 |
| February 4, 11, 24 | $1,895 | $1,706 |
*12-day trip with 1 additional night on Magdalena Bay
Deposit
$500
Additional Costs
• Mandatory emergency medical & evacuation coverage
Single Supplement
• $250 hotel + walk-in tent
• $150 single hotel + shared walk-in tent
• $125 shared hotel + single walk-in tent
Optional Rentals
• Snorkel Gear $15
• Wetsuit $15
• Sleeping Bag $20 | Tent included
The Need-to-Know Info
Trip Details
Included in Your Trip Cost
Skilled, professional guide service provided by our affiliate operator
7 nights catered camping + 3 nights hotel accommodation (based on double occupancy)
High-quality expedition equipment, including tandem sea kayaks, PFD and paddle, 2-person shared tent with sleeping cot, pad, pillow, and camp chair, as well as eating utensils, plates, and cups
All meals as outlined in the itinerary (B-breakfast, L-lunch, D-dinner), plus purified water and some beverages
Sleeping cot with pad and pillow
Transfers as listed in the itinerary
Single Hotel Room & Single Tent Supplement
Single supplements must be prepaid. If you are a single traveler and willing to share we will waive the single supplement if we're able to pair you with another traveler of the same gender.
Not Included in Your Trip Cost
Flights to and from La Paz or San Jose del Cabo, Mexico
Roundtrip ground transportation between San Jose del Cabo and La Paz
Airport transfers
Single hotel room supplement and/or single tent supplement
Sleeping bag for camping (sleeping cot, pad, and pillow are provided)
Snorkeling equipment (mask, snorkel & fins, and wetsuit)
Single sea kayak (for exclusive use of a single kayak, inquire with your OARS Adventure Consultant)
Insurance of any kind, including a travel protection plan or mandatory emergency medical & evacuation coverage
Alcoholic beverages (other than happy hour) or sodas
Gratuities
Rentals
Sleeping bag: $20 (walk-in tents include a cot with pad & pillow)
Snorkel gear: $15 (includes mask, snorkel & fins)
Mask & snorkel or fins: $10 individually
Wetsuit: $15 (3mm with short legs & long sleeves; highly recommended for trips late November through April)
Our fleet of sea kayaks are primarily doubles (tandems). One or two single kayaks may be brought along to be used on a shared basis. The kayaks are made by Seda and by Seaward and are of fiberglass construction with rudders. Based upon your experience, size, and group composition, your guide will help determine what kayak you will paddle. We encourage the group to rotate kayak seats so everyone has a chance to paddle to their desire.
A lightweight Swift or Nimbus paddle, PFD (personal flotation device), and a nylon spray skirt are provided to each paddler, while each guide also carries a paddle float and bilge pump. If you're of short stature (under 5'5″ tall), you may want to bring a seat pad that adds a couple inches of height while sitting in the kayak seat, as this may improve your paddling experience. If you are over 6'2″and/or over 200 pounds, please let us know in advance and we will arrange a kayak with a large cockpit.
We offer exclusive use of a single kayak on most trips for a fee of $50 per kayak. You must be fit and experienced in kayaking and screened in advance by our office. Inquire with your OARS Adventure Consultant to learn more.
Hotel Accommodations
We include lodging the first, middle, and last nights of your trip in La Paz at Posada LunaSol – a charming hotel with a fountain pool, breakfast cafe, and rooftop terrace with views of La Paz Bay. Located in a safe neighborhood, Posada LunaSol is within convenient walking distance to the malecon (seaside walk) where restaurants, shops, and bars abound.
La Paz is a bustling town and true to Mexico's spirited lifestyle, sounds of the surrounding residences and streets may be heard at night.
Camp Life
While at Magdalena Bay, a barrier island on the Pacific coast of the Baja Peninsula, we camp on the leeward side. Nestled in sand dunes, our camp faces the bay and often provides a great view of whales and dolphins as they swim by. A small mangrove estuary is a short paddle from camp and provides a peaceful kayaking experience while you observe its abundant bird life. The Pacific Ocean is a 20-minute walk across the majestic windswept sand dunes and provides the lovely sound of waves caressing the beach 24 hours a day. The kitchen and dining area consists of large MASH-style wall tents that offer protection from the sun and the wind. The tents are furnished with tables and chairs for eating or relaxing and feature solar-powered lighting in the evenings.
Some chaise lounges offer the opportunity for sunbathing on the beach. Solar sun showers are available for showering in private shower stalls. Large (10'x12′) walk-in tents are provided for sleeping accommodations, each complete with two cots, sleeping pads, pillows, and table with light. These tents are provided for double occupancy, while smaller backpacking-style tents may be used for singles. The toilets are self-contained porta-potties that flush with water. They are set up in private stalls behind camp and emptied daily.
On Espiritu Santo Island, we camp on a white sand beach sandwiched between a shallow, protected bay and the towering cactus of the Southern Sonoran Desert. Large kitchen and dining tents are provided complete with dining tables and chairs for protection from the sun and wind and feature solar-powered lighting in the evenings. A large tarp provides additional shade on the beach. Walk-in tents are provided for sleeping accommodations, each complete with two cots, sleeping pads, pillows, and table with small solar light. These tents are provided for double occupancy, while smaller backpacking-style tents may be used for singles. A private solar shower area is set up for rinsing off the salt after you bathe in the sea with biodegradable soap. The toilets are self-contained porta-potties that flush with water. They are set up in private stalls behind camp and emptied daily.
Meals & Beverages
We serve a combination of the best of American and Mexican traditions prepared with local fresh ingredients. Barbecued chicken, fresh fish Vera Cruz style, grilled steak tacos accompanied by guacamole and a variety of Mexican salsas, plus fresh soups and salads prepared for lunch are just a few examples of our tasty menu. The skiffs allow us to bring large blocks of ice to store fresh produce and chill canned beverages you bring on the trip. Each evening, we serve a cocktail and appetizer for "happy hour" so you can enjoy the spectacular Baja sunset while sipping an ice-cold margarita!
We need to know as soon as possible about any dietary restrictions we must consider in planning your trip. If you have food allergies or necessary restrictions, we will do our best to accommodate your needs.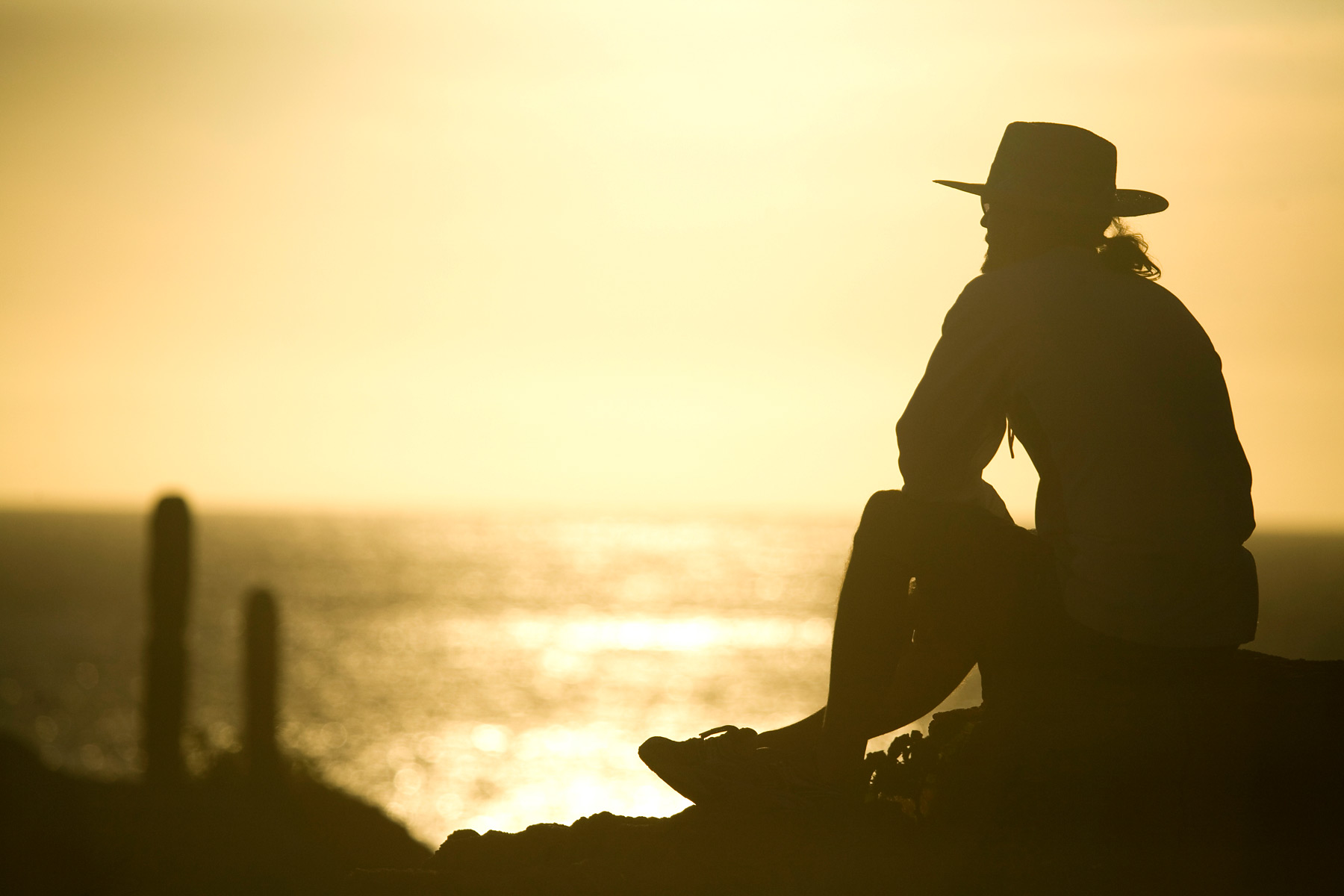 The weather during the whale watching season (late January through early March) tends to be cool with a chance of wind and some rain. Water temperatures are in the mid 60's °F and daytime air temps range from the 60's to 80's °F. The weather at Magdalena Bay on the Pacific coast can be windy and chilly, although calm sunny days are common, while conditions at Espiritu Santo Island, on the Sea of Cortez, are typically calmer.
Average Air Temperatures in La Paz
| | High (F°) | Low (F°) |
| --- | --- | --- |
| January | 78 | 56 |
| February | 82 | 56 |
Before booking your trip with OARS, there are a few important considerations we'd like you to know about.
Purchase Travel Protection: In order to take part in this trip, each participant must have a minimum of Emergency Medical Evacuation coverage in place for the dates of the trip. Learn more about the plan we recommend.

Essential Travel Documents: A passport is required for travel to Mexico.
Physical Requirements: Your outdoor adventure will be an active participatory trip. Please inform us of any physical limitations you may have as soon as possible. If you exceed 260 pounds, please give us a call. Make sure you are exercising frequently in the months leading up to your trip and can meet our Essential Eligibility Criteria.
Trip Forms: Each participant will need to complete the required trip forms within two weeks of making a booking. Refer to your confirmation email for the link to the online forms. If you prefer to fill out paper forms, please let us know right away. If you are reserving within 60 days of departure, your forms must be completed immediately to ensure we can properly plan for your trip.
Reservations and Deposit
A $500/person deposit is required at the time of reservation. Deposits may be made by check, money order, or Visa/Mastercard (American Express and Discover incur a 3% processing fee). Prices are in US Dollars and all payments must be made in US Dollars. Payment of the deposit establishes your acceptance of our complete Terms and Conditions. Individual departures and trip capacity are strictly limited by the managing agency.
Canceling your trip after your deposit is processed will incur cancellation fees because OARS has absorbed costs on your behalf and will turn others away who would like to book the spaces we're holding for you. Final payment is due 90 days before departure. Accounts on which final payment has not been received 80 days before the departure date will be canceled without exception.
Cancellations and Refunds
Your deposit is fully refundable, less a 3% processing fee, for 7 days after you book when you submit a deposit 7 days or more before the final payment due date.
If you must cancel your reservation after the rescission period described above, your cancellation fee will be determined according to the schedule below. We regret we cannot make exceptions to the cancellation policy for any reason, including foul weather, poor air quality, wildfire activity, acts of terrorism, civil unrest, or personal emergencies. There is no refund for arriving late or leaving a trip early. For these reasons, we strongly urge you to consider purchasing a travel protection plan.
| Date of Cancellation | Cancellation Fee |
| --- | --- |
| 90 or more days before your trip | $300/person |
| 89 – 60 days before your trip | $500/person |
| 59 days or less before your trip | 100% of the trip price/person |
Requests to transfer a date will be treated as a cancellation, per the terms above.
Canceled Trips
OARS International and the outfitter Sea & Adventures, Inc. reserve the right to cancel any trip due to insufficient registration or other factors that make the trip impractical to operate. Do not make nonrefundable travel arrangements unless you have spoken to your Adventure Consultant regarding the status of your trip.
If a trip must be canceled or postponed due to force majeure (factors outside the control of OARS), OARS will provide full credit for payments made toward future travel, or a refund less a 5% service fee plus any nonrefundable payments made on your behalf to 3rd-party suppliers. OARS will make good faith efforts to recover deposits made on your behalf to 3rd-party suppliers, however, we can't guarantee recovery of any or all of the advance payments made. OARS is not responsible for expenses incurred by participants in preparation for a canceled trip.
Our Baja trips are run by an affiliate company and arranged through O.A.R.S. International, Inc.
For You
You May Also Like
Location: Baja, Mexico
Adventure Level: Moderate
Minimum Age: 12 (or younger based on abilities)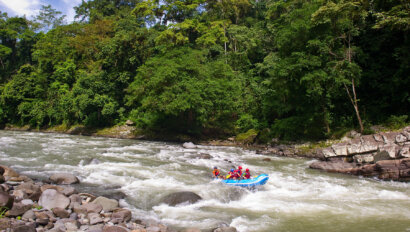 Location: Costa Rica, International
Adventure Level: Moderately Challenging
Minimum Age: 12

Location: Galápagos Islands, Ecuador
Adventure Level: Easier
Minimum Age: 8

Can't Decide?
Use our Compare tool to find your perfect Adventure.