Alaska Rafting on the Tatshenshini River
Location

Alaska, United States
Adventure Level
Moderately Challenging
Minimum age
13
From
$7495
Raft and hike through Alaska's most rugged and pristine wilderness
Deep in the Alaskan wilderness, the Tatshenshini River lays at the heart of the Tatshenshini-Alsek Wilderness Park, encompassing over 27 million acres and five U.S. and Canadian parks and preserves. Bound by two towering mountain ranges—the Alsek and St. Elias—the Tatshenshini is a river forgotten by time. The rafting trip begins in a lake of ice flows, and then runs toward the ocean, merging with the Alsek River. This one-of-a-kind adventure then leads onto a glacial moraine, past frozen falls, and finally into the shadows of ship-sized icebergs and the terminus of Alsek Bay.
Trip Highlights
Scenic drive up the Alaska Highway
Alaska rafting in Tatshenshini-Alsek Wilderness
See grizzlies, moose, bighorn sheep, wolves, and eagles
Float through massive icebergs in Alsek Bay
Spectacular flight back to Whitehorse, Yukon Territory
What to Expect
Itinerary & Map
Itinerary at a Glance
We pride ourselves in running a relaxed and flexible schedule. Every Alaska rafting trip on the Tatshenshini is different depending upon the group, other trips on the water, camp locations, and sometimes the weather. The following is a sample of what your trip might be like:
Day 1
Arrive in Whitehorse. This evening there will be a pre-trip meeting and group dinner where you'll have the chance to meet your Trip Leader and the rest of the group and ask any last-minute questions.
Day 2
From Whitehorse, we head north on the Alaska Highway. Along the way, we must stop at the U.S. Customs & Border Protection checkpoint where each traveler is required to register with border control. From there we head to the put-in at Dalton Post (elevation 2,000 ft). Dalton Post is an old abandoned trading post where we'll meet the other guides and have lunch, then load the rafts and leave civilization behind us.
This first day on the river we run a number of lively Class III rapids through the gorge, then emerge a few hours later into a wide open valley and see our first views of the mountains with their hanging glaciers. Tonight we'll set up camp at Silver Creek.
Days 3 & 4
The river slows down as we float through this incredible valley. Entering British Columbia, we meander through lush landscape and the home of a variety of birds, moose, and beaver. The mountains to the southwest seem to get larger as we pass the river terraces, keeping a watchful eye out for the elusive grizzly, mountain goat, and wolf. Various tributaries double the size of the river and every turn produces a fantastic panoramic view. We spend two days based near Sediments Creek, where we can hike and explore the alpine region's most diverse ecosystem.
Days 5 & 6
We'll continue down the Tatshenshini River. Every day the scenery becomes more spectacular; mountains rise to 8,000 feet and glaciers hang from every mountainside. The river valley continues to widen as we reach our camp near the confluence with the Alsek River. Here there are great hiking opportunities along the river terraces where wildflowers carpet the ground.
Days 7 & 8
We join the mighty Alsek River flowing from the north as we travel through braided channels. The river seems to narrow as the mountains reach for the sky. A 360-degree look will reveal over 50 glaciers as we near our camp at Walker Glacier. We marvel at the crevasses and hike onto massive moraines. Around the campfire, we'll enjoy a beverage with 10,000-year-old ice collected from the glacier earlier this day.
Days 9 & 10
Cutting through the Brabazon Range, we pass the massive Novatak Glacier which is the tip of one of the largest ice fields outside of the polar regions. To the south, 15,300-foot Mount Fairweather, the fourth highest mountain on the continent, dwarfs our very existence. Toward the end of day nine, we set up camp on the spit that separates the Alsek River from Alsek Lake, a five-kilometer long lake located at the bottom of the massive Alsek Glacier. If time allows, we will paddle toward the glacier and watch as giant pieces of the ice calve-off with a thunderous roar and form icebergs in the lake. Our view from camp is one of the most spectacular anywhere on earth.
Day 11
Today we'll float through the icebergs of Alsek Lake as we make our way south of the Gateway Knob. Cruising in and out of the ice is exhilarating and provides fantastic photographic opportunities as we continue to witness giant pieces of ice calve-off the glacier. We camp again tonight on the lake.
Day 12
After breaking camp, we'll float the last miles down to the airstrip at Dry Bay on the shores of the Pacific Ocean. Here we disembark, break down the rafts and board the plane for a spectacular flight over the mountains and back to Whitehorse. Once back in civilization, it's off to our hotel and a well-deserved hot shower. Tonight we gather for a last toast to the Tatshenshini River before we head for home tomorrow.
Day 13
This is a dedicated travel day and you're welcome to depart at any time.
Meeting Time & Place
Location
Whitehorse, Yukon Territory, Canada
Meeting time
7 PM on Day 1
Return
Approximately 5 PM to Whitehorse
Trip Map
Dates & Prices
| 2024 Departures | Price |
| --- | --- |
| June 16 | $7,495 |
| July 13, 26 | $7,495 |
| August 13, 28 | $7,495 |
| 2025 Departures | Price |
| --- | --- |
| July 13, 26 | $7,495 |
| August 13, 28 | $7,495 |
Deposit
$1000
Additional Costs
• 5% taxes & fees
• Mandatory emergency medical & evacuation coverage
Single Supplement
• $500
The Need-to-Know Info
Trip Details
Included in Your Trip Cost
Skilled, professional guide service provided
All meals from dinner on day 1 through breakfast on day 13
10 nights catered camping with beer, wine, and some liqueurs in camp
2 nights lodging in Whitehorse
Expedition equipment, including highest quality rafts, 2-person shared tent, sleep kit, PFD, rain gear, boots, helmet, waterproof bags, camp chair, as well as eating utensils, plates, and cups
Van transfer from Whitehorse to the river and flight from Dry Bay back to Whitehorse
All park fees and necessary permits
Not Included in Your Trip Cost
Transportation to and from Whitehorse, Yukon Territory, Canada
Pre- and post-trip accommodations and meals
Insurance of any kind, including a travel protection plan or mandatory emergency medical & evacuation coverage
Fishing gear and license
Gratuities
U.S. and/or Canadian tourist visa (as required per citizenship)
On our Tatshenshini River trips, we bring oar rafts. The oar rafts carry the bulk of the gear on most of our multi-day adventures and accommodate 2-4 passengers. Your guide pilots with long oars from a center-mounted aluminum frame. Ample deck space allows for lounging in calm stretches, while the sturdy weight and width of the boat gives your guide confidence to hit big waves head-on.
Learn more about the OARS Fleet of boats.
After each active day on the river, we pull ashore to camp for the night. Our first task is to unload the boats using a fire-line of crew and passengers to expedite the process. Individuals then collect their waterproof bags and locate an area on the beach to camp for the night.
While you put up your tent, the guides will set up the kitchen and central dining/seating area with camp chairs. They will also locate a secluded area away from camp to set up the portable toilet, where privacy is assured.
As guides prepare dinner, hors d'oeuvres are served. This is an opportunity to relax, enjoy a drink if you wish, and reflect on the day with your fellow traveling companions.
In the morning, the first wake-up call lets you know that coffee, hot water for tea or cocoa, juice, fresh fruit, and cold cereal are ready. You can fill your mug and grab a bite, then begin to pack up your personal belongings and sleep gear as the guides prepare breakfast. After breakfast, the entire camp is broken down and packed up. Once the guides have all of the gear loaded back onto the boats, we'll head downstream to see what new adventures await us.
More info about Meals & Dietary Restrictions can be found on our Trip Resources page.
Average daytime temps during summer months are usually comfortable, but not particularly hot, while average nighttime lows can be very chilly. We will experience the North's long hours of daylight and your trip may also witness the dramatic northern lights. There is no guarantee against a few days of overcast weather, rain, or even snow.
Averages for Tatshenshini-Alsek Nat'l Park
| | High (°F) | Low (°F) | Days of Rain |
| --- | --- | --- | --- |
| June | 58 | 23 | 10 |
| July | 60 | 28 | 10.4 |
| Aug | 59 | 25 | 12.7 |
| Sept | 48 | 17 | 16.5 |
Whitewater
The Tatshenshini drops 1,950 feet from Dalton Post to Dry Bay. The Class III whitewater section lasts approximately 45 minutes with a maximum gradient of 50 feet per mile. The river itself is characterized as Class II-III, as it is challenging due to its remote nature. The upper Tatshenshini runs highest in June with the spring snowmelt, yet the Alsek River peaks in early July due to melting glaciers. The hotter the weather, the longer the high water will hold, leaving medium to moderate levels for August and September trips.
Before booking your trip with OARS, there are a few important considerations we'd like you to know about.
Purchase Travel Protection: In order to take part in this trip, each participant must have a minimum of Emergency Medical Evacuation coverage in place for the dates of the trip. Learn more about the plan we recommend.
Essential Travel Documents: This trip takes place in both Canada and the United States (the second half of the river trip is in Alaska). A passport is required. A visa is not required for U.S. citizens. Non-U.S. citizens should check with the consulate of Canada, the United States, and/or their home country to determine the need for a visa and arrange one or both, accordingly.
Physical Requirements: Your outdoor adventure will be an active participatory trip. Please inform us of any physical limitations you may have as soon as possible. If you exceed 260 pounds, please give us a call. Make sure you are exercising frequently in the months leading up to your trip and can meet our Essential Eligibility Criteria.
Whitewater Orientation: To increase your safety, we expect everyone to watch our Whitewater Orientation video before joining us.

Trip Forms: Each participant will need to complete the required trip forms within two weeks of making a booking. Refer to your confirmation email for the link to the online forms. If you prefer to fill out paper forms, please let us know right away. If you are reserving within 90 days of departure, your forms must be completed immediately to ensure we can properly plan for your trip.
Reservations and Deposits
A $1000/person deposit is required at the time of booking. Deposits may be made by check, money order, or Visa/Mastercard (American Express and Discover incur a 3% processing fee). Prices are in US Dollars, and all payments must be made in US Dollars. Payment of the deposit establishes your acceptance of our complete Terms and Conditions. Individual departures and trip capacity are strictly limited by the managing agency.
Canceling your trip after your deposit is processed will incur cancellation fees because OARS has absorbed costs on your behalf and will turn others away who would like to book the spaces we're holding for you. Final payment is due 90 days before departure. Accounts on which final payment has not been received 80 days before the departure date will be canceled without exception.
Cancellations and Refunds
Your deposit is fully refundable, less a 3% processing fee, for 7 days after you book when you submit a deposit 7 days or more before the final payment due date.
If you must cancel your reservation after the rescission period described above, your cancellation fee will be determined according to the schedule below. We regret we cannot make exceptions to the cancellation policy for any reason, including foul weather, poor air quality, wildfire activity, acts of terrorism, civil unrest, or personal emergencies. There is no refund for arriving late or leaving a trip early. For these reasons, we strongly urge you to consider purchasing a travel protection plan.
| Date of Cancellation | Cancellation Fee |
| --- | --- |
| 90 or more days before your trip | Full deposit ($1000)/person |
| 89 – 0 days before your trip | 100% of the trip price/person |
Requests to transfer a date will be treated as a cancellation, per the terms above.
Canceled Trips
OARS International and the outfitter R.O.A.M. Adventures, Inc. reserve the right to cancel any trip due to insufficient registration or other factors that make the trip impractical to operate. Do not make nonrefundable travel arrangements unless you have spoken to your Adventure Consultant regarding the status of your trip.
If a trip must be canceled or postponed due to force majeure (factors outside the control of OARS), OARS will provide full credit for payments made toward future travel, or a refund less a 5% service fee plus any nonrefundable payments made on your behalf to 3rd-party suppliers. OARS will make good faith efforts to recover deposits made on your behalf to 3rd-party suppliers, however, we can't guarantee recovery of any or all of the advance payments made. OARS is not responsible for expenses incurred by participants in preparation for a canceled trip.
Our Tatshenshini River trips are run by an affiliate company and arranged through O.A.R.S. International, Inc.
Ancestral Lands Acknowledgement
We respect and recognize that many of the river canyons on state and federal lands where we operate are the ancestral homes of indigenous communities. Where we operate on the Tatshenshini River between Dalton Post and Dry Bay we acknowledge the territories of the Dënéndeh, Tlingit, and Champagne & Aishihik.
For You
You May Also Like
Location: Canada
Adventure Level: Challenging
Minimum Age: 13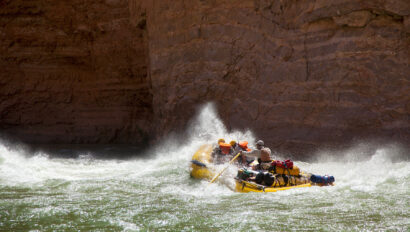 Location: Grand Canyon, Arizona
Adventure Level: Challenging
Minimum Age: 12

Location: Idaho
Adventure Level: Moderately Challenging
Minimum Age: 12 (15 during high water)

Can't Decide?
Use our Compare tool to find your perfect Adventure.