Main Salmon | Lower Salmon River Rafting Combo
Location
Idaho
Adventure Level
Moderate
Minimum age
12 (15 during high water)
From
$3399
Spend 12 days rafting and hiking your way through a dramatic and diverse landscape as you journey down two distinctly beautiful stretches of Idaho's legendary Salmon River—the Main and Lower.
This 165-mile Idaho rafting adventure begins on the Wild & Scenic Main Salmon River which flows through the Frank Church River of No Return Wilderness. Surrounded by beautiful mountain scenery and abundant wildlife, the Main Salmon's sandy beaches are perfect for camping, playing games, and relaxing alongside its free-flowing waters. Exciting rapids like Black Creek, Big Mallard, and Growler, historical sites such as Buckskin Bill's homestead and Jim Moore's place, and the much-anticipated Barth Hot Springs add to the attractions along the way.
Leaving the Main Salmon's forests and mountains behind, the Lower Salmon River opens into the warmer, drier canyon country of the Seven Devils. It's here that some of Idaho's most famous whitewater rapids like Demons Drop, Snow Hole, and Blue Canyon can be found. The Lower Salmon flows through four separate gorges—Green, Cougar, Snow Hole, and Blue canyons and is home to some of the biggest and most beautiful white sand beaches of any western river—perfect for water-based fun in the sun.
This Idaho river rafting adventure offers exciting Class III whitewater and the full fleet of OARS river craft. Ride in a wooden dory one day, an oar boat the next, then dig into the whitewater hands-on in a paddle raft or inflatable kayak on this exciting whitewater escape.
Trip Highlights
Exciting Class III rapids and a wide selection of boat types
Natural hot spring and sandy beaches
Native American rock art
Warm water perfect for swimming & water fights
Catered camping on giant sandy beaches
Abundant wildlife including river otters and bighorn sheep
What to Expect
Itinerary & Map
Itinerary at a Glance
We pride ourselves in running a relaxed and flexible schedule. Every Main and Lower Salmon River rafting trip is different depending upon the group, other trips on the water, camp locations, and sometimes the weather. The following is a sample of what your trip might be like:
The Day Before Your Trip
We'll meet in McCall, Idaho at 8 PM for a pre-trip orientation. This is an opportunity to meet your fellow travelers and ask any last-minute questions. Your trip leader will give you a thorough trip overview and pass out your waterproof river bags so that you can pack your belongings that evening. We will also confirm the meeting time for the following morning.
Day 1
We'll depart McCall for a scenic flight to Salmon. Reaching the river by late morning, we'll have lunch and an informative safety talk at the put-in before heading out on our river adventure. 
The Main Salmon canyon is heavily forested with towering pines and conifers and, early in the season, blanketed with vibrant wildflowers. We may be welcomed to the river by a family of otters swimming near our boats, a herd of bighorn sheep scaling a steep canyon wall, a giant elk or moose wading in the shallows, or if we're lucky, a black bear standing sentinel on shore.
Mid- to late-afternoon, we stop and make camp. You grab your bags and set up your tent while we take care of the kitchen and "living room"—camp chairs and the site for tonight's campfire (if permitted). 
Read, nap, or just sit back and laugh with friends and family as we prepare dinner. After a satisfying feast, the evening is yours to spend however you wish.
Days 2 – 6
Each morning, you'll be greeted with hot coffee, tea, and cocoa as breakfast is prepared by your guides. After a hearty breakfast, you pack your belongings and have some more time to relax while camp is broken down and the boats are loaded. 
Typically a day on the river includes a few hours on the water in the morning, sometimes stopping for a great hike, a visit to a Native American pictograph, historical site, or a soak in a natural hot spring. Come lunchtime, we pull over to a sandy beach and enjoy a delicious picnic. After feasting and relaxing on the beach (or perhaps swimming, a game of Frisbee, a nature walk…), we get back in our boats for more floating and exciting whitewater. Be sure to try your hand at the paddleboard and inflatable kayak! 
As we journey into the pristine heart of the Frank Church Wilderness, each day brings new discoveries: exciting rapids like Five Mile, Big Mallard, and Elkhorn, historical sites such as Buckskin Bill's homestead and Jim Moore's place (maybe you'll find the fortune he buried in the hillside!), and perhaps a stop and short climb to Barth Hot Springs or a peaceful hike to the Yew Grove. The fishing is excellent during these days, and on trips in July and August, warm air and water temperatures encourage frequent refreshing dips in the river.
Our last two days on the Main Salmon parallel the Forest Service road, and we share our river canyon with a gravel road for one day and the highway for a day—a small concession. There's a great swimming hole near French Creek and some of the river's best rapids, including Ruby, Lake Creek, Lightning Creek, Chair Creek, and Fiddle Creek.
Days 7 – 11
We've now reached the Lower Salmon River.  A significant difference is the water temperature—the river is much warmer here on the Lower, and those ready to test it out can swim through Rollercoaster Rapid, which marks the entrance to Green Canyon. We'll stop to visit some ancient pictographs and then continue the whitewater action with rapids like Wright-way, Demon's Drop, and Pine Bar rapids.
As we float along the river, we'll keep an eye out for the wildlife that inhabits the canyon. Golden eagles, ospreys, and river otters make frequent appearances; if we're lucky, we might also see beavers, cougars, and Rocky Mountain bighorn sheep.
After Green Canyon come Cougar and Snow Hole canyons, each offering a different perspective on the striking scenery around us. All the while, the river slowly unfolds its long and varied history, providing glimpses of old mining and ranching sites, geological displays of basalt formations, remnants of ancient Native American cultures, and the remains of old Chinese stone houses. Entering Snow Hole Canyon, we face some of the biggest, most exciting whitewater of the Lower Salmon: Half & Half, Snow Hole, and China Bar rapids.
Early-season boaters can experience the challenge of Slide Rapid in Blue Canyon—perhaps the most spectacular of the four gorges through which we've traveled. Hikers in the group might enjoy climbing to a vista point for an impressive bird's-eye view of the river winding through the steep and slender canyon. Further downstream, we join the Snake River, signaling that the end of our trip is near.
Day 12
After passing through the confluence with the Grande Ronde, we arrive at the Heller Bar take-out. Our journey has led us through more than 200 miles of Idaho's glorious, ever-changing wilderness. Now, a 45-minute ride is all it takes to get back to "civilization," though we've been worlds away during our unforgettable experience on the Salmon River.
Meeting Time & Place
Location
McCall, ID
Meeting time
7 PM, the evening before your trip
Return
Approximately 4 – 6 PM to Lewiston, ID
Trip Map
Dates & Prices
Save $200 on 2024 departures when you're one of the first to book by March 31 and request "Premier Pricing" over the phone.
| 2024 Departures | Price |
| --- | --- |
| June 29 | $3,699 |
| August 16 | $3,399 |
Deposit
$800
Additional Costs
• Flight package from Boise or car shuttle
• $4 per day Recreation Enhancement Act Fee
The Need-to-Know Info
Trip Details
Included in Your Trip Cost
Skilled professional guide service
All meals from lunch on day 1 through lunch on the last day, with limited beer and wine at camp
Expedition equipment, including highest-quality rafts, 2-person shared tent, sleep kit, personal flotation device (PFD), helmet, waterproof bags, camp chair, as well as eating utensils, plates, and cups
Transfers from McCall to the river, and from the river to Lewiston
Not Included in Your Trip Cost
Transportation to McCall and back from Lewiston
Pre- and post-trip accommodations and meals
Insurance of any kind, including a travel protection plan
Gratuities
The number and variety of boats on an OARS trip will vary based on water levels, the number of participants, and other factors we take into account when planning your adventure. Please be aware that in doing so we will ask you to share boat time with your fellow travelers. We don't assign boats, nor can we guarantee exactly which crafts we bring, but trust us to provide you with the best possible mix for you and others on your trip.
Learn more about the OARS Fleet and the boats that may be a part of your experience: Oar raft, dory, inflatable kayak, stand-up paddleboard, paddle raft (requires 11 or more trip guests)
After each active day on the river, we pull ashore to camp for the night. Our first task is to unload the boats using a fire line of crew and guests to expedite the process. Individuals then collect their waterproof bags and locate an area on the beach to camp for the night.
While you put up your tent, the guides will set up the kitchen and central dining/seating area with camp chairs. They will also locate a secluded area away from camp to set up the portable toilet, where privacy is assured.
As guides prepare dinner, hors d'oeuvres are served. This is an opportunity to relax, enjoy a drink if you wish, and reflect on the day with your fellow traveling companions.
In the morning, the first wake-up call lets you know that coffee, hot water for tea or cocoa, juice, fresh fruit, and cold cereal are ready. You can fill your mug and grab a bite, then begin to pack up your personal belongings and sleep gear as the guides prepare breakfast. After breakfast, the entire camp is broken down and packed up. Once the guides have all of the gear loaded back onto the boats, we'll head downstream to see what new adventures await us.
More info about Meals & Dietary Restrictions can be found on our Trip Resources page.
Average Air & Water Temperatures
| | Air (Day) °F | Air (Night) °F | Water °F |
| --- | --- | --- | --- |
| June | 45-90 | 30-60 | 40-55 |
| August | 70-100+ | 55-70 | 65-68 |
Whitewater
Dropping down through the Main and Lower Salmon, you'll notice a significant difference in the nature of the whitewater as the river widens and increases in volume as we go along. The Class III rapids of the Main and Lower are exciting and challenging and provide an opportunity for both paddling and relaxation. The pool-and-drop nature of the Main and the Lower Salmon offers time to enjoy the scenery in between rapids, and the increased flows allow you to ride the waves in our whitewater dories.
Before booking your trip with OARS, there are a few important considerations we'd like you to know about.
Physical Requirements: Your outdoor adventure will be an active participatory trip. Please inform us of any physical limitations you may have as soon as possible. If you exceed 260 pounds, please give us a call. Make sure you are exercising frequently in the months leading up to your trip and can meet our Essential Eligibility Criteria.
Whitewater Orientation: To increase your safety, we expect everyone to watch our Whitewater Orientation video before joining us.
Trip Forms: Each participant will need to complete the required trip forms within two weeks of making a booking. Refer to your confirmation email for the link to the online forms. If you prefer to fill out paper forms, please let us know right away. If you are reserving within 60 days of departure, your forms must be completed immediately to ensure we can properly plan for your trip.
Reservations and Deposits
An $800/person deposit is required at the time of booking. Deposits may be made by check, money order, or Visa/Mastercard (American Express and Discover incur a 3% processing fee). Prices are in US Dollars, and all payments must be made in US Dollars. Payment of the deposit establishes your acceptance of our complete Terms and Conditions. Individual departures and trip capacity are strictly limited by the managing agency.
Canceling your trip after your deposit is processed will incur cancellation fees because OARS has absorbed costs on your behalf and will turn others away who would like to book the spaces we're holding for you. Final payment is due 90 days before departure. Accounts on which final payment has not been received 60 days before the departure date will be canceled without exception.
Cancellations and Refunds
Your deposit is fully refundable, less a 3% processing fee, for 7 days after you book when you submit a deposit 7 days or more before the final payment due date.
If you must cancel your reservation after the rescission period described above, your cancellation fee will be determined according to the schedule below. We do regret we cannot make exceptions to the cancellation policy for any reason, including foul weather, poor air quality, wildfire activity, acts of terrorism, civil unrest, or personal emergencies. There is no refund for arriving late or leaving a trip early. For these reasons, we strongly urge you to consider purchasing a travel protection plan.
| Date of Cancellation | Cancellation Fee |
| --- | --- |
| 180 or more days before your trip | $100/person |
| 179 – 90 days before your trip | $200/person |
| 89 – 60 days before your trip | $400/person |
| 59 days or less before your trip | Full Fare* |
Canceled Trips
OARS reserves the right to cancel any trip due to insufficient registration or other factors that make the trip impractical to operate. In such instances, we will inform you at least 45 days before departure. Do not make nonrefundable travel arrangements unless you have spoken to your Adventure Consultant regarding the status of your trip.
If a trip must be canceled or postponed due to force majeure (factors outside the control of OARS), OARS will provide full credit for payments made toward future travel, or a refund less a 5% service fee plus any nonrefundable payments made on your behalf to 3rd-party suppliers. OARS will make good faith efforts to recover deposits made on your behalf to 3rd-party suppliers, however, we can't guarantee recovery of any or all of the advance payments made. OARS is not responsible for expenses incurred by participants in preparation for a canceled trip.
Transfers
If you transfer from one trip to another within the same season, there is a $50/person fee up until 120 days before departure. You may choose to make a one-time transfer of your payments to a credit account for use during the following season, which incurs a $100/person fee up until 120 days before departure. Transfers made after this time will be treated as cancellations.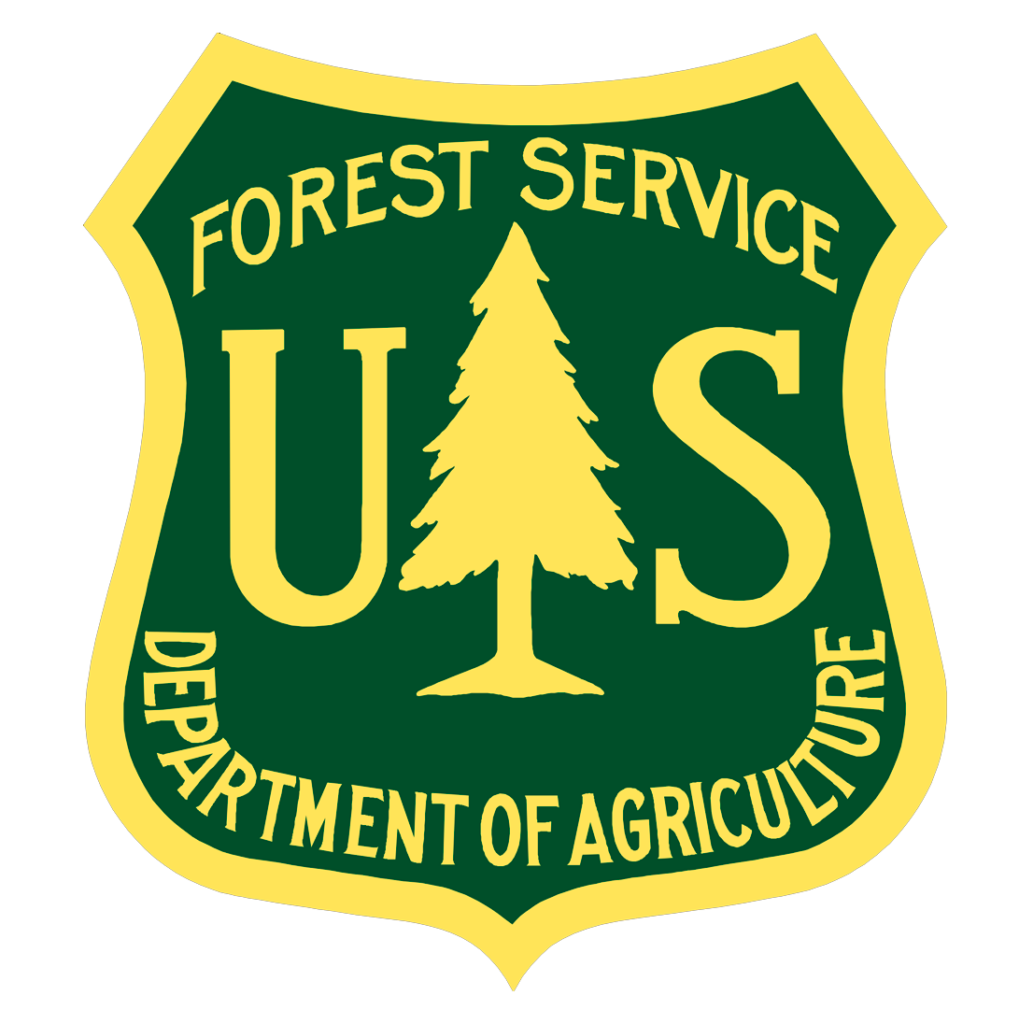 O.A.R.S. Dories, Inc. is operated under special use permit with the Salmon-Challis National Forest and is a licensed & bonded outfitter on the Lower Salmon River
Ancestral Lands Acknowledgement
We respect and recognize that many of the river canyons on state and federal lands where we operate are the ancestral homes of indigenous communities. Where we operate on the Main and Lower Salmon River between Corn Creek and Heller Bar on the Snake River, we acknowledge the territories of the Nimiipuu, Shoshone-Bannock, and Lemhi-Shoshone.
For You
You May Also Like
Location: Idaho
Adventure Level: Moderately Challenging
Minimum Age: 12 (15 during high water)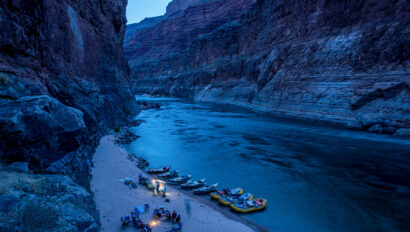 Location: Arizona
Adventure Level: Challenging
Minimum Age: 12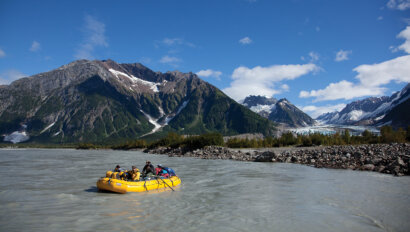 Location: Alaska, United States
Adventure Level: Moderately Challenging
Minimum Age: 13

Can't Decide?
Use our Compare tool to find your perfect Adventure.