Stillwater & Cataract Canyon Hiker
Location
Utah
Adventure Level
Moderately Challenging
Minimum age
12
From
$2199
Spend a week hiking and rafting along the Green and Colorado Rivers through the heart of Canyonlands National Park.
This active adventure vacation near Moab combines tranquil floating and whitewater rafting on the Green and Colorado Rivers with ample hiking in hard-to-reach regions of Canyonlands National Park. The hiking-focused rafting trip begins in Stillwater Canyon along a scenic stretch of the Green River, where the well-known and picturesque White Rim formation is more pronounced and ripe for exploring. From here, we wind our way into the remote Island in the Sky District of the park, where we'll venture out on at least one unforgettable hike each day. Eventually, the Green River meets with the Colorado River, and a day of challenging whitewater in Cataract Canyon takes the adventure level up a notch before several hidden side canyons beckon us to wander in.
As we journey downstream and traverse the canyon's mind-boggling terrain, days are both active and restorative. Nights bring delicious guide-prepared meals, good conversations with friends and family, and a vast desert sky that's ripe for stargazing. It's a unique Moab vacation that takes you far away from the crowds.
Trip Highlights
Unrivaled hiking access to remote regions of Canyonlands along the Green & Colorado Rivers
Majestic side canyons, Ancestral Puebloan cultural sites & otherworldly red rock scenery
Raft the legendary Class III-IV rapids of Cataract Canyon
Try stand-up paddle boarding and inflatable kayaking
Camping under the stars in an International Dark Sky Park
Scenic return flight over Canyonlands to Moab
What to Expect
Itinerary & Map
Itinerary at a Glance
We pride ourselves in running a relaxed and flexible schedule. Every Stillwater & Cataract Canyon Hiker trip is different depending upon the group, other trips on the water, camp locations, and sometimes the weather. The following is a sample of what your trip might be like:
The Day Before Your Trip
We'll meet in Moab this evening for a pre-trip orientation. This is an opportunity to meet your fellow travelers and guides, and ask any last-minute questions.
Day 1
We begin our trip with a 75-minute scenic drive to Mineral Bottom—an exciting drive when the road forges a dubious route through the sheer Wingate Sandstone.
The trip begins on a calm stretch of the Green River. Depending on water levels, we may use the motor assist during sometimes windy afternoon conditions to make miles, however, if things are calm, this is a perfect time to try out an inflatable kayak, stand-up paddleboard, or sit back in the raft and take in the gorgeous canyon scenery and become acclimated to your boats, guides, and fellow travelers. For a big hike right off the bat, we may stop at Upheaval Canyon to hike to the enigmatic Upheaval Dome.
At lunchtime, we pull over to a sandy beach and enjoy a delicious picnic. After feasting and relaxing on the beach, we get back in our boats and head to Fort Bottom for a hike to see both an Ancestral Puebloan structure and a historic cabin. 
Late afternoon, we stop and make camp. You'll grab your bags and set up your tent while the guides take care of the kitchen and "living room"—camp chairs and possibly the night's campfire (if permitted). This is the perfect time for you to lounge on the beach with that book you've wanted to finish forever, nap, take an exploratory hike, or just sit back and laugh with friends and family as we prepare dinner. Before long, you'll be savoring pleasing hors d'oeuvres and the beverage of your choice—delicious as these refreshments are, they always taste better after a day on the river!
After a satisfying feast, the evening is yours to spend however you wish. Maybe music, stories, or jokes will bring us together tonight; maybe the popping of the fire, the whisper of the river, and the clarity of the big, star-filled sky will encourage silent reflection on the amazing wilderness that is, for now, our home.
Days 2 – 3
Your days begin as the morning light paints the canyon walls with brilliant shades of desert colors. Fresh coffee and tea are waiting for you when you get up; grab a cup, sit back, and take in the glory of the awakening river. Soon breakfast is served, and once you've eaten your fill, you'll pack up your things as the guides break down camp. Then our new day's adventure begins!
The next couple of days will be spent setting up for hikes like Anderson Bottom or Turks Head while also enjoying time floating downriver.
During the evenings, we will make camp on beaches or next to Cottonwood groves. If our guides can't arrange a hike, you may want to enjoy a self-guided walk, or perhaps you'd rather just relax and wait for dinner, always a trip highlight, as the day's adventures stir up a hearty appetite. The group dynamic of our trip is at its best as we gather around the camp "living room" for nighttime conversation and laughter.
After the Green winds us through convoluted twists and turns, we happily reach the Confluence. Now that the waters of the Colorado River join our party, Cataract Canyon begins, hinting at the whitewater to come. As we leave Stillwater Canyon, the Green's 730-mile journey from Wyoming continues on what is now the Colorado, mightier than before. Our anticipation grows.
Days 4 – 6 or 7 (Depending on Trip Length)
About three miles down from the Confluence, we reach Spanish Bottom, on the verge of our first major rapid. Here we find a fading 1893 inscription from the steamer Major Powell, where it turned around twice, not daring to take on the rapids immediately below.
This is the area where we'll set up to hike the Doll House in the Maze district of Canyonlands.
Next up are the legendary rapids of Cataract Canyon, like Mile Long, Capsize, and the Big Drops. This section offers plenty of excitement. As we drop into Brown Betty Rapid, the preceding days' anticipation of Cataract explodes in cool water and huge smiles. Whatever the water level or the type of boat you're in, the rushes of adrenaline with each new rapid are balanced by the knowledge of your guides' experience.
Even though the whitewater may lessen as we exit Cataract Canyon, the excitement and beauty do not. We continue down the Colorado, possibly exploring some of the many side canyons, such as Gypsum, Palmer, Clearwater, Bowdie, Dark, or Rock Canyons, each providing its own unique and exquisite splendor.
Days 7 or 8 (Depending on Trip Length)
On the last day, Cataract Canyon ends as we reach the old location of Hite Settlement that was flooded by Lake Powell. As we journey out on the reservoir toward our take-out at Hite Crossing, it's tough not to imagine the wonders drowned below us. What more Glen Canyon could have shown us! The bittersweet ending is now here. Thankfully, the scenic flight back to Moab grants us a bit of time to reflect on our epic journey through the geologic and historic wonders of this remarkable landscape.
Meeting Time & Place
Location
Moab, UT
Meeting time
6 PM, the evening before your trip
Return
Approximately 4 – 6 PM
Trip Map
Dates & Prices
Save $200 on 2024 departures when you're one of the first to book by March 31 and request "Premier Pricing" over the phone.
| 2024 Departures | Price |
| --- | --- |
| April 28 | $2,199 |
| September 23 | $2,199 |
| 2024 Departures | Price |
| --- | --- |
| April 6 | $2,449 |
| October 5 | $2,449 |
Deposit
$400
Price includes a scenic flight over Canyonlands National Park.
*Prices subject to National Park Service review
The Need-to-Know Info
Trip Details
Included in Your Trip Cost
Skilled professional guide service
Catered camping: all meals from lunch on day 1 through lunch on the last day
Expedition equipment, including highest-quality rafts, 2-person shared tent, personal flotation device (PFD), helmet, waterproof bags, camp chair, as well as eating utensils, plates, and cups
All transportation from day 1 through the last day, including scenic flight back to Moab
Not Included in Your Trip Cost
Transportation to and from Moab
Pre- and post-trip accommodations and meals
Sleep kit: sleeping bag, pillow & a deluxe 3-inch thick air-filled sleeping pad (available for rent)
Insurance of any kind, including a travel protection plan
Alcoholic beverages
Gratuities
The number and variety of boats on an OARS trip will vary based on water levels, the number of participants, and other factors we take into account when planning your adventure. Please be aware that in doing so we will ask you to share boat time with your fellow travelers. We don't assign boats, nor can we guarantee exactly which crafts we bring, but trust us to provide you with the best possible mix for you and others on your trip.
Learn more about the OARS Fleet and the boats that may be a part of your experience: Oar raft, inflatable kayak, stand-up paddleboard.
After each active day on the river, we pull ashore to camp for the night. Our first task is to unload the boats using a fire line of crew and passengers to expedite the process. Individuals then collect their waterproof bags and locate an area on the beach to camp for the night.
While you put up your tent, the guides will set up the kitchen and central dining/seating area with camp chairs. They will also locate a secluded area away from camp to set up the portable toilet, where privacy is assured.
As guides prepare dinner, hors d'oeuvres are served. This is an opportunity to relax, enjoy a drink if you wish, and reflect on the day with your fellow traveling companions.
In the morning, the first wake-up call lets you know that coffee, hot water for tea or cocoa, juice, fresh fruit, and cold cereal are ready. You can fill your mug and grab a bite, then begin to pack up your personal belongings and sleep gear as the guides prepare breakfast. After breakfast, the entire camp is broken down and packed up. Once the guides have all of the gear loaded back onto the boats, we'll head downstream to see what new adventures await us.
More info about Meals & Dietary Restrictions can be found on our Trip Resources page.
Average Air & Water Temperatures
| | Air (Day) °F | Air (Night) °F | Water °F |
| --- | --- | --- | --- |
| April | 73 | 42 | 57 |
| September | 87 | 52 | 67 |
Whitewater
Stillwater Canyon lives up to its namesake—this final 52 miles of the Green River are calm stretches that inspire swimming, watching wildlife, or simply gazing at the breathtaking canyon scenery until it merges with the Colorado River.
The Colorado River is not dammed above Cataract Canyon and can exhibit extreme variations in water level at different times of the year, providing a whitewater experience for everyone. Seasons experiencing average and/or above average snow packs will likely see high water in May and June but can vary widely from early May and into July. Outside of high water, it is a great family-friendly run, with less intimidating rapids suitable for most ages and levels of experience. Around 34 rapids in Cataract Canyon are found within about 14.5 river miles – somewhere around 20 rapids are buried by Lake Powell, something to ponder on the final miles of the trip.
Before booking your trip with OARS, there are a few important considerations we'd like you to know about.
Physical Requirements: Your outdoor adventure will be an active participatory trip. Please inform us of any physical limitations you may have as soon as possible. If you exceed 260 pounds, please give us a call. Make sure you are exercising frequently in the months leading up to your trip and can meet our Essential Eligibility Criteria.
Whitewater Orientation: To increase your safety, we expect everyone to watch our 23-minute Whitewater Orientation video before joining us.
Trip Forms: Each participant will need to complete the required trip forms within two weeks of making a booking. Refer to your confirmation email for the link to the online forms. If you prefer to fill out paper forms, please let us know right away. If you are reserving within 60 days of departure, your forms must be completed immediately to ensure we can properly plan for your trip.
Reservations and Deposits
A $400/person deposit is required at the time of booking. Deposits may be made by check, money order, or Visa/Mastercard (American Express and Discover incur a 3% processing fee). Prices are in US Dollars and all payments must be made in US Dollars. Payment of the deposit establishes your acceptance of our complete Terms and Conditions. Individual departures and trip capacity are strictly limited by the managing agency.
Canceling your trip after your deposit is processed will incur cancellation fees because OARS has absorbed costs on your behalf and will turn others away who would like to book the spaces we're holding for you. Final payment is due 60 days before departure. Accounts on which final payment has not been received 50 days before the departure date will be canceled without exception.
Cancellations and Refunds
Your deposit is fully refundable, less a 3% processing fee, for 7 days after you book when you submit a deposit 7 days or more before the final payment due date.
If you must cancel your reservation after the rescission period described above, your cancellation fee will be determined according to the schedule below. We regret we cannot make exceptions to the cancellation policy for any reason, including foul weather, poor air quality, wildfire activity, acts of terrorism, civil unrest, or personal emergencies. There is no refund for arriving late or leaving a trip early. For these reasons, we strongly urge you to consider purchasing a travel protection plan.
| Date of Cancellation | Cancellation Fee |
| --- | --- |
| 180 or more days before your trip | $50/person |
| 179 – 90 days before your trip | $100/person |
| 89 – 60 days before your trip | $200/person |
| 59 days or less before your trip | Full Fare |
Please note that different deposit/cancellation policies may apply for charter groups. Refer to the group organizer's confirmation email for details.
Canceled Trips
OARS reserves the right to cancel any trip due to insufficient registration or other factors that make the trip impractical to operate. In such instances, we will inform you at least 45 days before departure. Do not make nonrefundable travel arrangements unless you have spoken to your Adventure Consultant regarding the status of your trip.
If a trip must be canceled or postponed due to force majeure (factors outside the control of OARS), OARS will provide full credit for payments made toward future travel, or a refund less a 5% service fee plus any nonrefundable payments made on your behalf to 3rd-party suppliers. OARS will make good faith efforts to recover deposits made on your behalf to 3rd-party suppliers, however, we can't guarantee recovery of any or all of the advance payments made. OARS is not responsible for expenses incurred by participants in preparation for a canceled trip.
Transfers
If you need to move your reservation to a different trip during the same season, or to a credit account for the following year, there is a $25/person fee up until 90 days before departure for a one-time transfer of your payment. Transfer requests made 89 days or less before departure will be treated like a cancellation according to the schedule above.

O.A.R.S. Canyonlands, Inc. is an authorized concessioner of Canyonlands National Park
Ancestral Lands Acknowledgement
We respect and recognize that many of the river canyons on state and federal lands where we operate are the ancestral homes of indigenous communities. Where we operate on the Green and Colorado Rivers between Mineral Bottom and Hite Crossing, we acknowledge the territories of the Ute, Pueblo, Southern Paiute, and the Navajo Nation.
For You
You May Also Like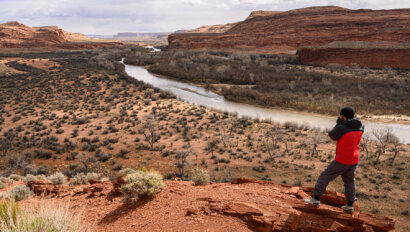 Location: Utah
Adventure Level: Moderate
Minimum Age: 12

Location: Machu Picchu, Peru
Adventure Level: Moderately Challenging
Minimum Age: 12

Can't Decide?
Use our Compare tool to find your perfect Adventure.