American River Whitewater Rafting Super 1-Day
Location
California
Adventure Level
Easier to Moderate
Minimum age
8 (10 - 12 during high water)
From
$229
Splashy good times, comfy cabin tents, and delicious guide-prepared meals at our riverside campground make this the best rafting trip on the American River.
Looking for a no-hassle adventure for your whole family or group? Our American River Whitewater Rafting Super 1-Day trip combines a two-night stay in the deluxe cabin tents at our private, riverside campground with a full day of adrenaline-inducing rafting on the South Fork.
The day before your rafting adventure, you'll have the chance to settle in and enjoy a fun-filled evening in camp with your crew, anticipating the big thrills to come. After a restful night's sleep with all of the comforts of home, we'll serve you a warm and hearty breakfast so you don't have to worry about anything, other than gearing up for the river. Once on the rafts, you'll spend the day working as a team to push through exciting Class II-III rapids like Barking Dog, Scissors, Satan's Cesspool, and Hospital Bar. The splashes are big, and the fun is next level on this 1-day South Fork of the American River Gorge trip. Then, it's back to camp where you can relax while we make dinner for you (and do the dishes, too!). We'll even prepare breakfast for you in the morning so those low-stress vibes can continue before you head back home.
A quick drive from the Bay Area and Sacramento, the Super 1-Day is perfect for families who want a first-timer-friendly outdoor adventure or large groups and organizations looking for a memorable team bonding experience. Hey, it's such an easy adventure to pull off, this might just be the start of an annual tradition.
Trip Highlights
The best American River Whitewater Rafting stay-and-play package
Deluxe riverside camping with OARS at EarthTrek
Raft splashy fun Class II-III rapids on the South Fork of the American River
We take care of the camp cooking, so you don't have to (4 meals included)
Local Gold Rush history, scenic views, and crystal clear water ideal for swimming
Save 10% When you Book Online
What to Expect
Itinerary & Map
Itinerary at a Glance
We pride ourselves in running a relaxed and flexible schedule. Every American River Whitewater Rafting Super 1-Day trip is different depending upon the group, other trips on the water, and sometimes the weather. The following is a sample of what your trip might be like:
The Day Before Your Trip
Leisurely make your way to the twin towns of Lotus and Coloma and check in to OARS at EarthTrek late afternoon/early evening. Depending on when you arrive, head to the river for a refreshing swim, or challenge a friend to a game of ping-pong or cornhole as you settle into camp and vacation mode. 
Dinner is on your own tonight, but there are plenty of low-key dining options within walking distance of the campground.
Day 1
The morning of your whitewater rafting trip you will wake to the sounds of the river and the smell of a delicious hot breakfast being prepared by our camp staff. Breakfast will have plenty of options for the whole group, even those picky eaters. Once you have enjoyed a hot drink and a warm meal you will get ready for your day on the river.
We meet in the main kitchen area to check in with your trip leader and fellow guides who will deliver an orientation and safety talk and fit you with your helmet and PFD (wetsuits and splash tops also included on all early-season and cold weather trips). Be prepared with shoes that stay fastened to your feet, a water bottle, sunscreen, and a sense of adventure.
We'll launch our rafts from our private beach. The first part of the day starts off mellow with several miles of Class II rapids allowing you to practice your paddling skills and enjoy plenty of swimming opportunities before entering the ever-exciting "Gorge" later in the day.
After a few hours your guides will pull ashore to a beach for a riverside picnic. There is access to a BLM pit-toilet restroom at our lunch location. Back in the boats with full bellies, you'll have time to master a few more Class II rapids before hitting the mightier Class III rapids to come. 
As the river canyon narrows we'll enter the "Gorge" and work together to navigate the action-packed rapids you have been waiting for—Lost Hat, Satan's Cesspool, Scissors, and Hospital Bar. As we get closer to the take-out, one last "Surprise" may sneak up on us and provide an exciting finale to our day on the water.
At the Salmon Falls Bridge take-out point, our shuttle vehicles take us back to camp where you are welcome to go for a swim, take a hot shower or sit back and relax with a beverage as our staff prepares a delectable dinner.
Day 2
The next morning we will have another hot breakfast waiting for you before you pack up and depart for home. Say goodbye to our staff and our beautiful spot along the South Fork of the American River as you drive home daydreaming about your next adventure.
Meeting Time & Place
Location
OARS AT EARTHTREK CAMP
7340 Hwy 49, Lotus, CA 95651
GPS Coordinates: 38.807542, -120.903373
Adjacent to where Hwy 49 crosses the river, behind Hotshot Imaging and the River Park shopping center. Go all the way to the back where you will see the OARS and EarthTrek signs and room to park. Turn left after leaving the pavement and you will see the entrance to the EarthTrek Campground. View our South Fork driving directions.
Meeting time
10:45 AM the morning of your river trip with camping the night before & after
Return
N/A
Trip Map
Destination River

Meeting Parking

Point of Interest

Put-in

Take Out
Cabin Tent Rentals
OARS at EarthTrek Camp
Enjoy some well-deserved rest and relaxation with easy camping at OARS at EarthTrek, our campground on the edge of the American River.
Cabin Tent Rental Options:
Small Cabin Tents: $80 per night per tent (6-person maximum)
Large Cabin Tents: $100 per night per tent (10-person maximum)
Small River Tents: $80 per night per tent (2-person maximum)
Large River Tents: $100 per night per tent (3-person max)
Please note that camping reservations must be made in advance of arrival and guests may check-in between 4 and 8 PM.
Dates & Prices
April – May: Dates available upon request
June – September: Thursdays & Saturdays
| 2023 Departures | Price |
| --- | --- |
| Thursdays | $229/person |
| Saturdays | $249/person |
Price per person based on double occupancy. Full payment is due at the time of booking. Price includes a $10/person facilities fee. Wetsuits included/required on early season and cold weather days.
ADDITIONAL COSTS:
• Cabin Tent rentals
• $8 per person federal, state, and local access fees
The Need-to-Know Info
Trip Details
Included in Your Trip Cost
Skilled, professional guide service
Full access to campground amenities including hot showers and flush toilets for two nights (cabin tent rentals required at an additional charge)
Meals from breakfast on Day 1 through breakfast on Day 2
High-quality inflatable rafts and related river equipment including paddle, helmet, personal flotation device, and wetsuits and splash tops (included on early and late season trips, cold weather trips, and by advance request)
Transfers from the meeting place to the river and back to our campground
Not Included in Your Trip Cost
Cabin Tent Rental
Sleeping bags/bed linens or pillows
Transportation to and from our meeting location at EarthTrek Camp
River access fees
Pre- and post-trip accommodations and meals
Wetsuit booties or shoes of any kind
Insurance of any kind, including a travel protection plan
Gratuities
The number and variety of boats on an OARS trip will vary based on water levels, the number of participants, and other factors we take into account when planning your adventure. Please be aware that in doing so we will ask you to share boat time with your fellow travelers. We don't assign boats, nor can we guarantee exactly which crafts we bring, but trust us to provide you with the best possible mix for you and others on your trip.
Learn more about the OARS Fleet and the boats that may be a part of your experience: paddle raft, paddle raft with oar assist on request.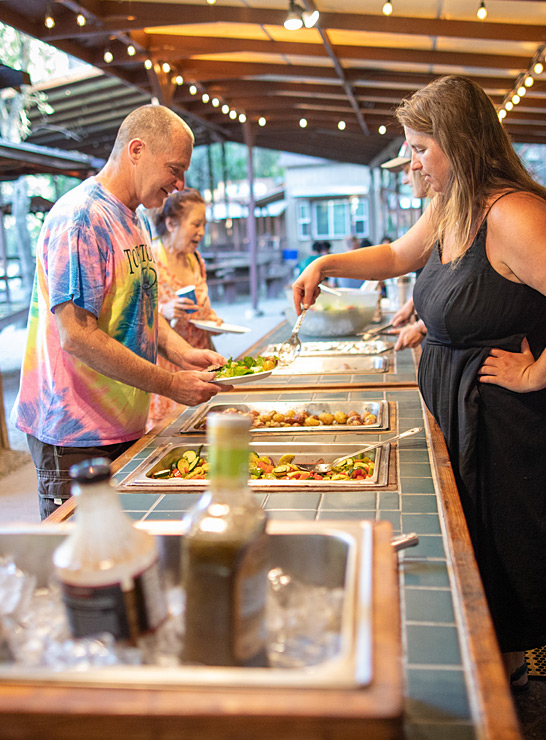 This trip includes all meals from breakfast the morning of your river trip to breakfast the following morning. Please let us know if you have any dietary needs that we'll need to consider in planning your trip. With advance notice, we can typically accommodate vegetarian/vegan options.
Breakfast – Our warm breakfasts typically feature classic options like pancakes, scrambled eggs, or a make-your-own breakfast burrito bar with all the fixings. Pork sausage, and fruit, as well as a selection of cold cereals, oatmeal, and bagels, are also provided along with coffee, tea, hot chocolate, and milk/fruit juices.
Lunch – Picnic lunches on the river are often an abundant spread of cold cuts, cheeses, veggies, and breads, or perhaps a fresh Caesar salad wrap or tasty taco salad for roll-your-own burritos. Fruit, cookies, cold water, and lemonade are also provided.
Dinner – Our dinner menu varies depending on the size of groups and other factors but may feature a BBQ entree like tri-trp or teriyaki chicken with a green salad, and several sides like oven-roasted mini garlic potatoes, stir-fry vegetables, or similar. Water, lemonade, and occasionally iced tea are available.
More info about Meals & Dietary Restrictions can be found on our Trip Resources page.
Average Air & Water Temperatures
| | Air (Day) °F | Air (Night) °F | Water °F |
| --- | --- | --- | --- |
| June | 83-87 | 56-60 | 66 |
| July | 90-94 | 62-66 | 68 |
| Aug | 89-93 | 61-65 | 67 |
| Sept | 83-87 | 57-61 | 66 |
Whitewater
The South Fork's exciting Class III whitewater is near-perfect fun for the whole family! The water on the South Fork is released during summer months from hydroelectric facilities located upstream. Such water releases are not subject to the control of El Dorado County or commercial rafting companies.
Before booking your trip with OARS, there are a few important considerations we'd like you to know about.
Physical Requirements: Your outdoor adventure will be an active participatory trip. Please inform us of any physical limitations you may have as soon as possible. If you exceed 260 pounds, please give us a call. Make sure you are exercising frequently in the months leading up to your trip and can meet our Essential Eligibility Criteria.
Whitewater Orientation: To increase your safety, we expect everyone to watch our Whitewater Orientation video before joining us.
Trip Forms: Each participant will need to complete the required trip forms online and submit them no later than 30 days prior to your trip, or immediately if booking within 30 days.
Reservations and Deposits
Full payment is required at the time of booking. Payments may be made by check, money order, or Visa/Mastercard (American Express and Discover incur a 3% processing fee). Prices are in US Dollars, and all payments must be made in US Dollars. Payment of the deposit establishes your acceptance of our complete Terms and Conditions. Individual departures and trip capacity are strictly limited by the managing agency.
Canceling your trip after your payment has been processed will incur cancellation fees because OARS has absorbed costs on your behalf and will turn others away who would like to book the spaces we're holding for you.
Cancellations and Refunds
Your payment is fully refundable for 48 hours, less a 3% processing fee, after making a reservation when you reserve a trip 7 days or more prior to departure.
If you must cancel your reservation after the rescission period described above, your cancellation fee will be determined according to the schedule below. We regret we cannot make exceptions to the cancellation policy for any reason, including foul weather, poor air quality, wildfire activity, acts of terrorism, civil unrest, or personal emergencies. There is no refund for arriving late or leaving a trip early. For these reasons, we strongly urge you to consider purchasing a travel protection plan.
Date of Cancellation
Cancellation Fee
30 or more days before your trip
$15 per person
29 – 3 days before your trip
Payments for the river rafting/meals portion of your trip fees can be transferred to another trip within the same year (or to a credit account for the following year) for a $15/person transfer fee. No refund.

Payments for the tent accommodation portion of your trip fees are non-refundable and non-transferable. If we can refill your canceled tents, we will refund less a $15/tent processing fee.
2 days or less before your trip
50% of the river rafting/meals portion of your trip fees can be credited to another trip (within the same year). No refund.

Payments for the tent accommodation portion of your trip fees are non-refundable and non-transferrable. If we can refill your canceled tents, we will refund less a $15/tent processing fee.
Late arrivals or "no shows"
No refund or credit
Please note that different deposit/cancellation policies may apply for charter groups. Refer to the group organizer's confirmation email for details.
Canceled Trips
OARS reserves the right to cancel any trip due to insufficient registration or other factors that make the trip impractical to operate. In such instances, we will inform you at least 7 days prior to departure. Do not make nonrefundable travel arrangements unless you have spoken to your Adventure Consultant regarding the status of your trip.
If a trip must be canceled or postponed due to force majeure (factors outside the control of OARS), OARS will provide full credit for payments made toward future travel, or a refund less a 5% service fee plus any nonrefundable payments made on your behalf to 3rd -party suppliers. OARS will make good faith efforts to recover deposits made on your behalf to 3rd-party suppliers; however, we can't guarantee recovery of any or all of the advance payments made. OARS is not responsible for expenses incurred by participants in preparation for a canceled trip.
Transfers
If you need to move your reservation to a different trip during the same year, or to a credit account for the following year, there is a $15/person fee up until 3 days prior to departure for a one-time transfer of your payment. Payments for the tent accommodation portion of your trip fees are non-refundable and non-transferable. If we can refill your canceled tents, we will refund less a $15/tent processing fee. If we are 2 days or less prior to your trip departure, 50% of your trip cost can be credited to another trip, within the same year only. Payments for the tent accommodation portion of your trip fees are non-refundable and non-transferable. If we can refill your canceled tents, we will refund less a $15/tent processing fee. Transfer requests made 2 days or less prior to departure will be treated like a cancellation according to the schedule above.
O.A.R.S. West, Inc. is a permitted outfitter of El Dorado County & the California Department of Parks and Recreation Gold Fields District.
Ancestral Lands Acknowledgement
We respect and recognize that many of the river canyons on state and federal lands where we operate are the ancestral homes of indigenous communities. Where we operate on the South Fork of the American River between Chili Bar and Salmon Falls Bridge, we acknowledge the territories of the Nisenan.
For You
You May Also Like
Location: California
Adventure Level: Easier to Moderate
Minimum Age: 8 (10-12 during high water)

Location: California
Adventure Level: Moderately Challenging
Minimum Age: 14

Location: California
Adventure Level: Moderately Challenging
Minimum Age: 14

Can't Decide?
Use our Compare tool to find your perfect Adventure.