Journey into Hidden Canyons on the John Wesley Powell Route
By Mike Bezemek
6 Min. Read
When I was 19, I wanted to become an outdoor guide, so I joined a guided college backpacking trip to Grand Canyon. We spent a week navigating precarious trails through brilliant layers of sandstones and shales, scrambling atop mesas and staring across vast distances that seemed only hundreds of feet away instead of miles.
Early in the trip, after a steep descent to the Colorado River, we spent a layover day camped beside Hance Rapid. Standing on shore next to a half-mile of churning Class IV whitewater, I was captivated by an approaching river group. Rafts plowed through waves, with rowers grimacing and passengers hollering and waving. A few kayakers zipped downstream like colorful fish on their way to a rave.
I thought, man, I want to do that. As our week-long backpacking trip came to an end, and with new aspirations of becoming a river guide, I figured I'd be back for a river trip through Grand Canyon in a year or two.
Of course, things didn't work out that way. A back injury quickly dashed my hopes for a long-term guiding career and timely return to those hidden-from-sight river sections of Grand Canyon. And with each passing year, the memory of that river group, turning the corner below Hance, seemed more distant and out of reach. It would be 15 years before my chance came to run Grand Canyon.
Before that trip, I made an offhand comment to my friends and fellow trip mates—a great group of paddlers who I met in the Ozarks. I didn't realize this comment would change the next five years of my life—and reveal more hidden canyons than I had previously known existed.
Since no one on our trip had ever run this stretch of river before, I basically suggested we run the canyon as a fresh-eyes descent. This would give our trip a real exploratory feel, sort of like how John Wesley Powell and his crew may have felt during their 1869 expedition. But then it hit me. Like Powell, I'd said. Here was a historic figure I considered a hero of mine. We California raft guides used to talk about Powell with such reverence reserved for the founding fathers or whoever invented cheap beer.
But back then, I knew very little beyond the basics. Powell's team was first to boat through Grand Canyon, and they rowed backwards—two facts reported on a postage stamp! So, I began to read. Book after book. Journals, histories, opinions, trip reports. I was swept up in the story of one of the greatest adventures in American history. I quickly decided a single Grand Canyon trip was not enough. I wanted to explore the entire 1,000-mile Powell route down the Green and Colorado Rivers. A route with dozens of scenic canyons, some well-known, some forgotten, and many hidden from mind among all but die-hard regional river runners.
So, that's what I did, exploring the route in segments over many years. I've rafted, kayaked, paddleboarded, and packrafted well over 1,000 miles, returning again and again to many favorite sections. I've also explored extensively on foot, following many remarkable side hikes and tributary canyons to ancestral ruins, historic sites, unexpected waterfalls, and stunning vistas. What I've learned is that the John Wesley Powell route includes some of the most remarkable river canyons in the United States—all of which share the story of that first expedition.
Not far from Green River, Wyoming, Flaming Gorge Country straddles the northern Utah border. Here begins the first half-dozen canyons (and whitewater rapids) the Powell expedition encountered in spring of 1869. Today, the first few canyons are flooded by a reservoir, which allows for plenty of lake opportunities. Below Flaming Gorge Dam, there's nearly 50 miles of river to explore. These miles can be broken into day trips or done as overnights, including a pair of Class II whitewater sections and some flatwater sections in Browns Park.
Downstream, in Dinosaur National Monument, the lofty Gates of Lodore guard the entrance to some of the Powell route's most dramatic canyons. In June of 1869, the Powell expedition encountered the hardest series of rapids yet. After a wooden rowboat missed a landing, it was wrecked in what today is called Disaster Falls. All told, it took the expedition nearly two weeks of back-breaking portages and challenging rowing to descend what today is a fun and laid-back stretch of Class III whitewater rafting through spectacular scenery, including iconic landscapes like Echo Park and Split Mountain Canyon.
A hundred miles downstream, the 83 miles through Desolation and Gray Canyons may not sound like much, but along the way expect ruins, pictographs, rapids, and more. The trip begins with 20 miles through a barren desert that's beautiful in its simplicity but seems true to name. And the final 20 miles through Gray Canyon offer a stark gorge with sporty rapids. But the middle 35 miles of Deso include a surprising canyon cut into the Tavaputs Plateau, its crumbly cliffs like red-brick pyramids with a green mortar of juniper and fir.
Below the confluence of the Green and Colorado Rivers is foreboding Cataract Canyon, which rumbles with Class III-IV rapids—even harder at high water. With rations dwindling, these rapids exhausted the Powell expedition, which was constantly losing oars and then scrambling to cut more from riverside driftwood. Deep in the heart of Canyonlands, today it's one of the most remote sections of whitewater in the U.S. So remote, to reach the rapids requires a several-day float through the meandering bends of the otherworldly Canyonlands National Park.
Below Lake Powell, the Colorado River passes Lees Ferry. This is the start of the classic trip through the heart of Grand Canyon. In August 1869, Powell and his crew camped not far from Hance Rapid at the confluence with the Little Colorado River. Today, this is a popular side hike where rafters often swim through turquoise waters when the creek is low. Over the past 80 days, the Powell expedition had descended 700 river miles. They were down to nine men—the tenth had left after the disaster in Lodore. But what remaining challenges lay downstream, in what today we call first Granite Gorge, was a mystery.
Powell famously described this feeling in his written account: "We are now ready to start on our way down the great unknown. We are three quarters of a mile into the depths of the earth, and the great river shrinks into insignificance as it dashes its angry waves against the walls and cliffs that rise to the world above… We have an unknown distance yet to run, an unknown river to explore."
It would take three more weeks for the Powell expedition to descend through Grand Canyon. When they emerged from the Grand Wash Cliffs, they were ragged, hungry, and down to six men in two wooden boats. And what happened along the way quickly became the stuff of legend.
Today, the story of that historic expedition is retold at campfires. The rapids those first expedition members portaged are run regularly with modern equipment and techniques. And each first-time river runner gets a chance to explore their own personal great unknown. In this way, the spirit of 1869 is alive and well in the hidden canyons of the John Wesley Powell route.
---
Mike Bezemek is the author of the book, Paddling the John Wesley Powell Route.
---
Photos: Grand Canyon scout – Mike Bezemek, Stand up paddleboarding in Desolation Canyon – Mike Bezemek; Gates of Lodore rafting – Josh Miller; Rafting through Canyonlands National Park – James Kaiser; Grand Canyon dory trip – Justin Bailie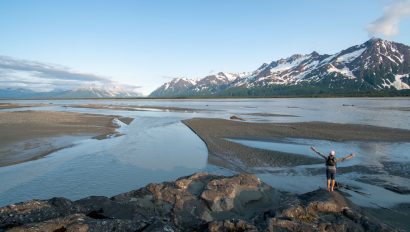 By Jasmine Wilhelm
5 Min.Read
Sign up for Our Newsletter