Everything You Need to Know Before Planning a Grand Canyon Rafting Trip
A Grand Canyon rafting trip on the Colorado River is one of the most sought after adventures on the planet, but there are a lot of factors to consider before planning a trip. For example, do you have your heart set on floating the entire length of the canyon, or would you be okay with a shorter option that gives you access to some of the best sights and biggest whitewater? For any traveler, how to raft the Grand Canyon ultimately comes down to the type of experience you'd like to have, budget, and the amount of time you can commit to this bucket list trip.
Private vs. Commercial Grand Canyon rafting trips
A self-guided Grand Canyon rafting trip, or private trip, can be an appealing way to travel for those who want to have the flexibility to explore on their own. Private trips are for boaters who have the necessary whitewater skills, first-aid training, and experience to lead their own trip. For these trips, you may provide your own equipment, or some groups opt to rent from various outfitters who specialize in outfitting private trips. Some will even pack your food for you. Groups must also secure a coveted Grand Canyon River Permit, which are allocated through a weighted lottery system a year in advance. With such high demand, it can often take years to successfully win a launch date.
If you don't have the skills and equipment to do it yourself or don't want to wait to win the "lottery," a commercial trip is your best option. Not only is the permit and pre-trip planning handled by somebody else, all you have to do is show up ready to raft through one of the wonders of the world. Most outfitters will provide expedition gear and equipment, sleeping accommodations including tents, sleeping pads and pillows, delicious riverside meals, as well as expert guides who can navigate the canyon's legendary Class IV-V rapids (full canyon trips have 47 major rapids that are rated 5 or above on the Grand Canyon scale of 1 to 10).
Grand Canyon outfitters
There are 16 outfitters that are authorized river concessioners of Grand Canyon National Park and permitted to operate trips on the Colorado River. Outfitters offer everything from the full 280-mile Lees Ferry to Pearce Ferry canyon experience to shorter Grand Canyon adventures where you may hike in or out mid-canyon at Pipe Creek, or even fly in or out of the lower canyon at Whitmore Wash via helicopter. Types of trips also vary by boat options. Several companies solely offer human-powered options like oar rafts, paddle rafts, and dories, while others offer motorized rafting trips or a hybrid version with multiple boat options.
You'll still need to plan ahead if you choose to go with an outfitter. The commercial rafting season runs April through October and many Grand Canyon rafting trips sell out a year or more in advance. If you are intent on a specific trip or time frame, you may have to get on a waiting list with some companies.
What are the different types of river trips offered in Grand Canyon?
1) Oar Raft Trips
Oar raft trips are completely human-powered. A guide pilots the raft with long oars from a center-mounted aluminum frame while transporting 3 to 5 passengers downstream. Ample deck space allows for lounging in calm stretches and soaking in the full magic of the canyon at a more leisurely pace. The raft's sturdy weight and width also give guides confidence to hit the Grand Canyon's notorious big waves head-on.
2) Paddle Raft Trips
Paddle boats are the sportiest rafts in Grand Canyon and can turn even the smallest rapids into thrilling rides. A guide steers and gives directions from the rear while 4 to 8 passengers handle a paddle. Active participation from passengers is required and paddlers should be prepared for long stretches of flat water and strong upstream winds at times. These trips are typically accompanied by several oar rafts or a motorized raft to carry gear. Some outfitters also offer hybrid trip options which may include a combination of paddle rafts, oar rafts and inflatable kayaks so clients can switch between boats throughout the trip.
3) Dory Trips
These hard-hulled boats were first used commercially in Grand Canyon by writer, conservationist, and river guide Martin Litton, the late founder of Grand Canyon Dories. Today, three outfitters, including OARS, carry on the long tradition of these legendary boats in the canyon. Dory trips require highly-experienced guides, many of whom have rowed for decades, who can successfully maneuver the delicate crafts downstream while carrying 2 to 4 passengers. The ultra-buoyant boats make wave trains feel like rollercoasters and provide a completely different experience through the canyon. Dory trips may also have oar rafts or motorized rafts to carry gear.
4) Motorized Rafts
Motorized rafts, which are commonly called S-rigs or J-rigs in Grand Canyon, are powered by a four-stroke outboard motor which enables trips to cover more distance each day than human-powered options. The guide, or captain in this case, pilots the 32 to 38-foot boats downstream with about 12-14 people per raft. The most popular full canyon motorized rafting trips are typically 7 days and can be a good option for travelers who are short on time, but still want to experience some of the canyon's highlights.
How long are outfitted Grand Canyon rafting trips?
Full Grand Canyon rafting trips from Lees Ferry to Diamond Creek/Pearce Ferry range from 7 to 18 days, while partial canyon trips can last between 3 and 12 days. Outfitters typically break trips along the 280-mile stretch of the Colorado River into four sections: Full canyon, upper canyon, lower canyon and Whitmore Wash to Pearce Ferry (sometimes referred to as the "ranch & raft" option).
Full Canyon
Length: 6 to 18 days
Put-in: Lees Ferry
Take-out: Varies by outfitter & itinerary (Whitmore Wash, Diamond Creek, or Pearce Ferry)
Full canyon trips put in at Lees Ferry and travel 187 river miles (Whitmore Wash take-out) to 280 miles (Pearce Ferry take-out) of the Colorado River through the heart of Grand Canyon National Park. As you travel downstream, you'll see it all on this trip. It's a chance to explore places like Redwall Cavern, Elves Chasm and Deer Creek Falls and take on all of the canyon's most notorious rapids, including Crystal, Granite and Lava Falls. More time in the canyon also allows for more exploration and you'll likely have the chance to hike to iconic sights like Nankoweep, Matkatamiba and Havasu Canyon. A full canyon rafting adventure is the ultimate bucket list trip and you may have to book up to a year in advance or more to secure a spot, especially for oar raft and dory trips.
Upper Canyon
Length: 4 to 8 days
Put-in: Lees Ferry
Take-out: Pipe Creek
Upper canyon rafting trips through Grand Canyon explore 88 river miles from Lees Ferry to Pipe Creek. As you journey downstream you'll explore Marble Canyon and Redwall Cavern, have the chance to swim in the azure waters of the Little Colorado and raft 19 major rapids, including Unkar, Hance, Sockdolager & Grapevine. These trips are a good option for people who can't commit to the whole experience, but want an exciting and challenging adventure that concludes with a nearly 4,500-foot, 7.7-mile hike out of the canyon along the Bright Angel Trail.
Lower Canyon
Length: 4 to 12 days
Put-in: Pipe Creek
Take out: Varies by outfitter & itinerary (Whitmore Wash, Diamond Creek, or Pearce Ferry)
Lower canyon trips begin at Pipe Creek and travel 99 miles (Whitmore Wash take-out) to 191 miles (Pearce Ferry take-out) of the Colorado River. This trip begins with a challenging 7.7-mile hike into the canyon along the Bright Angel Trail to meet up with your outfitter at the Colorado River at the Pipe Creek Beach. Once headed downstream, you'll tackle some of the biggest whitewater in North America, including Crystal and Lava, as well as experience all of the glory of the Inner Gorge—Elves Chasm, Deer Creek Falls and Havasu Canyon. Additionally, trips ending at Whitmore Wash conclude with a scenic helicopter ride out of the canyon. Travelers who can't commit to the full canyon will often break the adventure into two separate trips, so lower canyon trips are a chance to finish the full canyon if you've already done the upper canyon.
Whitmore Wash to Lake Mead
Length: 3 to 5 days
Put-in: Whitmore Wash
Take-out: Pearce Ferry
An exploration of the final stretch of the lower canyon, this short and fun trip offers travelers a "taste" of the Grand Canyon and includes a helicopter ride to the put-in at Whitmore Wash before traveling 93 river miles to the take-out at Pearce Ferry. These trips explore the Lower Granite Gorge and tackle 13 moderate rapids that are fun and splashy compared to the giants upstream, which make it a perfect family-friendly adventure or a great option for anyone short on time or who's interested in testing the waters before tackling the full canyon. As part of this itinerary, many outfitters also include a night at the Bar 10 Ranch the night before your trip which is why it's sometimes referred to as the "raft & ranch" option among outfitters.
Are there 1-day Grand Canyon rafting trips?
Due to the limited accessibility throughout the canyon, 1-day rafting trips in the heart of the park are not available. However, two outfitters offer 1-day canyon adventures in the upper and lower stretches of the canyon.
There is a 1-day float trip from Glen Canyon Dam to Lees Ferry, which takes you through the scenic Horseshoe Bend area of Glen Canyon National Recreation Area. In the lower canyon, Hualapai River Runners, managed by the Hualapai people—one of 11 Native American tribes that have ancestral connections to Grand Canyon—also offer 1- to 5-day motorized and paddle raft trips below Diamond Creek.
What's the best time of year to raft Grand Canyon?
There are no absolutes when talking about weather in the canyon and every paddler has their own definition of favorable conditions. Here's what you'll want to consider when picking which season is best for rafting Grand Canyon:
Spring rafting season | April & May
April temperatures typically remain cool and rafters should be prepared for late winter storms, but the wildflowers on display at this time can be an attractive opportunity for some. By May, the average temperatures are typically pleasant, weather patterns become more consistent and with the stormy season past the silt-rich Colorado River often flows clear. It's one of the most popular months to raft in Grand Canyon.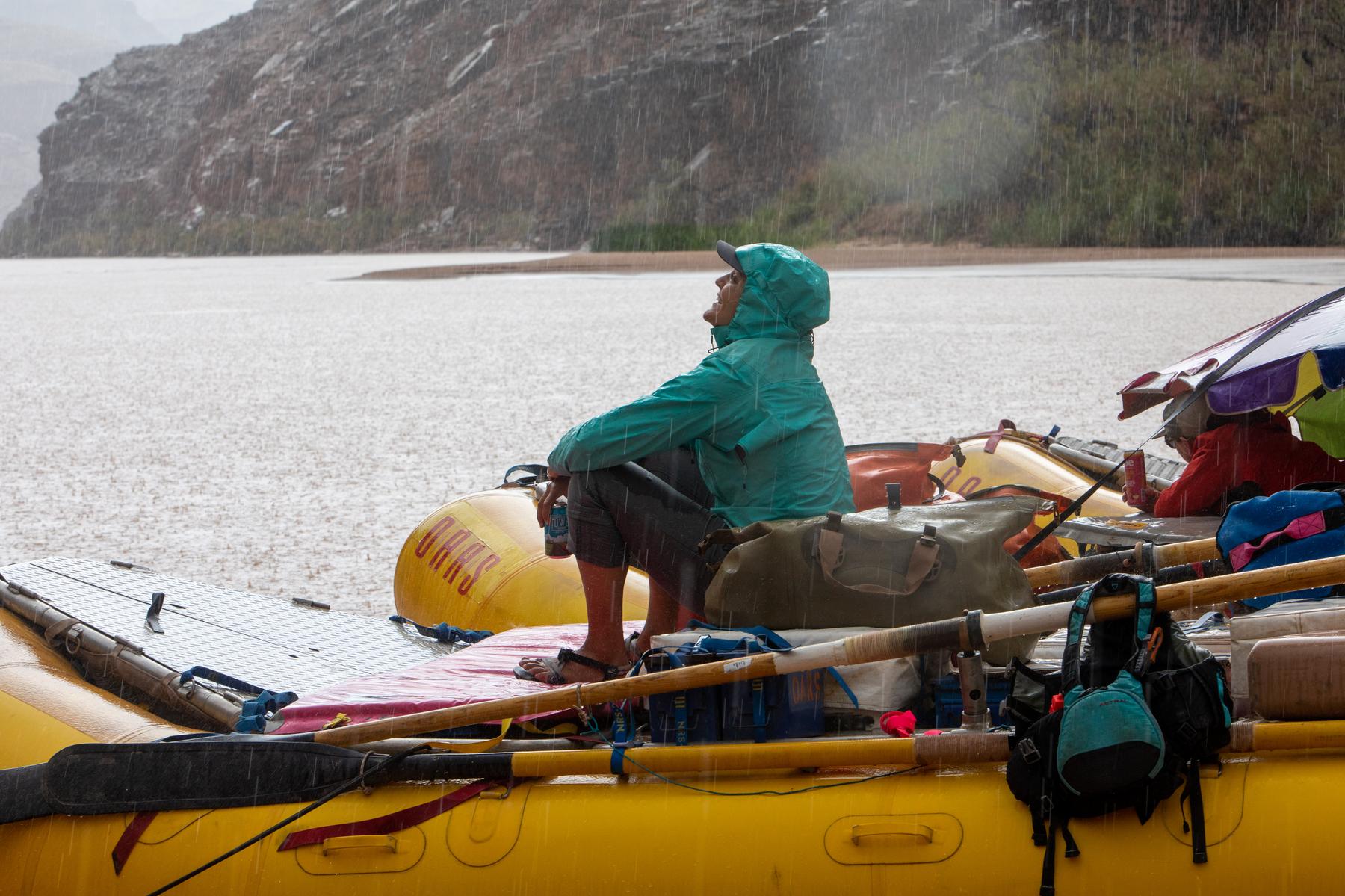 Summer rafting season | June – August
There's no way around it, summer Grand Canyon rafting trips are hot. In early June the days are hot and nights are cool, but moving into July, it's not uncommon for the temperature at river level to rise above 110-degrees. At the same time, temperatures can suddenly plummet and bring rain storms and even late summer monsoons, especially in August. Rafters should be prepared for extreme conditions.
Fall rafting season | September & October
Motorized river trips end for the season September 15, but fall is a favored season for oar-powered Grand Canyon rafting trips. Daytime temperatures are mild with cooler nights, especially as the months progress. However, the possibility of early season winter storms also increases, especially in October. During this window, the hiking conditions are also ideal and exploring the depths of the canyon can be a highlight of the trip.
Winter | November – March (private trips only)
During the winter months, the low angle of the sun means a lot of shade in the canyon and average nighttime temperatures can dip between the mid-30s to 40s. Snow at river level is also a possibility, especially in December and January. The trade-off for paddlers who can handle the colder temperatures is the gift of solitude since there are only private trips on the water during this time frame.
How much does a Grand Canyon rafting trip cost?
A Grand Canyon rafting vacation is considered to be a once-in-a-lifetime trip for a reason: trips can cost anywhere from $2,000 for a week-long upper or lower canyon adventure to more than $6,000 for an 18-day full canyon trip.
A percentage of outfitter fees go directly to Grand Canyon National Park in accordance with the National Park System's Commercial Services Program, but other factors that play into the price of Grand Canyon rafting trips are the types of amenities being offered like added comforts in camp and the caliber of meals, as well as guide to guest ratio and the types of transportation being used. For example, are you being shuttled to the put-in or is there a helicopter ride involved? Are you opting for a motorized trip, or a human-powered oar raft or dory trip? These are just a few of the details to keep in mind when you're considering how to raft the Grand Canyon and the overall cost of the trip.
Preparing for a Grand Canyon Rafting Trip
How to Pack for a Grand Canyon Rafting Trip
When you're going to be off the grid in one of the most remote places on Earth, you want to make sure you've packed to perfection. OARS Grand Canyon Adventure Consultant, Joy Parades, shares the ins and outs of packing for a Grand Canyon rafting trip.
The Best Grand Canyon Books
From epic tales of adventure to comprehensive field guides, this essential Grand Canyon reading list dives deep into the legends, history and natural environment of one of the most storied places on the planet. If you're planning a trip down the famed stretch of the Colorado River, you'll want to put a few of these Grand Canyon books on your must-read list.
Hiking the Bright Angel Trail: How to Survive and Enjoy it
If you plan to do an upper or lower Grand Canyon rafting trip, then you're also signing up for the challenging 7.7-mile hike in or out of the canyon along the Bright Angel Trail. It's no walk in the park, so here's some expert advice on how to prepare for the trek.
24 Hours in Flagstaff
Flagstaff, Arizona is the gateway town for Grand Canyon National Park hiking and rafting trips. From where to eat to what to do, here's how to make the most of your time in this cool mountain town.
---
Photos: Josh Miller
---
By Cathy Brown
6 Min.Read
Sign up for Our Newsletter