Zambezi River & Botswana Safari
Raft one of the most fabled stretches of whitewater in the world, fly 360-foot-tall Victoria Falls in a helicopter, and then be awed on an African Safari adventure in Chobe National Park.
Deep in the Batoka Gorge, bathed in the mist from legendary Victoria Falls, begins a journey full of pure exhilaration. The Zambezi River is home to some of the most notorious Class V whitewater in the world, and this "best of the best" adventure combines four days of whitewater action, stunning beaches, and an incredible helicopter ride with three days on safari, watching Botswana's fascinating and unusual selection of wildlife—elephants, giraffes, impala, African or Cape Buffalo, lions, hippos, crocs and an impressive number of species of birds. This is truly a trip of a lifetime!
Trip Highlights
Class V Zambezi River whitewater rafting
Raft beneath 360-foot-tall Victoria Falls
Sandy beach safari camps along the Zambezi River
Helicopter flight through Batoka Gorge over Victoria Falls
Safari in Botswana's Chobe National Park
See elephants, giraffes, impala, African or Cape Buffalo, lions, hippos & crocs
What to Expect
Itinerary & Map
Itinerary at a Glance
We pride ourselves in running a relaxed and flexible schedule. Every Zambezi rafting trip & Botswana Safari is different depending upon the group, other guided trips in the area, and sometimes the weather. The following is a sample of what your trip might be like:
Day 1
Arrive in Livingstone, Zambia / Sunset river cruise
Upon arrival at Livingstone Airport, you'll be transported to our lodge, where you will have an opportunity to relax on the deck by the river as you adjust to the different time zone. If you're not feeling too jet-lagged, consider a visit to one of the seven natural wonders of the world—Victoria Falls. This impressive sheet of falling water spans an impressive 5,604 feet and drops 100 feet down into a narrow gorge creating a spectacular view and some of the most exciting whitewater on the planet.
For your early evening entertainment, we'll embark on a cruise on the upper section of the Zambezi River, giving you a chance to watch the African sun set behind the ancient Baobab trees. Hopefully, we will get glimpses of elephants and buffalo on the banks and pods of hippos relaxing in the water. This is a wonderful way to unwind, meet the rest of your group, and get a feel for the delights of Africa.
Later this evening there will be a group meeting where you'll have the opportunity to meet your guides, pick up your dry bags and get an overview of your next seven days. Sleep tight, for the Mighty Zambezi awaits!
Day 2
Embark on the Zambezi Whitewater Adventure
Today, we'll head to the base of Victoria Falls for the start of our Zambezi River rafting adventure!
The Batoka Gorge provides a magnificent backdrop for our safety briefing before we don our high-float PFDs and practice our paddling techniques in the warm water of the river. Our epic journey begins with "Morning Glory," a real eye-opener, before one of the biggest commercially run rapids in the world, "Stairway to Heaven." This is a day of unparalleled fun, with rapids such as "Gulliver's Travels" and "Midnight Diner," which feature one of the biggest waves you will see on any river. This is expedition rafting at its best and consequently some rapids we are not able to run in a raft, but our kayakers will delight you as they take on the likes of "Commercial Suicide," a great spot for photos. We will transfer the rafts around this rapid, then continue downstream to our fitting finale, "The Gnashing Jaws of Death."
A secluded, sandy beach is our camp for the night, where your guides will create a feast upon which you can celebrate your first day on the river. Relax, watch the sun disappear behind the basalt cliffs, and enjoy your first night under the stars. (B, L, D)
Day 3
Zambezi River Rafting
After a hearty breakfast, we load all our equipment into the rafts and the fun continues. Our morning's entertainment begins with rapids known as "Creamy White Buttocks" and "The Mother." Our guides will explain how they got their names (if you don't manage to work it out on your own). 
The highlight today is one of the most famous and thrilling commercially run rapids, "Number 18," also called, "Oblivion." It isn't the first wave that gets you, nor the second, but the third crashing wave that normally has all the photographers poised, ready to capture your big moment. 
We'll arrive at camp on a gorgeous expanse of sand a little further downstream and prepare dinner while admiring the fish eagles gracefully soaring overhead. (B, L, D)
Day 4
Zambezi River Rafting
To ensure we are all fully awake, our first rapid, "Morning Shower" provides us with just that: an invigorating burst of refreshing whitewater. The river begins to widen today but that doesn't mean that the rapids get any smaller, especially with one of the more technical and exhilarating rapids to conquer, "Open Season." A huge adrenaline rush is a certain recipe to stimulate our appetites while we polish off the fresh salads prepared for lunch. The afternoon brings along "Chamamba" and the outstanding ride through "Upper Moemba," after which we'll stop at a glorious beach for the night within sight of the magnificent Lower Moemba Falls. Here we can sit back and enjoy the beauty of this majestic section of the river while recounting the day's events. (B, L, D)
Day 5
The Zambezi River / Helicopter Flight Over the Canyon
Today we portage the rafts over Lower Moemba Falls and drift downstream for an hour. We'll pass by the site for the joint Zambia/Zimbabwe power project, which threatens to flood nearly the entire section of river that we raft. At Chabango Falls (another mandatory portage) we will unload all our gear from the rafts and have a tasty lunch in the shade.
With our now empty rafts, we may get the chance to run the longest and one of the biggest rapids on the Zambezi, "Ghostrider." This adrenaline-charged ride provides a fitting climax to our journey. At our take-out, helicopters are waiting on the riverbank to transport us back to Livingstone. We'll fly back up the magnificent Batoka Gorge, which gives us a bird's-eye view of all the impressive rapids we conquered on our Zambezi adventure. 
Following this incredible flight, we'll be dropped off at a beautiful lodge overlooking the river. This evening, we'll gather for a celebratory dinner and lively conversation recounting our exhilarating time on the river. (B, L, D)
Day 6
Chobe National Park, Botswana
Enjoy a gorgeous view this morning over a leisurely breakfast at the lodge. We then travel to the Kazungula border point with Botswana, pass through immigration, and continue on to Chobe National Park. 
The afternoon will be spent on a safari tour. Chobe National Park is famous for its huge herds of elephants, as well as antelope, hippos, baboons, and lions. Time permitting, we'll also enjoy a sunset safari before returning to our tent cabins overlooking a watering hole. (B, L, D)
Day 7
Chobe National Park Safari
Awaken to the real sounds of Africa and an early morning safari, the perfect time to see lions and leopards before the heat of the day's sun drives them into the shade. After the safari, we will return to the lodge for breakfast. We'll have the late morning to relax, read, or maybe cool off with a shower before lunch. This afternoon we head out for more wildlife viewing before enjoying pre-dinner drinks, looking out on the African plains and the setting sun. Enjoy a delicious evening meal at the lodge, then sit outside and watch the wild visitors at the watering hole. (B, L, D)
Day 8
Chobe National Park and Return to Livingstone
During breakfast, we may have one last chance to see Botswana's unique wildlife before packing our bags and enjoying a scenic drive to the border. You will be then transported back to the Livingstone International Airport, arriving in time for flights departing after 12 PM. (B)
Meeting Time & Place
Location
Livingstone International Airport, Zambia
Meeting time
Arrive by 2 PM or earlier on Day 1
Return
Day 8 for flights departing after 12 PM
Trip Map
Dates & Prices
| 2023 Departures | Price |
| --- | --- |
| September 17 | $4,950 |
| October 1, 15, 21 | $4,950 |
| 2024 Departures | Price |
| --- | --- |
| August 4, 11, 18, 25 | $4,950 |
| September 1, 15 | $4,950 |
| October 6, 13, 20 | $4,950 |
Price per person based on double occupancy.
Deposit
$800
Additional Costs
• Mandatory emergency medical & evacuation coverage
Single Supplement
$1250
The Need-to-Know Info
Trip Details
Included in Your Trip Cost
Skilled, professional guide service provided by our affiliate operator
All meals from breakfast day 2 through breakfast day 8 (indicated as B – breakfast, L – lunch, D – dinner)
3 nights catered camping
4 nights lodging (based on double occupancy)
Expedition equipment, including high-quality rafts, 2-person shared tent, personal flotation device (PFD), helmet, waterproof bag, as well as eating utensils, plates, and cups
Transfers from and to Livingstone Airport on scheduled arrival and departure dates
All park fees and necessary permits
Gratuities for incidental services, such as bellboys, drivers, servers, etc.
Not Included in Your Trip Cost
Transportation to and from Livingstone, Zambia
Pre- and post-trip accommodation and meals
Alcoholic drinks
Single supplement fee
Airport taxes and fees
Airport arrival & departure transfers on dates outside the itinerary
Insurance of any kind, including a travel protection plan or mandatory emergency medical & evacuation coverage
Gratuities for a lead guide, rafting guides, and safari guide
Optional Extras
Video/DVD of your river trip (not guaranteed and pricing is at the discretion of the videographer)
Optional activities in/around Livingstone such as a dip in the Devil's Pool, a micro flight over the Batoka Gorge, or a morning safari (ask your OARS Adventure Consultant for more details)
The number and variety of boats on this trip will vary based on water levels, the number of participants, and other factors we take into account when planning your adventure. Please be aware that in doing so we will ask you to share boat time with your fellow travelers. We don't assign boats, nor can we guarantee exactly which crafts we bring, but trust us to provide you with the best possible mix for you and others on your trip.
Learn more about the boats that may be a part of your experience: Oar Raft, Paddle Raft, Paddle Raft with Oar Assist
This trip includes several nights of comfortable lodging at David Livingstone Safari Lodge and Elephant Valley Safari Lodge (or similar), as well as several nights of camping while on the river.
Camp Life
After each active day on the river, we pull ashore to camp for the night. Upon arrival, our first task is to unload the boats using a bag line of crew and passengers to expedite the process. Individuals then collect their waterproof bags and locate an area on the beach to camp for the night. On the first night in camp, a crew member will give a demonstration on setting up a tent, which you'll see is quick and easy. The guides will set up the kitchen and central dining/seating area with camp chairs. They will also locate a secluded area away from camp to set up the portable toilet, where privacy is assured.
As dinner is being prepared by the guides, hors d'oeuvres will be served and you will have an opportunity to relax, enjoy a drink if you wish, and reflect on the day with your fellow traveling companions.
In the morning, the first wake-up call will let you know that coffee, hot water for tea or cocoa, juice, fresh fruit, and cold cereal are ready on the hors d'oeuvres table. You can fill your mug and grab a bite, then begin to pack up your personal belongings and sleep gear as the guides prepare breakfast. After breakfast is served, the entire camp will be broken down and packing will be completed. The gear will then be loaded onto the boats and we'll head downstream to see what new adventures await us.
Meals
The meals we serve are hearty and delicious, complete with fresh ingredients and a variety of foods. A typical morning on a multi-day trip might start with French toast, bacon, fruit, orange juice, and coffee or tea. Lunch might be a delicious salad, a spread of cold cuts and cheeses with several types of bread, or wraps stuffed with veggies and hummus. There are always cookies and a cooling drink to top it off. At dinner, our guides' cooking skills truly shine—sizzling steaks or fish, chicken enchiladas, and delicious pasta dishes are all part of their repertoire. Dinner generally includes a salad, and desserts are frequent. Hors d'oeuvres are a pleasant surprise before many meals.
We need to know as soon as possible about any dietary restrictions we must consider in planning your trip. If you have food allergies or necessary restrictions, we will do our best to accommodate your needs.
The Zambezi River is at its best between August and November when water levels are dropping. To complement this, these months also represent the best weather for your holiday. Expect it to be hot during the day. Down in the Batoka Gorge, it often ranges from 95-105°F but can get hotter. The water temperature is a comfortable 75°F and provides welcome relief from the heat. It does cool down a little in the evenings but nothing worth worrying about. Generally, it's quite comfortable just sleeping under the stars!
Average Temperatures & Rainfall for Livingstone:
| | Air (Day) °F | Air (Night) °F | Rainfall |
| --- | --- | --- | --- |
| August | 82° | 50° | 0″ |
| September | 90° | 59° | 0.1″ |
| October | 94° | 67° | 1.0″ |
Whitewater
The Zambezi River offers Class IV-V whitewater. We recommend people considering this trip be experienced, strong paddlers. You may find yourself swimming a class IV-V rapid, which can be an overwhelming experience. Our guides may determine it's in the group's best interest to portage some rapids, depending on water levels and individual abilities.
Before booking your trip with OARS, there are a few important considerations we'd like you to know about.
Purchase Travel Protection: In order to take part in this trip, each participant must have a minimum of Emergency Medical Evacuation coverage in place for the dates of the trip. Learn more about the plan we recommend.
Essential Travel Documents: A passport is required for travel to Zambia and Botswana.
Physical Requirements: Your outdoor adventure will be an active participatory trip. Please inform us of any physical limitations you may have as soon as possible. If you exceed 260 pounds, please give us a call. Make sure you are exercising frequently in the months leading up to your trip and can meet our Essential Eligibility Criteria.
Whitewater Orientation: To increase your safety, we expect everyone to watch our Whitewater Orientation video before joining us.
Trip Forms: Each participant will need to complete the required trip forms within two weeks of making a booking. Refer to your confirmation email for the link to the online forms. If you prefer to fill out paper forms, please let us know right away. If you are reserving within 90 days of departure, your forms must be completed immediately to ensure we can properly plan for your trip.
Reservations and Deposits
An $800/person non-refundable deposit is required at the time of reservation. Deposits may be made by check, money order, or Visa/Mastercard (American Express and Discover incur a 3% processing fee). Prices are in US Dollars, and all payments must be made in US Dollars. Payment of the deposit establishes your acceptance of our complete Terms and Conditions. Individual departures and trip capacity are strictly limited by the managing agency.
Canceling your trip after your deposit is processed will incur cancellation fees because OARS has absorbed costs on your behalf and will turn others away who would like to book the spaces we're holding for you. Final payment is due 90 days before departure. Accounts on which final payment has not been received 80 days before the departure date will be canceled without exception.
Cancellations and Refunds
Your deposit is fully refundable, less a 3% processing fee, for 7 days after you book when you submit a deposit 7 days or more before the final payment due date.
If you must cancel your reservation after the rescission period described above, your cancellation fee will be determined according to the schedule below. We regret we cannot make exceptions to the cancellation policy for any reason, including foul weather, poor air quality, wildfire activity, acts of terrorism, civil unrest, or personal emergencies. There is no refund for arriving late or leaving a trip early. For these reasons, we strongly urge you to consider purchasing a travel protection plan.
| Date of Cancellation | Cancellation Fee |
| --- | --- |
| 90 or more days before your trip | Deposit of $800/person |
| 89 to 0 days before your trip | 100% of the trip price/person |
Requests to transfer a date will be treated as a cancellation, per the terms above.
Canceled Trips
OARS International and the outfitter Water By Nature reserve the right to cancel any trip due to insufficient registration or other factors that make the trip impractical to operate. Do not make nonrefundable travel arrangements unless you have spoken to your Adventure Consultant regarding the status of your trip.
If a trip must be canceled or postponed due to force majeure (factors outside the control of OARS), OARS will provide full credit for payments made toward future travel, or a refund less a 5% service fee plus any nonrefundable payments made on your behalf to 3rd-party suppliers. OARS will make good faith efforts to recover deposits made on your behalf to 3rd-party suppliers, however, we can't guarantee recovery of any or all of the advance payments made. OARS is not responsible for expenses incurred by participants in preparation for a canceled trip.
Our Zambezi River & Botswana Safari trips are run by an affiliate company and arranged through O.A.R.S. International, Inc.
For You
You May Also Like
Location: Patagonia, Chile
Adventure Level: Challenging
Minimum Age: 12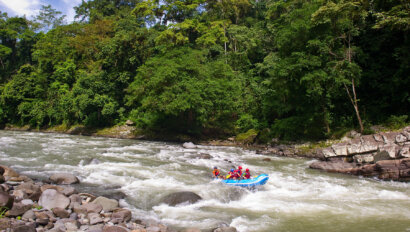 Location: Costa Rica
Adventure Level: Moderately Challenging
Minimum Age: 12

Location: Canada
Adventure Level: Challenging
Minimum Age: 13

Can't Decide?
Use our Compare tool to find your perfect Adventure.