Futaleufú Rafting Multi-Sport
Raft the legendary Futaleufú River and hike, inflatable kayak, mountain bike, and horseback ride your way through Chilean Patagonia on this dream trip for the ultra-adventurous.
The Futaleufú River is one of Earth's premier whitewater destinations. On this ultra-adventurous trip in the heart of Chilean Patagonia, you'll spend four adrenaline-infused days conquering different stretches of the Fu's legendary turquoise waters.
But world-class whitewater is only one of the reasons to visit this gem of a river that's nestled beneath the spires and snow-packed crown of the Andes. Days not spent on the Futaleufu rafting offer up additional opportunities to explore this stunning region. You'll have the chance to view a beautiful waterfall, inflatable kayak the Rio Azul river canyon, as well as horseback ride through a pristine valley alongside the glacial headwaters of a scenic tributary of the Futaleufú. And while this action-packed itinerary is meant to keep you busy, there is plenty of time built in for relaxing at our deluxe base camp. During downtime, you can choose to relax in the riverside hot tubs, luxuriate with a professional massage, take a yoga class or enjoy the wood-fired sauna. Come evening, savor candlelit dinners prepared by a professional chef, before unwinding at the sunset bar or perhaps a campfire under the stars.
Trip Highlights
Raft the world-famous Futaleufú River in Chile's Patagonia
Azure Class IV & V whitewater through granite cliffs
Stay in an exclusive private camp with deluxe platform tents, hot tub & a bar
Enjoy daily yoga classes & gourmet candlelight dinners
Inflatable kayak, horseback ride, bike, fish, and hike the Rio Azul region
Overnight in the beautiful town of Puerto Varas before taking a spectacular flight to Chaiten and boarding a scenic shuttle to base camp
What to Expect
Itinerary & Map
Itinerary at a Glance
We pride ourselves in running a relaxed and flexible schedule. Every Futaleufú rafting and multi-sport trip is different depending upon the group, other trips in the area, and sometimes the weather. The following is a sample of what your trip might be like:
Day 1
Santiago / Puerto Montt & Puerto Varas
Arriving in Santiago, Chile, you'll catch a flight to Puerto Montt (this flight is not included in your trip price). At Puerto Montt's El Tepual Airport (PMC), take a taxi to the Hotel Cumbres in the lakeside resort town of Puerto Varas. 
Situated on the spectacular Llanquihue Lake, with the snow-capped Osorno Volcano rising beyond it, Puerto Varas is one of the most beautiful towns in Chile. Your afternoon is free to explore the area before we meet later in the evening to discuss logistics and enjoy our first dinner together.
Day 2
Puerto Varas to Chaiten & the Rio Futaleufu
This morning, we'll catch a short flight to Chaiten. The half-hour flight is spectacular, as it follows the rugged coastline of Pumalin Park. Wild rivers flow into deep fjords framed by verdant rainforest wilds that stretch upwards into the rugged snow-capped Patagonia Andes. Just before landing, we get a bird's-eye view of Chaiten Volcano which erupted several years ago, burying much of the town of Chaiten.
From here, it's a three-hour bus ride to our camp on the Rio Futaleufu. The drive is gorgeous as the road passes beneath giant snow-capped peaks and hanging glaciers. Along the way, we may have the opportunity for a short hike in Pumalin Park, one of the largest and most diverse conservation efforts in South America. 
We arrive at the riverside camp in the late afternoon, where your private tent bungalow on a raised platform, complete with river views and comfortable beds, will be waiting for you. 
After a short hike or swim, you may want to soak in the riverside hot tub or enjoy a hot shower. This evening we'll gather at the sunset bar to introduce the crew and go over the week's agenda. After happy hour, a hearty dinner will be served.
Day 3
Rio Futaleufu Rafting
Rising with the warmth of the sun, you'll find tea and coffee available before breakfast is served around 9 AM. A pre-breakfast yoga class is available on the yoga platform with river views. Mornings tend to be crisp and dewy so prepare to dress warmly – a fleece and beanie may be ideal. 
Today is a river day and we launch our rafts from camp after a thorough safety briefing. In a safe 'eddy' a short distance downstream, we'll do a set of practice rescue drills. This allows the crew in each raft to hone their skills and prepare to paddle the raft as a team.
A cataraft and a safety-kayaker are part of our "safety net." Each raft is captained by a highly trained and intuitive river guide, who guides the boat from a stern-mounted oar frame. The advantage to the oar frame is greater control in pointing the bow straight through bus-size holes and 15-foot high "haystack" wave trains, all while not detracting from the paddling experience.
The first section that we raft, from camp down to Puente Futaleufu (the Futaleufu Bridge), is only 6.2 miles but offers more rapids per mile than anywhere else on the river. It is the perfect warm-up run and it is non-stop fun! The rapids of note are "El Cojín" (the Cushion) and "Mundaca," a local family name.
At take-out, we meet our vehicles for a 20-minute ride back to camp. Those who would prefer a "lower body" workout to complement their paddling are welcome to run back to camp. When we get to camp, you can choose from a variety of activities, such as fly fishing, a kayaking class, yoga, going for a hike, or taking one of our bikes for a ride. You can also opt to nap in a hammock, enjoy the sauna, have a massage, or soak in the hot tub. As the sun sinks behind the mountains, enjoy a game of chess or cards at the sunset bar.
Every late afternoon is "Happy Hour" with an open bar stocked with beer, wines, sodas, and fresh juices. We gather together in the open-air kitchen/dining area, the "Galpon," for a candlelight sit-down dinner featuring locally grown produce and fresh-baked breads. After dinner, enjoy the campfire and the stars before retiring to your cozy tent. The sound of the river will lull you to sleep and send you off dreaming of the next day's adventure on the Fu.
Day 4
Rio Futaleufu Rafting
After breakfast, we will launch our rafts from camp once again and have lunch on the river. The morning is aimed at settling the group into a river rhythm that will be utilized in order to successfully raft the next few sections of the Fu. After we pass the Puente Futaleufu (yesterday's take-out), we immediately round the corner to meet a continuous cascade of waves known as "Mas o Menos" (More or Less). This is a good stepping-stone towards our first true Class V rapid, "Casa de Piedra" (House of Rock), which is right around the next corner. We will get out of our rafts and up on the shoreline to scout this massive boulder-choked rapid.
The remaining Class II-III rapids help our hearts return to their normal rates. We then drift into a nice calm section that offers perfect fishing from the rafts, as well as a great place to get in hardshell kayaks. The next three miles, we will have a floating happy hour and reach our take-out just above Lago Yelcho. Upon return to camp, we will continue to celebrate the day, enjoy the spa and get ready for another fabulous dinner prepared by our jovial crew.
Day 5
Inflatable Kayaking the Rio Azul
Today we become experts at navigating our very own river crafts – inflatable kayaks. We venture up the Rio Azul canyon, finding clear water and fun Class II-III rapids. 
There is something deeply satisfying about paddling your own boat down river, knowing that your destiny is in your own hands. Of course, our highly-trained guides will be there to coach you, watch over you and provide safety. The Rio Azul is one of the major tributaries to the Rio Futaleufu and meets the Fu just above the Terminator section, which is where we take-out. The late afternoon is free for you to relax, fish for trout or go for a bike ride along the road that meanders through the river valley before another laid-back night in camp.
Day 6
Horseback Riding and Hiking in the Rio Azul Valley
We'll further explore the beautiful Rio Azul Valley. After breakfast, we take a short drive to the local stables where our trusty steeds will be saddled-up and ready for adventurous riding. After a safety briefing, a local expert equestrian guides us up a pristine side valley where the Rio Azul flows unhindered from its glacial headwaters.
Riding far up the valley to where our picnic lunch is prepared, you'll have the option to hike to a beautiful waterfall. After our return journey down the valley, we arrive back to the stables where we bid farewell to the horses and their caretakers. If you're still up for activity, you may choose to walk or even run back to camp. You will be glad to return to camp and enjoy the soothing hot tub, a cold beer, or a glass of wine as you wait for another homemade meal.
Day 7
Rio Futaleufu Rafting – Inferno Canyon
We will have an early breakfast in camp then drive 15 miles up the road to the Rio Espolon where we launch to raft the Futalefu's renowned Inferno Canyon! This upper canyon requires aggressive Class V paddling and is potentially the most intense section of whitewater on the river. Guests who prefer not to participate in Inferno Canyon can meet us below the canyon at our lunch stop or stay in camp and choose another activity.
Five distinct rapids form a narrow sinuous river passage creating a full-on adrenaline rush. The fourth rapid was, until recently, the smallest, but due to road building debris landing in the river, has now become nearly impassable at some water levels and may require a walk-around and lining the rafts through it. As we come out of the last rapid, we enter into a long calm and arrive at our lunch stop. Here, folks who chose not to run Inferno Canyon can rejoin the group.
The current remains swift and we cruise many miles downstream arriving at the mandatory portage around the fierce "Zeta" rapid. Our next obstacle is "Throne Room," a Class V rapid for kayaks and a portage for the rafters. By walking around this rapid, we get a great bird's-eye view of an almost river-wide hole that could destroy a raft. Back aboard our rafts, we are dealt a Royal Flush – a continuous Class IV corridor of rapids that does not let up until we get to our take-out below the confluence of the Rio Azul.
The late afternoon is spent in camp getting ready for the evening festivities. Our good friends from the nearby farm prepare a very special treat for us—a delicious dinner called "curanto" that is typical of the south of Chile and the island of Chiloe. We spend the evening by the fire singing and dancing the night away.
Note – rafting Inferno Canyon is dependent on the level of the river and therefore may not be an option on every trip.
Day 8
Rio Futaleufu Rafting & Celebratory Chilean Asado
We call today the "summit day," as we aim to top our already great paddling days with the best day of whitewater in the world. After a nutritious breakfast, we head back upriver to where we left the rafts yesterday. The views of the snow-capped mountain peaks and jagged ridges of the mountain "Las Tres Monjas" ("The Three Nuns") are absolutely breathtaking. An approximately 4-mile stretch of warm-up rapids leads us to the toughest rapid that we will raft, "The Terminator." We scout and study our line, then we take the plunge and drop in. "Left turn, right turn, dig it in—hard forward!" are a few of the commands that might be heard. The next three miles are non-stop rapids. After an aerobic workout, we pump through the enormous haystack wave train known as the "Himalayas." Just when we need it, we float gently to our base camp where lunch is waiting.
After lunch, we return to the river to complete the last task for the day, tackling as much whitewater as possible. We raft the whole section of river from camp to below Casa de Piedra. At take-out, cold beers are waiting. We make a triumphant return to camp to celebrate our days spent exploring the Rio Futaleufu valley.
For the last evening's festivities, our beloved culinary team will prepare a typical Chilean Asado—lamb and a pig roasted over a bed of coals, salad, potatoes, and farm-fresh bread. Under a bright starry sky, and our last night on the banks of the mighty Fu, we toast the river and give thanks for our safe passage.
Day 9
Chaiten / Puerto Montt / Santiago
This morning after breakfast we'll drive three hours to the Chaiten Airport to catch our flight back to Puerto Montt. In Puerto Montt, the OARS representative will assist you with arranging a transfer to Puerto Montt's El Tepual Airport (for a flight to Santiago or elsewhere) or a transfer to your next destination in/around Puerto Montt. A departing flight out of Puerto Montt should be scheduled for after 2 PM in case of delays out of Chaiten, often due to weather.
Meeting Time & Place
Location
Hotel Cumbres in Puerto Varas
Meeting time
7 PM the evening of Day 1
Return
Departing flights from Puerto Montt after 2 PM on Day 9
Trip Map
Dates & Prices
| 2023 Departures | Price |
| --- | --- |
| December 19, 28 | $5,350 |
| 2024 Departures | Price |
| --- | --- |
| January 6, 15, 25 | $5,350 |
| February 8, 17, 26 | $5,350 |
| March 6, 16 | $5,350 |
| December 28 | $5,750 |
Price per person based on double occupancy.
Deposit
$800
ADDITIONAL COSTS
• Flight package (to / from Chaiten, arranged by OARS): $275, plus airport taxes and fees
• Mandatory emergency medical & evacuation coverage
SINGLE SUPPLEMENT
• $100 hotel only (Day 1, Puerto Varas); $400 hotel and camp (subject to availability at camp)
The Need-to-Know Info
Trip Details
Included in Your Trip Cost
Skilled, professional guide service provided by our affiliate operator
1 night hotel accommodation in Puerto Varas (based on double occupancy)
7 nights deluxe camp accommodation (based on double occupancy)
Return to Puerto Montt Airport on day 9 (extra cost to other destinations)
Roundtrip ground transport from Chaiten to camp on the Rio Futaleufu
Meals from dinner on day 1 through breakfast on day 9, including drinks at the camp bar
Activities, instruction, and related equipment as outlined in the itinerary
Expedition equipment including personal flotation device, helmet, wetsuit, and splash jacket
Not Included in Your Trip Cost
International roundtrip flights to & from Santiago, Chile
Roundtrip flights to & from Puerto Montt, Chile
Roundtrip flight from Puerto Montt to Chaiten (arranged by OARS; itinerary days 2 & 9)
Pre- and post-trip accommodation and meals
Single supplement fee: hotel only is always available; single occupancy at camp is per availability only
Puerto Montt Airport arrival transfer on day 1
Day 9 transfer to destinations other than Puerto Montt Airport
Insurance of any kind, including a travel protection plan or mandatory emergency medical & evacuation coverage
Gratuities
On Futaleufu rafting trips, our guides use paddle rafts with oar assist. The most agile boat in our fleet, your guide powers the raft with two hefty oars on a rear-mounted frame, while the crew of 4 – 8 guests paddle up front for added horsepower. Helmets are required.
Overlooking one of the most beautiful canyons on the Rio Futaleufu, our base camp proves that camping can be luxurious. Amenities include a riverside sunset bar where we enjoy Chilean wines, a wood-heated sauna, hot showers, flush toilets, two massage studios, a riverside hot tub, a fireside sit-down dining area where we enjoy delicious meals made with locally grown produce, and indoor & outdoor yoga decks with spectacular river and mountain views.
Your "home away from home" is a private safari-style tent bungalow atop a wooden platform with views of the river. You will fall asleep in a comfy bed with soft linens and a fluffy comforter to keep you warm as the sounds of the river lull you to sleep.
Our camp provides natural areas for private, quiet reflection and beautifully hand-built structures such as the open-air library, tranquil yoga pagoda, and a large reading lounge.
Every evening is "Happy Hour" with an open bar stocked with beer, wine, soda, and fresh juice. Then we gather together in the open-air dining area, the "Galpon," for a candlelight sit-down dinner featuring locally grown produce and fresh-baked breads.
The meals we serve are hearty and delicious, complete with fresh ingredients and a variety of foods. The camp has a permanent kitchen from which our local culinary experts prepare your meals with a local flair, including daily baked breads, pastries and cakes, and using fresh vegetables, fruit, cheese, meats, and fish (all produce and meat in the area is organic and chemical free). For many guests, the last night's dinner, a traditional Chilean Asado featuring locally raised lamb cooked over an open fire, is a highlight of the trip.
We need to know as soon as possible about any dietary restrictions we must consider in planning your trip. If you have food allergies or necessary restrictions, we will do our best to accommodate your needs.
The Rio Futaleufu is in Northern Patagonia and although December through March are mild months, the weather can vary from sunny in the mid to upper-80s, to rainy in the 60s and even upper-50s. The nights are generally in the low 50s but can go into the 40s and, on occasion, upper-30s. You will get wet from running rapids or possibly rain and although the river water is 60 degrees, all participants must wear a wetsuit. (We will supply you with a sleeveless Farmer John wetsuit.) The camps have hot tubs and excellent shelter in case of rain.
Average Temperatures
| | Day °F | Night °F |
| --- | --- | --- |
| November | 64° | 41° |
| December | 69° | 45° |
| January | 73° | 47° |
| February | 74° | 46° |
| March | 67° | 42° |
Whitewater
In Chile's native Mapuche, Futaleufu translates as "grand waters" or "great river." Aptly named, the Rio Futaleufu is a large-volume, technical river boasting intense stretches of one Class IV or V rapid after another and clear turquoise water unlike any other. Participants have the option of hiking around some of the more difficult and intense descents, but be advised that even the Class IV rapids will get your attention with plenty of excitement!
Before booking your trip with OARS, there are a few important considerations we'd like you to know about.
Purchase Travel Protection: In order to take part in this trip, each participant must have a minimum of Emergency Medical Evacuation coverage in place for the dates of the trip. Learn more about the plan we recommend.

Essential Travel Documents: A passport is required for travel to Chile.
Physical Requirements: Your outdoor adventure will be an active participatory trip. Please inform us of any physical limitations you may have as soon as possible. If you exceed 260 pounds, please give us a call. Make sure you are exercising frequently in the months leading up to your trip and can meet our Essential Eligibility Criteria.
Whitewater Orientation: To increase your safety, we expect everyone to watch our Whitewater Orientation video before joining us.
Trip Forms: Each participant will need to complete the required trip forms within two weeks of making a booking. If you are reserving within 90 days of departure, your forms must be completed immediately to ensure we can properly plan for your trip.
Reservations and Deposits
An $800/person deposit is required at the time of reservation. Deposits may be made by check, money order, or Visa/Mastercard (American Express and Discover incur a 3% processing fee). Prices are in US Dollars, and all payments must be made in US Dollars. Payment of the deposit establishes your acceptance of our complete Terms and Conditions. Individual departures and trip capacity are strictly limited by the managing agency.
Canceling your trip after your deposit is processed will incur cancellation fees because OARS has absorbed costs on your behalf and will turn others away who would like to book the spaces we're holding for you. Final payment is due 90 days before departure. Accounts on which final payment has not been received 80 days before the departure date will be canceled without exception.
Cancellations and Refunds
Your deposit is fully refundable, less a 3% processing fee, for 7 days after you book when you submit a deposit 7 days or more before the final payment due date.
If you must cancel your reservation after the rescission period described above, your cancellation fee will be determined according to the schedule below. We regret we cannot make exceptions to the cancellation policy for any reason, including foul weather, poor air quality, wildfire activity, acts of terrorism, civil unrest, or personal emergencies. There is no refund for arriving late or leaving a trip early. For these reasons, we strongly urge you to consider purchasing a travel protection plan.
| Date of Cancellation | Cancellation Fee |
| --- | --- |
| 121 or more days before your trip | $400/person (50% of deposit) |
| 120 to 91 days before your trip | $800/person (deposit) |
| 90 days or less before your trip | 100% of the trip price/person |
Requests to transfer a date will be treated as a cancellation, per the terms above.
Canceled Trips
OARS International and the outfitter Bio Bio Expeditions reserve the right to cancel any trip due to insufficient registration or other factors that make the trip impractical to operate. Do not make nonrefundable travel arrangements unless you have spoken to your Adventure Consultant regarding the status of your trip.
If a trip must be canceled or postponed due to force majeure (factors outside the control of OARS), OARS will provide full credit for payments made toward future travel, or a refund less a 5% service fee plus any nonrefundable payments made on your behalf to 3rd-party suppliers. OARS will make good faith efforts to recover deposits made on your behalf to 3rd-party suppliers, however, we can't guarantee recovery of any or all of the advance payments made. OARS is not responsible for expenses incurred by participants in preparation for a canceled trip.
Our Futaleufú trips are run by an affiliate company and arranged through O.A.R.S. International, Inc.
For You
You May Also Like
Location: Canada
Adventure Level: Challenging
Minimum Age: 13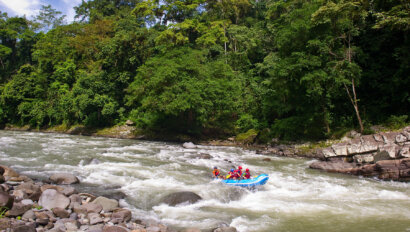 Location: Costa Rica
Adventure Level: Moderately Challenging
Minimum Age: 12

Location: Zambia & Botswana
Adventure Level: Challenging
Minimum Age: 16

Can't Decide?
Use our Compare tool to find your perfect Adventure.