Yosemite Rafting & Hiking Adventures
Looking for an all-encompassing Yosemite National Park vacation? OARS' Yosemite Hiker trips have been meticulously planned by our team to show our guests the best the park has to offer during the spring and summer, but also give you a taste of Yosemite's lesser-traveled wild side. These unique trips combine several days of guided hiking on the park's iconic trails, like Upper Yosemite Falls, Half Dome, and Clouds Rest, with options for whitewater rafting on the nearby Merced and Tuolumne Rivers.
O.A.R.S. West, Inc. operates as a licensed commercial permit holder in Yosemite National Park, on the Tuolumne River as a permitted outfitter of the Stanislaus National Forest and on the Merced River under authorization from the Bureau of Land Management.
Find Your Perfect Trip
Yosemite Adventures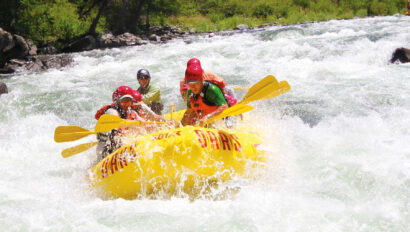 Location: California
Adventure Level: Moderately Challenging
Minimum Age: 14 (16 during high water)

Location: California
Adventure Level: Moderately Challenging
Minimum Age: 14 (16 during high water)

Location: California
Adventure Level: Moderately Challenging
Minimum Age: 12 – 14 (9 at low water)

This was a fantastic way to see parts of Yosemite that most don't venture to see. Our guide was entertaining and knowledgeable about the park. Moreover, he demonstrated patience for me, the slower hiker of the group. Follow OARS guidelines on training for the trip, the hikes are strenuous but worth the views and experience.

2022 OARS Yosemite Hiker guest
Map
Frequently Asked Questions
Have more questions?
What is the whitewater rafting like near Yosemite National Park?
Two of the most exciting stretches of California whitewater rafting are located just outside the park's boundaries on the Wild and Scenic Tuolumne and Merced Rivers.
A Merced River rafting trip with OARS is a classic springtime whitewater experience. Typically running April through June or July, this 1-day adventure takes you down 16 miles of thrilling Class III-IV whitewater near Yosemite's Arch Rock Entrance. If you want an amped-up experience full of huge wave trains, make sure to go in early spring during peak snowmelt, which typically lasts until mid-June. Later in the summer, as the snowmelt subsides, the Merced mellows to a splashy, family-friendly rafting trip near Yosemite that's fun for everyone.
Further north, near the park's Big Oak Flat Entrance and the charming community of Groveland, OARS offers 1- to 3-day Tuolumne River rafting trips. This Wild and Scenic river crashes down from the High Sierra peaks in Yosemite to provide rafters with an 18-mile stretch of nearly non-stop, white-knuckle Class III-IV whitewater. You can experience all of the excitement in one day, but when you opt for a 2- or 3-day trip, you'll also have the chance to hike up to secret swim holes, kick back in camp with friends and family, and sleep under the stars in a secluded river canyon away from the park crowds.
Discover your next OARS Adventure