Zack Sam
Job Title
Professional River Guide
Current Location
Navajo Reservation
About me
I'm passionate about getting and sharing access to rivers.
The Best Part of My Job
Getting access to the rivers, places, and people.
How I found OARS
A series of fortunate events led me to OARS.
My Favorite Spot on the River/Outdoors
My favorite rapids would have to be the Big Drops. Just an incredibly powerful stretch of water. My favorite camp has to be Oljeto Camp, river left on the San Juan. It's special because it's on the rez I'm from and it's an awesome camp.
I Can't Live Without
Sunglasses.
My Fun Fact
Fun fact- Lake Powell hits dead pool level at 3,374 feet.
Meet me on these adventures
Location: Colorado & Utah
Adventure Level: Moderately Challenging
Minimum Age: 7 (10 - 12 during high water)

Location: Utah & Colorado
Adventure Level: Moderate
Minimum Age: 7 (10 - 12 during high water)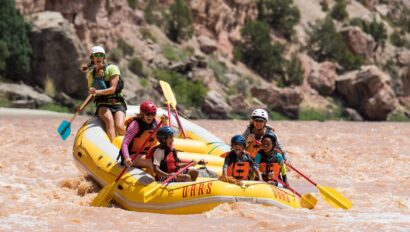 Location: Utah
Adventure Level: Easier to Moderate
Minimum Age: 6 (11 during high water)