Sinjin Steed
Job Title
Professional River Guide
Hometown
Salt Lake City, UT
Offseason Gig
Ski Instructor
About me
I'm into skiing and snowboarding in the off-season and just love to be in the outdoors.
The Best Part of My Job
The bus rides.
How I found OARS
My love for the outdoors.
My Favorite Spot on the River/Outdoors
Favorite rapid is S.O.B. (Save Our Boat or Stuck On Boulder).
Favorite River Tradition
Boatman's cheesecake and root beer.
I Can't Live Without
Dad jokes.
My Fun Fact
I only got ten toes.
Meet me on these adventures
Location: Colorado & Utah
Adventure Level: Moderately Challenging
Minimum Age: 7 (10 - 12 during high water)

Location: Utah & Colorado
Adventure Level: Moderate
Minimum Age: 7 (10 - 12 during high water)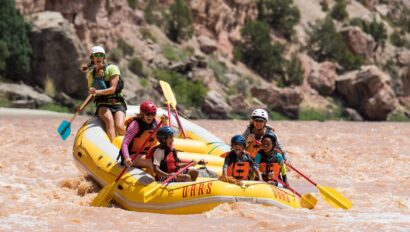 Location: Utah
Adventure Level: Easier to Moderate
Minimum Age: 6 (11 during high water)