Paul Douglas Nechodom II
Job Title
Professional River Guide
Hometown
Jeddah, Saudi Arabia
Current Location
Breckenridge, CO
Offseason Gig
Snowmobile & Kayak Guide
About me
My vacation is my vocation. When not working, I can be found exploring rivers or sailing and paddling in the Florida Keys. I love sharing the wonder and majesty of Dinosaur National Monument with guests. The Yampa and the Green Rivers are magical places, full of human history and natural beauty.
The Best Part of My Job
I love sharing absolutely spectacular places with our guests and being a part of a positive wilderness experience for young people. Through OARS river trips, we are creating advocates for conservation by responsibly recreating and enjoying the river environment.
How I found OARS
I worked in media as a camera operator and editor before becoming a professional river guide. Attending guide school in 2018 in Vernal with the OARS Dinosaur crew led me to an amazing career with OARS.
My Favorite Spot on the River/Outdoors
I love camping and hiking at Rippling Brook on the Green River, as it is a beautiful hike and an awesome camp, with a sweet jump rock, and a great beach and eddy for swimming and relaxing. It is also a great place to get engaged, which makes it even more special when love is in the air.
My Favorite Trip Memory
I had a guest, Ed Q, who came on one river trip and had so much fun that he decided to come on two more trips back to back right after the first one, for a total of three trips in a row. Ed Quinby is a truly original character and a great river companion.
Favorite River Tradition
Clean teeth means clean lines, so I brush my teeth to a vivid white on big rapid days. I am not superstitious, but a little 'sticious, for sure.
I Can't Live Without
Sour Patch Kids and Cherry Coke.
Meet me on these adventures
Location: Colorado & Utah
Adventure Level: Moderately Challenging
Minimum Age: 7 (10 - 12 during high water)

Location: Utah & Colorado
Adventure Level: Moderate
Minimum Age: 7 (10 - 12 during high water)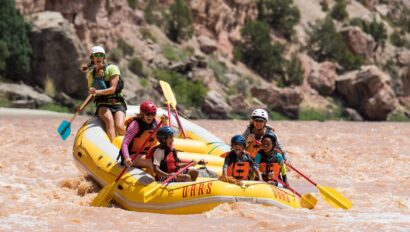 Location: Utah
Adventure Level: Easier to Moderate
Minimum Age: 6 (11 during high water)