James Jay Hanacek IV
Job Title
Professional River Guide
Current Location
Alta Sierra, CA
Offseason Gig
Office Worker
About me
Backpacking, cycling, swimming, traveling.
The Best Part of My Job
Meeting new people and sharing my love for the outdoors with them.
How I found OARS
A few friends said OARS is one of the most professional companies on the rivers, and that's what I️ want in an employer.
My Favorite Spot on the River/Outdoors
Spanish Falls in Spanish Creek. Concurring my fear of heights was a big deal for me.
Favorite River Tradition
I️ always dip my t-grip in the water before heading down the water. No idea why, but it feels weird starting a trip with a dry paddle.
My Fun Fact
I️ once held a world record.
Meet me on these adventures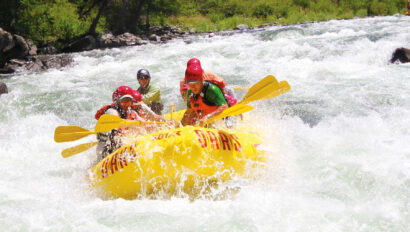 Location: California
Adventure Level: Moderately Challenging
Minimum Age: 14 (16 during high water)

Location: California
Adventure Level: Challenging
Minimum Age: 14

Location: California
Adventure Level: Moderately Challenging
Minimum Age: 14 (16 during high water)