Eddie Dowd
Job Title
Professional River Guide
Current Location
Abita Springs, LA
Offseason Gig
ER Tech at Children's Hospital New Orleans
About me
I've spent most of my life in and around Colorado, but now find myself living in Louisiana. Never would have seen that coming! It's been a wonderful adventure exploring a whole new world. Unsurprisingly, I've found myself spending any chance I get exploring the waterways of my new home, the rivers, swamps, bayous, and into the Gulf. (Aligators are cool!) I've always loved and been drawn to the water in whatever form it takes. Being on the water brings me into the moment and grounds me; it's my happy place!
The Best Part of My Job
Seeing our guests smiling from ear to ear.
How I found OARS
See my 'About Me' answer. I've spent most of my life running rivers throughout the West and abroad. At one point, I thought my days of commercial guiding were over, but I found a balance where I would be able to blend guiding with my other work in healthcare. An old friend who also now guides for OARS led me here.
My Favorite Spot on the River/Outdoors
I don't know if I could ever choose a favorite rapid, but it's hard to beat Hermit in Grand Canyon. Hey diddle diddle, right down the middle. A huge wave train where each wave is bigger than the last, accumulating in a monster crashing wave that will usually let you through right side up. In a fun-to-scary ratio, Hermit pegs the needle to the fun side!
My Favorite Trip Memory
So, there was one time I had a little extra excitement while rowing down a mellow stretch of the Omo River in Ethiopia. I was a little zoned out, as I sometimes get – rowing puts me into a bit of a meditative trance at times. The water was super silty and unbeknownst to any of us on the raft, a very large crocodile was swimming up to check us out. Well, in the act of rowing, I must have dropped the oar blade right on its head! This led to an explosion of water as the croc violently arced out of the river. I would guess that my heart rate about doubled in that split second. Thankfully, being bonked in the head seemed to discourage its curiosity, and we never saw that croc again. I think I finally relaxed a bit by dinner that night.
Favorite River Tradition
Early morning, before launching on any trip, I like to have a private moment down by the river. I dip my fingers in and ask the spirits for their blessing. I don't have any specific sayings or thoughts; I just ask to be accepted into the flow.
I Can't Live Without
A healthy sense of wonder and awe!
Meet me on these adventures
Location: Colorado & Utah
Adventure Level: Moderately Challenging
Minimum Age: 7 (10 - 12 during high water)

Location: Utah & Colorado
Adventure Level: Moderate
Minimum Age: 7 (10 - 12 during high water)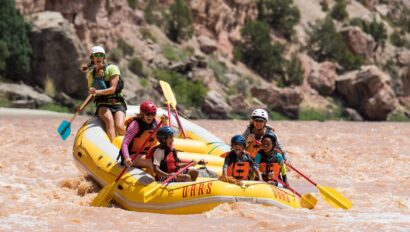 Location: Utah
Adventure Level: Easier to Moderate
Minimum Age: 6 (11 during high water)