Dean Myring
Job Title
Professional River Guide
Current Location
Mammoth Lakes, CA
Offseason Gig
Working Winter's Wonderland!
About me
Born and raised in London, the River Thames doesn't have any "bumps"!
The Best Part of My Job
Pushing off of shore with a new crew each day and hearing the "whoops" of excitement for the adventure to come.
How I found OARS
Went for a one-day on the Tuolomne, asked my guide how I could become a guide...joined a guide school and was fortunate to be asked to join the team. Took me 30 years in corporate America to discover the best job in the world was a LONG, LONG way from any office.
My Favorite Spot on the River/Outdoors
Bouncing Rock never disappoints!
I Can't Live Without
Never forget my chapstick! No "lippy" makes for a bad day!
My Fun Fact
Ski guide in the winter; every new snow just gets me more pumped for the spring melt and whitewater to come!
Meet me on these adventures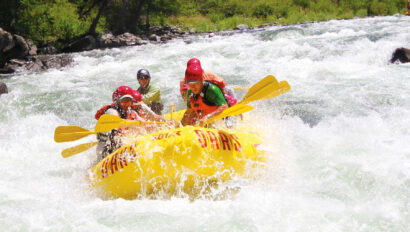 Location: California
Adventure Level: Moderately Challenging
Minimum Age: 14 (16 during high water)

Location: California
Adventure Level: Challenging
Minimum Age: 14

Location: California
Adventure Level: Moderately Challenging
Minimum Age: 14 (16 during high water)