Adam Walck
Job Title
Professional River Guide
Current Location
Monticello, UT
Offseason Gig
Wife Support
About me
The Ancestral Locals of 4-Corners captivated me before anything else in Canyonlands. I'll chew your ear off about it around the campfire, given the chance. It gives me plenty of off-season hiking direction when I'm not supporting my wife's art business and acting as the vagabond-turned-house-husband.
The Best Part of My Job
At least a few times a year, you dramatically change the direction of someone's life. That's enough.
How I found OARS
My life changed overnight in 2016 with a late-night gig offer in Stanley, Idaho. Less than 48 hours later, I was on a 4-day Middle-Main Salmon training trip. I took my first trips with OARS in 2018, and after prompting two senior guides into a 15-minute argument about the Westwater Unconformity, I figured I had a few things to learn and that this was the place to do it.
My Favorite Spot on the River/Outdoors
Lower Ten Cent camp in Cataract Canyon, below the Big Drops, feels like the first place you take a big breath in those high water flows and really feel the immensity of the canyon itself soak in. Feels like a big hug.
Favorite River Tradition
At high flows, I like to take a minute to wash my face in Peace and thank the river before it does what it wants.
I Can't Live Without
Ice water, and OARS Canyonlands is the first company where I've been able to facilitate it, at least in places, on every trip.
My Fun Fact
I'm teaching myself violin, and my wife hasn't left me.
Meet me on these adventures
Location: Colorado & Utah
Adventure Level: Moderately Challenging
Minimum Age: 7 (10 - 12 during high water)

Location: Utah & Colorado
Adventure Level: Moderate
Minimum Age: 7 (10 - 12 during high water)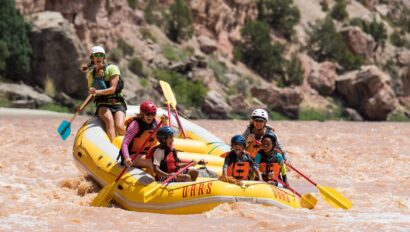 Location: Utah
Adventure Level: Easier to Moderate
Minimum Age: 6 (11 during high water)