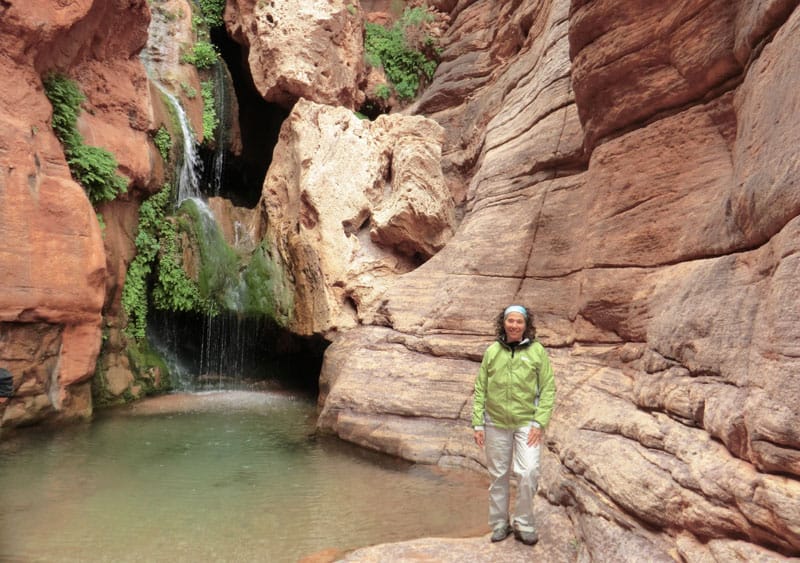 Heidi Bourne knows the allure of river trips well.
"My very first river trip was in the 70's when I was a teenager. It was a Lodore trip with my high school. Since then, I've done a smattering of other trips," she says. "Then, in 2008, I was lucky enough to do the full Grand Canyon dory trip, and it changed my life."
"I love the canyons, the peace of the river, the adventure, and I like giving myself the space and time to be quiet and take in the beauty of the natural world," explains Heidi. "I also really appreciate the support of an organized trip. To be able to be physically active, yet supported…I think it's the way to go."
It wasn't until after another Grand Canyon dory trip in 2016, however, that Heidi felt that there was an opportunity for her and others to get even more out of their individual experiences on the river. That's when Heidi, who is the founder of Pacific Mindfulness and has been teaching meditation since 2005, was inspired to take her practice to the river. She approached OARS with the idea for a wilderness retreat that would combine all of the fun, adventure and support of a guided river expedition with daily opportunities for meditation and movement, personal reflection and a deeper connection with the natural world.
In 2017, her idea came to fruition on the Rogue River. Now, Heidi's meditation retreats, which have since been offered on various rivers of the West, have become one of OARS' core wellness trip offerings.
Here, Heidi shares more about the power of meditating outdoors, the benefits of silence in our lives, and why river trips are a perfect opportunity for people to take pause from their daily lives…
7 Questions with Mindfulness Expert Heidi Bourne
1) How did your meditation practice come about?
I came to meditation through yoga when my kids were teenagers. My husband and I had full work-lives, our kids had full school-lives, and I needed to find a way to manage the impacts of the non-stop busyness of the day-to-day. As I learned to meditate, I found that the simple (though not easy) practice of pausing, breathing, and turning my awareness inward was a highly effective way to decrease my stress, regulate my nervous system, and come back into balance. Over time I experienced the many benefits of meditation for myself, my family and even in my business. This led me to formal teacher training at UCLA in mindfulness facilitation. Since then, I've been teaching in a wide variety of public and private settings offering classes, series courses, mindfulness-based wellness programs, and nature retreats.
2) What prompted you to begin offering wilderness meditation retreats?
I knew early on in my meditation life that I wanted to connect contemplative practice with outdoor adventure, because the combination of the two brings out the best in me. To meditate outside—beside a river, inside a canyon, at the top of a mountain, or beside a tree in a meadow—it's a beautiful and powerful experience. It strengthens and supports my mind, body, and overall well-being. Equally important, I've found that the re-regulating effects of a wilderness meditation retreat has far-reaching positive impacts in my life overall.
3) Can you tell us more about the Insight Meditation tradition?
While Insight Meditation has its origins in Buddhist practice, it has been widely secularized as 'mindfulness' and the practice of Mindfulness Meditation. It is about cultivating presence of mind—an open, curious, responsive, effective, skillful mind that is steady, balanced and clear.
4) Why is a river trip such an ideal opportunity for people to take pause from their everyday lives?
Taking a pause from the responsibilities of one's everyday life is essential for ongoing well-being. While everyone has responsibilities on a river trip, they're simple, and that simplicity in and of itself can be a relief. Couple that with the exhilaration of being on the river, and it becomes an ideal opportunity for rejuvenation.
5) What's one of the most memorable experiences you've had on the river?
On the Yampa, at Harper's Corner, there is a place where we climbed up to a magnificent rock ledge with huge, tall walls behind us and did early morning silent yoga and meditation. The experience of being on that ledge with 15 people in silence as the sun rose and slowly warmed our bodies is unforgettable. As we sat and looked out across the river at the sandstone formations a palpable sense of awe infused everything.
6) What can people expect if they join you for a meditation retreat on the river?
People can expect fun and joy, peace and quiet, adventure and challenge—the full range of experience. The folks who are drawn to my trips are typically drawn to contemplative time in nature. The focus is on settling into the rhythm of the natural world through being on the river, hiking in the canyons, interacting with each other, and taking time for self-reflection. This includes a period of silence from after dinner through breakfast the next day. In anticipation of a trip, people often say, "Oh my God, Heidi, I cannot wait for the silence." When people are given the opportunity to be quiet, something shifts in them, they often find a new kind of peace. The power of silence in nature cannot be underestimated.
7) What do you hope people take away from their river experience with you?
A deep sense of connection to themselves, each other and the natural world. To know that peace is possible, and what I mean by that is, being present for those moments when the tension releases, the stress dissipates, happiness becomes real.
---
Photos: Heidi Bourne in Grand Canyon; OARS yoga and wellness trip on the Yampa River – Taylor Miller
---
By Logan Bockrath
3 Min.Watch
By Dylan Silver
3 Min.Read
By Logan Bockrath
2 Min.Watch
Sign up for Our Newsletter