Wildfire on the Salmon River: Rafting Through the Dixie-Jumbo
By Emma Walker
5 Min. Read
One of the first few times I camped with my now-husband, he asked me to make sure we'd packed firewood. I stared at him blankly: I grew up in arid Colorado, where there's almost always a fire ban. When I was a kid, every summer brought stories about forest fires ignited by sparks from train tracks or careless campers.
I've lived most of my life in the Intermountain West, where forest fires are always part of the narrative. Most Augusts, particularly those following low-snow winters, poor air quality keeps everyone cooped up inside for a few hazy days. A season so smoky that ash falls from the sky used to be memorable, but as climate change accelerates, it seems like the summer air in Boise, where I live, is thick with smoke more often than not. So when my family started planning a Main Salmon River rafting trip with OARS, I assumed there'd be fires nearby—this is summer in Idaho we're talking about.
It hadn't occurred to me that there might be a fire on the Main Salmon itself, but ten days before our trip, lightning struck a hillside downstream from Big Mallard Rapid (about 37 miles from the put-in at Corn Creek), resulting in the Dixie Fire. The following day, another lightning strike ignited the neighboring Jumbo Fire. We started keeping an eye on daily updates on the Dixie-Jumbo Fires from the National Wildfire Coordinating Group.
As our launch date grew closer, my family's group text thread became a flurry of activity. Would the Forest Service close the river to recreation? If not, would OARS still run our trip?
The night before our launch, our group gathered in McCall to meet our lead guide, Dan. We clearly weren't the only ones who'd been following the Dixie-Jumbo: Dan addressed the fire danger right away, and explained that OARS was prepared for rapidly changing conditions on the river. His talk was reassuring, but I still felt uneasy at the prospect of being in remote wilderness that close to an active fire, especially when I learned that Dixie-Jumbo had grown by more than 2,000 acres in the previous 24 hours.
Once we pushed the boats off at Corn Creek, my worries melted away. The air was a little smoky, but it was easy to ignore: after two years of planning, we were finally on the Main Salmon to celebrate my dad's 60th birthday. I looked across the paddle raft at him and he grinned. This was a pretty special way to ring in a milestone birthday.
On the third day of our trip, we pulled over for lunch at one of the Yellow Pine Bar camps. The old saying "where there's smoke, there's fire" rang eerily true: from here, we could see bright orange flames scattered across the hillside downstream.
Just as it really hit me that there was truly no way to continue except to row through the fire, our trip's cheeriest guide, Karen, gathered the guests for a natural history talk. People often think of fire as purely bad, Karen explained—a holdover from super-strict fire management policies of the early 20th century. These policies, which essentially amounted to preventing and suppressing fires, were a response to the Big Blowup of 1910, when a series of fires burned more than 3 million acres across Idaho, Montana, and Washington in two days.
This school of thought pervaded until the 1960s, when ecologists showed that fires have a crucial role in forest ecology. Without them, a forest landscape can become a tinderbox. When lightning inevitably strikes, a fire that might have been managed without burning down any structures can become nearly impossible, and certainly resource-heavy, to contain. And it's not just fire that's affected—some trees reproduce with serotinous cones, which need fire to melt a protective resin and allow them to release their seeds. As Karen ebulliently explained all this, I watched the flames downstream as they flickered in the breeze. I hadn't thought of it this way before, but this force I'd always thought of as destructive and scary was mesmerizing.
After lunch, we rowed through more of the Dixie-Jumbo. I'd imagined a wall of flames, but this was nothing like the inferno I'd pictured. Along the shore, were burned-out husks of dirt, where trees' root systems had very recently been, still smoldering. Every now and then, a standing dead tree would still be in flames; just feet away, another tree might remain untouched.
At Allison Ranch, where the Forest Service had instructed boaters to stop and check the status of their campsites, our guides learned that we could camp at Gaines Bar. The camp was literal scorched earth: fire mitigation crews had been through to do a controlled burn. This meant the grass beneath our feet was seared to a crisp, and while it didn't make for very aesthetic camping, it also meant there was no fuel for the fire to burn. If the Dixie-Jumbo came roaring down the hillside above our camp, it'd be stuck at the edge of the controlled burn. Paradoxically, this was a very safe place to camp. I didn't envy our guides at having to make this decision, but in truth, we'd all signed on for this possibility. This has always been a possibility out West, and with more extreme climate change in our near future, experiences like this one are a new reality.
My husband and I walked over to the grave of Reho Wolfe, who's buried just downstream from her homestead. It occurred to me that fires were likely a yearly concern for her, too, but it didn't stop her from carving out a life on the banks of the Main Salmon. As we walked back to camp, little puffs of ash billowing from beneath our Chacos at every step, I realized I was almost excited, or at least that I felt profoundly lucky. After all these years of living near wildfire, I was getting to experience one in an intimate way. It's hard to imagine a more authentic out-West experience than that.
---
Photos: Emma Walker and Nancy Linenschmidt, guests on this July 2021 Main Salmon rafting trip
---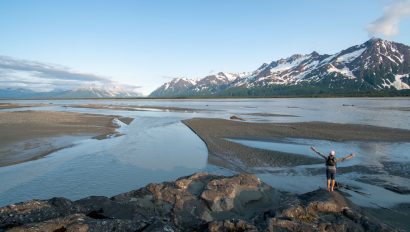 By Jasmine Wilhelm
5 Min.Read
Sign up for Our Newsletter