Colorado River Rowing Clinic
Location
Utah
Adventure Level
Challenging
Minimum age
18 (16 with parent/guardian also in the class)
From
$2099
Learn to guide an oar raft down the Colorado River with the company twice named "The Best River & Sea Outfitter On Earth" by National Geographic Adventure.
Born of snowpack high in the Rocky Mountains, the Colorado River surges its way south and west into the state of Utah, its rock-shaping power among the defining characteristics of spectacular Canyonlands National Park. Being outside of the high-water season, Cataract Canyon in August is a great venue for this Colorado River Rowing Clinic since the trip offers both scenic flatwater ideal for your first time "getting behind the oars," as well as Class II-IV whitewater which will offer opportunities to not only row some whitewater but also "see how the pros do it."
No prior outdoor or whitewater rafting experience is necessary to participate in the OARS Colorado River Rowing Clinic. Our experienced river guides, all with whitewater rescue training and extensive guiding experience, will teach you how to maneuver oar rafts in beginning to intermediate whitewater, as well as the many techniques and skills needed to successfully lead multi-day river trips.
This 6-day floating whitewater clinic is appropriate for:
Anyone interested in working as a professional whitewater rafting guide
Parties interested in guiding their own private river trips
Anyone who appreciates experiential learning or an active vacation experience and is interested in whitewater and river safety
We'll spend our days progressing downriver; learning and practicing essential river trip skills, and camping at different locations on the Colorado River each night. Instruction and hands-on learning occur both on the river and in camp.
Why sign up for the Colorado River Rowing Clinic with OARS?
OARS has been a leader in the whitewater industry since 1969
We use top-notch, well-maintained equipment and set the gold standard in safety
We keep our trips small (1 guide for every 4 guests) to provide plenty of personal attention to participants
Our experienced, well-rounded guide instructors are personable, approachable and the best in the business
We are committed to treading lightly on the environment
Outside magazine, National Geographic Traveler, MSNBC, Good Morning America, Condé Nast Traveler, and Men's Journal have all recognized OARS as offering some of the "Best Trips" on the planet
Start Your Career as a River Guide
While OARS' rowing clinics are ideal for anyone looking to learn something new or develop their whitewater rowing skills, our whitewater guide school programs are better suited for aspiring river guides with no prior experience. If you're an experienced guide and would like to get your foot in the door with OARS, we encourage you to read our Hiring and Guide School FAQs and fill out an employment application.
Trip Highlights
Beginner whitewater rowing course for aspiring river guides & private boaters
Train on the Colorado River through Meander and Cataract Canyons
Learn basic rowing and rigging techniques from professional guides
Learn basic hydrology, boat-rigging, rowing, camp skills, and guest service skills
What to Expect
Itinerary & Map
Itinerary at a Glance
We pride ourselves in running a relaxed and flexible schedule. Every Colorado River Rowing Clinic is different depending upon the group, other trips on the water, camp locations, and sometimes the weather. The following is a sample of what your trip might be like:
The Day Before Your Trip
We'll meet this evening for a pre-trip orientation in Moab, UT. This is an opportunity to meet your fellow travelers and guides and ask any last-minute questions.
Day 1
Your guides will give you a quick tour of the warehouse to demonstrate some of the systems OARS employs to run our multi-day operation. This will conclude with some training and discussion on how to secure the rafts and equipment for highway transportation, before driving to our put-in on the Colorado River at the Potash boat ramp.
Once at the river, we'll teach how to unload all of the equipment in an efficient manner, as well as how to rig and organize the boats. Our adventure begins with some on-river instruction in the calm and scenic waters of Meander Canyon. This stretch is the perfect backdrop for two key instructional themes, especially for rafting on the desert rivers of the Colorado Plateau: flatwater rowing techniques and packaging rafts for floating as a group with or without a motor assist.
We'll cover some miles on the first day, likely stopping for a short hike to see some 250-million-year-old petrified wood. By afternoon, we'll reach camp and set up our first river kitchen.  In addition to proper hygiene in camp, guides will discuss the fine art of how to plan for and cook delicious meals in the wilderness while touching on other important topics like cooler management, dietary considerations, and best practices for safe food service. 
As the sun sets behind towering canyon walls, we'll enjoy formal and informal opportunities to learn more about rafting as we congregate together in camp chairs.
Days 2 – 3
After coffee and breakfast each morning, we pack up our belongings, and then we'll discuss and practice boat rigging. Mornings in Meander Canyon usually offer calm conditions that are perfect to refine rowing technique and the skill of staying in the current in flatwater sections. Everyone will have the opportunity to get behind the oars. 
Every day there will be sufficient time for questions and discussions during our lunch stops, as well as in the evenings during classroom instruction sessions when we'll dive into whitewater topics from A to Z.
You'll return from the Colorado River Rowing Clinic with a better understanding of:
Reading whitewater, route selection, and maneuvering oar rafts in Class II-IV whitewater

Raft rigging/de-rigging and knot tying

River signals and how to communicate with your crew

Camp skills – setting up a safe/comfortable camp, food handling/preparation, and minimum impact strategies, including 7 Principles of Leave No Trace

Tying up and anchoring boats

How to handle wildlife encounters & pesky critters

Multi-day group dynamics and team problem solving

Basic river rescue & emergency procedures

Equipment care and maintenance

Basic outboard motor use & safety

River etiquette
As we make our way through Meander Canyon, the river winds through the Loop—an exceptional example of the river's convoluted twists and turns and a venue for a great hike—before we reach the confluence with the Green River. In order to get to the whitewater sooner, we may elect to package the rafts together and use a motor assist in the often windy afternoons. With the rafts packaged together, we'll be able to continue group instruction and discussion.
We'll then reach The Confluence, signaling the beginning of Cataract Canyon and we'll try for one of the great campsites in the upper reaches of Cataract Canyon. We won't let the mesmerizing spectacle of a billion bright stars keep us awake too late, wishing to be well-rested for the days to come.
Days 4 – 5
We'll begin each day like normal with hot coffee, tea, and a hearty breakfast but we'll notice a change: the soothing calm of Meander Canyon will be replaced with the excitement of the stellar rapids of Cataract Canyon. This mighty stretch of the Colorado boasts ~29 rapids in 14.5 miles and this high frequency of rapids is one of the things that makes Cataract Canyon at high flows a formidable undertaking. However, the flows we'll have in August make for an outstanding opportunity to learn about rowing in Class II-IV whitewater. Where appropriate, you'll be able to put your skills to the test rowing some whitewater. And you'll also be able to watch and learn as the pros run the crux rapids like Big Drop 2 and Big Drop 3.
Day 6
The last day will find us winding through the final dramatic miles of Cataract Canyon, where lofty cliffs rise 2,000 feet above us. There may be a few fun rapids left on this last morning before motoring the impounded waters of Lake Powell, held back by Glen Canyon Dam 180 miles or so downstream. This will be another great opportunity to have group discussions and instruction while the boats are packaged together. 
After a final lunch on the river, we'll reach our take-out at Hite Crossing where we'll say goodbye to our guides. A splendidly scenic 3.5-hour drive will bring us back to Moab, arriving between 5:30-6:30 PM.
Meeting Time & Place
Location
Moab, UT
Meeting time
6 PM, the evening before your trip
Return
Approximately 5:30 – 6:30 PM to Moab
Trip Map
Dates & Prices
20% discount off regular price for active military personnel, emergency first responders, and students with a valid university ID!
| 2024 Departures | Price |
| --- | --- |
| August 11 | $2,099 |
Deposit
$800
Additional Costs
• Sleep Kit $40 | Tent included
*Prices subject to National Park Service review
The Need-to-Know Info
Trip Details
Included in Your Trip Cost
Skilled professional guide service
Catered camping: All meals from lunch on day 1 through lunch on the last day
Expedition equipment, including highest quality rafts, 2-person shared tent, personal flotation device (PFD), helmet, waterproof bags, camp chair, as well as eating utensils, plates, and cups
All transportation from day 1 through the last day
Not Included in Your Trip Cost
Transportation to and from Moab
Pre- and post-trip accommodations and meals
Sleep kit: sleeping bag, pillow & a deluxe 3-inch thick air-filled sleeping pad (available for rent)
Insurance of any kind, including a travel protection plan
Alcoholic beverages
Gratuities
The number and variety of boats on an OARS trip will vary based on water levels, the number of participants, and other factors we take into account when planning your adventure. Please be aware that in doing so we will ask you to share boat time with your fellow travelers. The rowing clinic will take place in oar rafts as learning/enhancing rowing skills is the focal point of this trip. Learn more about the OARS Fleet.
After each active day on the river, we pull ashore to camp for the night. Our first task is to unload the boats using a fire-line of crew and guests to expedite the process. Individuals then collect their waterproof bags and locate an area on the beach to camp for the night.
While you put up your tent, the guides will set up the kitchen and central dining/seating area with camp chairs. They will also locate a secluded area away from camp to set up the portable toilet, where privacy is assured.
As guides prepare dinner, hors d'oeuvres are served. This is an opportunity to relax, enjoy a drink if you wish, and reflect on the day with your fellow traveling companions.
In the morning, the first wake-up call lets you know that coffee, hot water for tea or cocoa, juice, fresh fruit, and cold cereal are ready. You can fill your mug and grab a bite, then begin to pack up your personal belongings and sleep gear as the guides prepare breakfast. After breakfast, the entire camp is broken down and packed up. Once the guides have all of the gear loaded back onto the boats, we'll head downstream to see what new adventures await us.
More info about Meals & Dietary Restrictions can be found on our Trip Resources page.
Average Air & Water Temperatures
| | Air (Day) °F | Air (Night) °F | Water °F |
| --- | --- | --- | --- |
| August | 96 | 64 | 75 |
Lake Powell
The dammed waters of Glen Canyon back up into the lower stretches of Cataract Canyon, with some 20-plus rapids still buried under water or sediment. With the wildly varying reservoir levels and changes in seasonal river flow, this stretch of the river is always in flux. The sheer depths within the Cedar Mesa & Honaker Trail formations are breathtaking, but camps become limited and are often on the sediment beds that used to be the bottom of Lake Powell when it was at full-pool. Reservoir levels and river flow will dictate how much time motorized assistance will be needed to navigate this last section.
Whitewater
The flow of the Colorado River through Cataract Canyon is generally unregulated, meaning no single reservoir controls the water level. The Colorado River can exhibit extreme variations in water levels at different times of the year, providing a whitewater experience for everyone.
In the high-water season of May and June, experienced whitewater enthusiasts delight in the huge waves and the famous "Big Drops," which at times can make even Grand Canyon's Lava and Crystal Rapids seem tame. This is some of the biggest navigable whitewater in the U.S. at peak flows. Later in the season, from July through October, as the water levels drop, this becomes a more moderate run with less intimidating rapids, suitable for learning how to row your own raft.
Before booking your trip with OARS, there are a few important considerations we'd like you to know about.
Physical Requirements: Your outdoor adventure will be an active participatory trip. Please inform us of any physical limitations you may have as soon as possible. If you exceed 260 pounds, please give us a call. Make sure you are exercising frequently in the months leading up to your trip and can meet our Essential Eligibility Criteria.
Whitewater Orientation: To increase your safety, we expect everyone to watch our Whitewater Orientation video before joining us.
Trip Forms: Each participant will need to complete the required trip forms within two weeks of making a booking. Refer to your confirmation email for the link to the online forms. If you prefer to fill out paper forms, please let us know right away. If you are reserving within 60 days of departure, your forms must be completed immediately to ensure we can properly plan for your trip.
Reservations and Deposits
A $400/person deposit is required at the time of booking. Deposits may be made by check, money order, or Visa/Mastercard (American Express and Discover incur a 3% processing fee). Prices are in US Dollars, and all payments must be made in US Dollars. Payment of the deposit establishes your acceptance of our complete Terms and Conditions. Individual departures and trip capacity are strictly limited by the managing agency. 
Canceling your trip after your deposit is processed will incur cancellation fees because OARS has absorbed costs on your behalf and will turn others away who would like to book the spaces we're holding for you. Final payment is due 60 days before departure. Accounts on which final payment has not been received 50 days before the departure date will be canceled without exception.
Cancellations and Refunds
Your deposit is fully refundable, less a 3% processing fee, for 7 days after you book when you submit a deposit 7 days or more before the final payment due date.
If you must cancel your reservation after the rescission period described above, your cancellation fee will be determined according to the schedule below. We regret we cannot make exceptions to the cancellation policy for any reason, including foul weather, poor air quality, wildfire activity, acts of terrorism, civil unrest, or personal emergencies. There is no refund for arriving late or leaving a trip early. For these reasons, we strongly urge you to consider purchasing a travel protection plan.
| Date of Cancellation | Cancellation Fee |
| --- | --- |
| 180 or more days before your trip | $50/person |
| 179 – 90 days before your trip | $100/person |
| 89 – 60 days before your trip | $200/person |
| 59 days or less before your trip | Full Fare |
Please note that different deposit/cancellation policies may apply for charter groups. Refer to the group organizer's confirmation email for details.
Canceled Trips
OARS reserves the right to cancel any trip due to insufficient registration or other factors that make the trip impractical to operate. In such instances, we will inform you at least 45 days before departure. Do not make nonrefundable travel arrangements unless you have spoken to your Adventure Consultant regarding the status of your trip.
If a trip must be canceled or postponed due to force majeure (factors outside the control of OARS), OARS will provide full credit for payments made toward future travel, or a refund less a 5% service fee plus any nonrefundable payments made on your behalf to 3rd-party suppliers. OARS will make good faith efforts to recover deposits made on your behalf to 3rd-party suppliers, however, we can't guarantee recovery of any or all of the advance payments made. OARS is not responsible for expenses incurred by participants in preparation for a canceled trip.
Transfers
If you need to move your reservation to a different trip during the same season, or to a credit account for the following year, there is a $25/person fee up until 90 days before departure for a one-time transfer of your payment. Transfer requests made 89 days or less before departure will be treated like a cancellation according to the schedule above.

O.A.R.S. Canyonlands, Inc. is an authorized concessioner of Canyonlands National Park
Ancestral Lands Acknowledgement
We respect and recognize that many of the river canyons on state and federal lands where we operate are the ancestral homes of indigenous communities. Where we operate on the Colorado River between the Potash Boat Ramp and Hite Crossing, we acknowledge the territories of the Ute, Pueblo of Canyonlands National Park, Southern Paiute, and the Navajo Nation.
For You
You May Also Like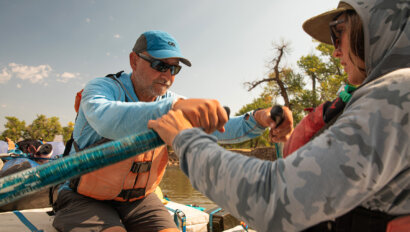 Location: Utah
Adventure Level: Moderately Challenging
Minimum Age: 18 (16 with parent/guardian also in the class)

Location: Utah
Adventure Level: Challenging
Minimum Age: 18 (16 with parent/guardian also in the class)

Location: Oregon
Adventure Level: Moderately Challenging
Minimum Age: 18 (16 with parent/guardian also in the class)

Can't Decide?
Use our Compare tool to find your perfect Adventure.