Truman Bjarke
Job Title
Professional River Guide
Current Location
Los Angeles, CA
Offseason Gig
Wannabe Theatre Pro
About me
I am passionate about music and singing. I am at my happiest whenever I'm in a cold, wet environment, kind of like a salamander. When I'm not working, I have another full-time job as a college student…it's a lot harder and less enjoyable, but it's alright. I am also an avid astronomy geek; not enough to know the science, but I do like the shapes!
The Best Part of My Job
The people and the experiences we can share together. I also enjoy seeing how a person can go from not digging it to planning their next trip, all in the same day.
How I found OARS
When I was a young child, my father took me on my first river trip, and there I caught the bug. I loved the camping and the water and the excitement of it all, so eventually, I found myself in Coloma doing OARS Guide School and got hired out of it.
My Favorite Spot on the River/Outdoors
The Big Kahuna on the Middle Fork; a giant, pretty wave that, if you camp right below it, you can go on the ride more than once. Good clean fun.
My Lucky Charm
Before a big rapid, I always give my helmet some test smacks for good luck. Gets me in the right headspace.
I Can't Live Without
Those Dot's seasoned pretzel snacks; always got them in my dry bag. They just taste so much better when soaked, and I get hangry, so it's good to have some reserves.
My Fun Fact
I can freestyle rap pretty well…. I also have a didgeridoo.
Meet me on these adventures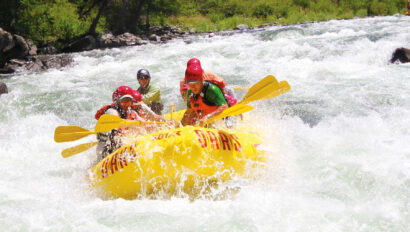 Location: California
Adventure Level: Moderately Challenging
Minimum Age: 14 (16 during high water)

Location: California
Adventure Level: Challenging
Minimum Age: 14

Location: California
Adventure Level: Moderately Challenging
Minimum Age: 14 (16 during high water)