Sean Sorrin
Job Title
Professional River Guide
Current Location
Poncha Springs, CO
Offseason Gig
Snowmobile Guide
About me
I love food, cooking and eating, and I used to own a company bottling gourmet salsa.
The Best Part of My Job
All of it.
How I found OARS
I took a job as a photographer on the Arkansas River, and within 2 weeks, I knew that I wanted to be a guide. I quit, went through guide school, and have been doing this my whole adult life. In 2013, my good friend Cmoore recruited me to OARS.
My Favorite Spot on the River/Outdoors
My favorite camp is probably Rippling Brook in the Gates of Lodore. It is just an all-around perfect camp.
Favorite River Tradition
On the Royal Gorge of the Ark, I always say hello to the river god, whose face is in the wall just above Sunshine Falls Rapid. The one time I didn't, my boat dump trucked.
I Can't Live Without
I don't really know; I have forgotten everything once.
My Fun Fact
I've been told that I know more jokes than most people.
Meet me on these adventures
Location: Colorado & Utah
Adventure Level: Moderately Challenging
Minimum Age: 7 (10 - 12 during high water)

Location: Utah & Colorado
Adventure Level: Moderate
Minimum Age: 7 (10 - 12 during high water)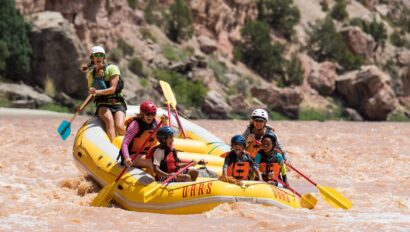 Location: Utah
Adventure Level: Easier to Moderate
Minimum Age: 6 (11 during high water)