Sally House
Job Title
Professional River Guide
Current Location
Oak Creek, CO
Offseason Gig
Ski Patrol at Steamboat Ski Resort
About me
When I'm not working on the river, you can find me skiing, mountain biking, gardening, or sewing beautiful and purposeful outdoor gear. In the winter, I work on the Steamboat Springs Ski Patrol and am starting to work with their avalanche rescue dog program.
The Best Part of My Job
Getting to share wild places with people from all over.
How I found OARS
I grew up with parents who were into rafting and a group of families that went on rafting trips. In 2007, I was looking for summer work and thought guiding would be a fun job, and started as a daily guide on the Arkansas. I found my way to OARS after taking some time out of the guiding world.
My Lucky Charm
I have a black dog sticker on my little ammo can that looks like my late dog (who loved rafting). The sticker looks like he is sniffing the breeze. I always make sure the sticker is facing forward on big rapid days.
I Can't Live Without
Good lotion and hand salve.
My Fun Fact
I have a degree in fashion design.
Meet me on these adventures
Location: Colorado & Utah
Adventure Level: Moderately Challenging
Minimum Age: 7 (10 - 12 during high water)

Location: Utah & Colorado
Adventure Level: Moderate
Minimum Age: 7 (10 - 12 during high water)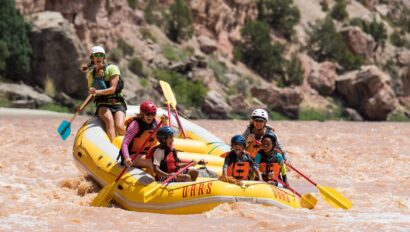 Location: Utah
Adventure Level: Easier to Moderate
Minimum Age: 6 (11 during high water)