Lee Bassett
Job Title
Professional River Guide
Current Location
Western Montana
Offseason Gig
Hunting, Hiking & Lumber-millin'
About me
Being outside is my greatest passion; I've been told I can't be comfortable unless I'm a little uncomfortable. So I'm pretty excited to be messing around in the snow at my little cabin in the mountains in Montana.
The Best Part of My Job
There are many great things about my job; the places we go, the folks I work with, but if I had to narrow it down to a favorite it would be the white water excitement....dropping into a big rapid is a thrill that's hard to recreate.
How I found OARS
It was one of those weird lucky coincidences in life where one strange day sends ya on a path you never would have gone down...but you're happy you landed where ya did.
My Favorite Spot on the River/Outdoors
My favorite rapid that I run on a regular basis would have to be Warm Springs on the Yampa. High water or low water it keeps ya guessing. My favorite place to spend my time when I'm on not on the river would be my cabin in Western Montana. It's a labor of love for sure.
My Favorite Trip Memory
Once there was a massive flash flood on the Green River at Rippling Brook camp and it was pretty memorable.
I Can't Live Without
Toothpaste and a toothbrush are my must haves.
Meet me on these adventures
Location: Colorado & Utah
Adventure Level: Moderately Challenging
Minimum Age: 7 (10 - 12 during high water)

Location: Utah & Colorado
Adventure Level: Moderate
Minimum Age: 7 (10 - 12 during high water)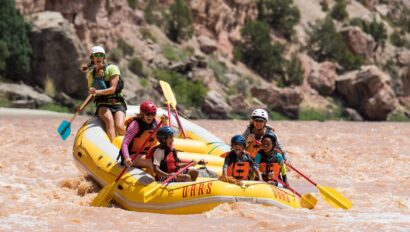 Location: Utah
Adventure Level: Easier to Moderate
Minimum Age: 6 (11 during high water)