Current Location
Vernal, UT
Offseason Gig
School Bus Driver
About me
I am an adventure seeker and nerd at heart. When I'm not driving a school bus or driving for oars, I'm traveling, seeing what the country (eventually the world) has to offer, or nerding out in my garden, planting, raising, and canning what I grow.
The Best Part of My Job
Definitely the people! From the guides to guests and everyone in between! OARS people know how to have fun!
How I found OARS
I came to OARS after a fellow bus driver asked what my summer plans were. I love my summer job! Meeting people from all over and sharing their excitement over their big river adventure!
My Favorite Trip Memory
My first time seeing the Gates of Lodore! Absolutely beautiful!
Meet me on these adventures
Location: Colorado & Utah
Adventure Level: Moderately Challenging
Minimum Age: 7 (10 - 12 during high water)

Location: Utah & Colorado
Adventure Level: Moderate
Minimum Age: 7 (10 - 12 during high water)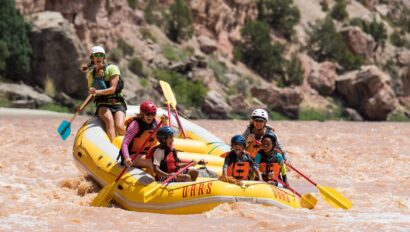 Location: Utah
Adventure Level: Easier to Moderate
Minimum Age: 6 (11 during high water)