Joelle Griffin
Job Title
Professional River Guide
Current Location
Cimarron, CO
Offseason Gig
Ski Guide & Ski Patrol
About me
Spending time with family and my dog. Also enjoy mountain biking and skiing.
The Best Part of My Job
I get to have fun and share my experiences with our guests and my amazing coworkers!
How I found OARS
Started in West Virginia, then moved West to the mountains. Fell in love with the multi-day rafting experience and was lucky to find OARS in September of 2009.
My Favorite Spot on the River/Outdoors
I will always love Warm Springs Rapid. I love getting the nerves on the scout and the big smiles at the bottom. Then there's Surprise to really get the giggles going on that fun hit!
My Favorite Trip Memory
Running Warm Springs on its peak in 2011.
Favorite River Tradition
I just ask the River Gods to keep us all safe before running a big rapid.
I Can't Live Without
My hat and sunglasses.
Meet me on these adventures
Location: Colorado & Utah
Adventure Level: Moderately Challenging
Minimum Age: 7 (10 - 12 during high water)

Location: Utah & Colorado
Adventure Level: Moderate
Minimum Age: 7 (10 - 12 during high water)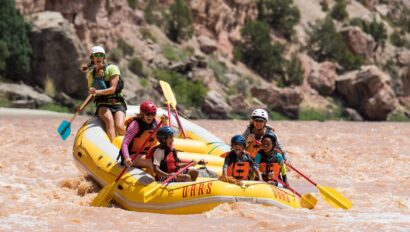 Location: Utah
Adventure Level: Easier to Moderate
Minimum Age: 6 (11 during high water)