Jacob Motsinger
Job Title
Professional River Guide
Hometown
Indian Trail, NC
Current Location
Whitefish, MT
Offseason Gig
Ski Lift Operator
About me
I love meeting new people and helping to create memories and experiences for people to remember. A difference in someone's life, whether big or small.
The Best Part of My Job
Getting to meet new people every day.
How I found OARS
By chance, I blindly took a job as a guide back in 2018 and haven't looked back since. I found OARS through the guiding community, as one of the most professional and broad river-running companies.
My Favorite Spot on the River/Outdoors
Split Rock on the Merced is probably my favorite rapid because it was one of the first Class IV rapids I got to paddle-guide and row.
My Lucky Charm
A hairband I wear on my wrist.
My Fun Fact
I have been a competitive swimmer ever since I was four and love to swim. It was the only skill associated with rafting that I had when I first started.
Meet me on these adventures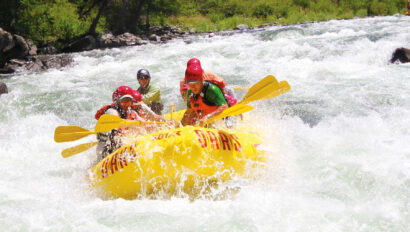 Location: California
Adventure Level: Moderately Challenging
Minimum Age: 14 (16 during high water)

Location: California
Adventure Level: Challenging
Minimum Age: 14

Location: California
Adventure Level: Moderately Challenging
Minimum Age: 14 (16 during high water)