Alaina Foster
Job Title
Moab Operations Manager
Current Location
Moab, UT
About me
Working for OARS quiets my itch to get out on the river. Though, I also enjoy rock climbing, woodworking, and spending lots of money to fix my truck...SIKE. Oh, and I can't forget long walks with my dog.
The Best Part of My Job
All the connections I make with folks from around the world.
How I found OARS
I quit my job in Oregon to raft the Grand Canyon and came off the trip with nowhere to go. So, I applied for OARS, and they adopted me!
My Favorite Spot on the River/Outdoors
My favorite stretch of river is Westwater Canyon. Lots of fun action pact rapids, yet it's short and sweet. It reminds me a lot of the Grand Canyon.
My Favorite Trip Memory
Flipping in Big Drop 2 on Cataract Canyon.
Favorite River Tradition
When I get nervous, I sing "Somewhere Over the Rainbow" to help calm my nerves.
I Can't Live Without
In the office: my dog. On a trip: my kite.
Meet me on these adventures
Location: Colorado & Utah
Adventure Level: Moderately Challenging
Minimum Age: 7 (10 - 12 during high water)

Location: Utah & Colorado
Adventure Level: Moderate
Minimum Age: 7 (10 - 12 during high water)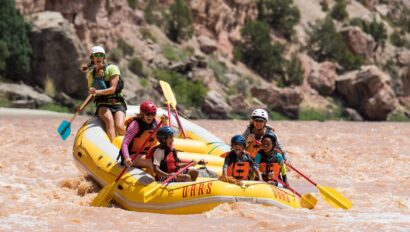 Location: Utah
Adventure Level: Easier to Moderate
Minimum Age: 6 (11 during high water)