Raft, zipline, and hike as you dive deep into the ancient land of the Incas on this unforgettable family-friendly Peru adventure vacation.
Travel back in time almost 600 years to the age of the Inca Empire on this seven-day multi-sport adventure that takes you from Cusco to the Sacred Valley. Raft the Class II-III Urubamba River, zipline on six different cables, and explore the fascinating archaeological remnants of the Inca civilization with our knowledgeable Peruvian guides. In addition to other notable ruins along the way, our trip includes a visit to Machu Picchu—the Lost City of the Incas—and two extraordinary nights at the renowned Machu Picchu Pueblo Hotel, where spacious two-room cottages provide families with plenty of space to relax and unwind.
Cultural Highlight
Visit Ollantaytambo market with your guide to shop for food before transferring to the Village of Cachiccata, where you will prepare a well-balanced breakfast for the local school children. This meal will supply energy and focus during a full day of school for the appreciative students. Take some time and relish in the smiles, laughter, and youthful energy!
Trip Highlights
Via ferrata and zipline tour in the Sacred Valley
Shop at a local market before breakfast & spend time with schoolchildren
Raft the Class II-III Urubamba River
Guided exploration of Machu Picchu & many other Inca sites
6 nights lodging
What to Expect
Itinerary & Map
Itinerary at a Glance
We pride ourselves in running a relaxed and flexible schedule. Every Peru adventure is different depending upon the group, other trips in the area, and sometimes the weather. The following is a sample of what your trip might be like:
Day 1
Arrive into Cusco: Afternoon City and Ruins Tour
Upon arrival at Alejandro Velasco Astete International Airport in Cusco, Peru, you will be greeted by an OARS representative and transferred to our hotel. 
The late morning and early afternoon are free to settle in, relax, and enjoy lunch on your own. We will meet later this afternoon for a city and ruins tour of Cusco before a lively welcome dinner with folk music, in great anticipation of the adventure to come. (D)
Day 2
Rafting the Urubamba River & Pachamanca
This morning we will drive from Cusco to the historic town of Pachar in the Sacred Valley of the Incas where we will arrive at the rafting base and start of today's adventure. We'll prepare with a safety briefing before starting our Urubamba River adventure through fun, Class II-III rapids including "El Resabaladero" (The Slide), a splashy wave train. We'll navigate fun whitewater and float through the Sacred Valley with views of the mountains and archaeological sites as we make our way toward Ollantaytambo.
After our exciting river adventure, arrive at the take-out, change clothes and relax and assist the chef in preparing a Pachamanca, a meal that means "Earth Pot" in Quechua. This centuries-old cooking technique is based on cooking ingredients buried in hot rocks underground with banana leaves separating the delicious food from the rocks and soil. The main ingredients are meats like lamb, chicken, and pork as well as potatoes, corn, and Andean aromatic herbs and spices. Vegetarians can be accommodated. Continue into the village of Ollantaytambo, considered the last gateway along the Inca Trail en route to Machu Picchu. Explore the village, its market, and Inca sites while learning the history of the surrounding area. We make it back to the hotel in time for dinner before parting ways for the night. (B, L, D)
Day 3
Volunteering, Via Ferrata and Ziplining
 We will visit the famous market in Ollantaytambo to purchase ingredients for a well-balanced breakfast that we'll prepare and serve for students at the Cachiccata School. Many guests like to bring school supplies, as well. You can purchase supplies at the Ollantaytambo market, helping to support local businesses or bring donated supplies from friends and family members back home. 
Take some time and relish in the smiles, laughter, and youthful energy! After playing games with the students, we will say farewell and continue to our next adventure.
 Via ferrata is a type of mountain climbing using a series of permanently installed ladders and cables to ascend a mountain while being clipped into a harness. No climbing experience is necessary, and after a safety briefing and familiarizing yourself with your harness and equipment, begin this unique experience and ascend nearly 1,000 feet up the face of the cliff. Enjoy lunch with a great view from one of the suspended capsules at the Sky Lodge. 
Descend via a series of six ziplines, suspended over the Sacred Valleys in an exciting finale of an action-packed day. Return to Ollantaytambo for dinner. (B, L, D)
Day 4
Choose your Andean Activity
Choose one of these morning activities that fit your interests.
VISIT TO THE COMMUNITY OF WILLOQ
Drive to the community of Willoq, where we will take a brief look into the daily life and activities of an Inca village. Learn about llama and alpaca grazing and lend a hand in planting or harvesting. Watch demonstrations of the local textile weavers to learn more about their intricate craft and use of natural dyes. Enjoy a lunch made from local organic ingredients from the community. 
BIKING THE SACRED VALLEY: FROM YANAHUARA TO OLLANTAYTAMBO INCA BRIDGE
A short drive takes us to the Paucarbamba bridge where we will receive a safety briefing and get fitted with a bike and helmet. Following a trail along the Urubamba River, we arrive at Pachar and join an ancient Inca Trail that passes through farming fields and Inca terraces. The biking is moderate, about two hours, covers 10 kilometers and is suitable for beginners. A box lunch is provided.
ANDEAN HORSEBACK RIDING SACRED VALLEY
Enjoy a half-day horseback trip under the snow-covered mountains, through Inca agricultural terraces, to the village of Cacchicata. Rider maximum weight limit: Max. 77 kg. (170 pounds). The riding is easy and suitable for beginners. You will ride for about two hours and cover around 10 kilometers. A box lunch is provided.
The group returns to Ollantaytambo for our coffee tour, where they will teach us the process of production, processing, and roasting of coffee. Visit a local distillery where each participant will be able to create their own "Andean Elixir" by mixing local herbs and spices with Peruvian spirits.
This afternoon take the Vistadome train from Ollantaytambo to Aguas Calientes, following the Urubamba River as it winds through the canyons descending towards Machu Picchu. Settle into your hotel and enjoy dinner in preparation for tomorrow's big day (B, L, D)
Day 5
Machu Picchu Guided Tour
We'll get an early start this morning to make the most of our time at Machu Picchu. Here, high above the Urubamba River, our guide will lead us on a tour of the extraordinary Lost City of the Incas. Our guided tour includes a ticket to hike to the top of Huayna Picchu, the iconic mountain behind Machu Picchu that offers iconic views of the ruins.
After lunch, we return to town, where you're free to spend the afternoon exploring and taking in the lively culture of this bustling little town. Or you may choose to immerse yourself in the beautiful surroundings of our hotel, home to fantastic bird watching, the world's largest native orchid collection, and much more. (B, L, D)
Day 6
Machu Picchu Pueblo (Aguas Calientes)
Much of the day is yours to spend as you please, whether relaxing or taking in activities such as another visit to Machu Picchu, bird watching, visiting the nearby orchid collections, or other activities offered by the hotel. Those choosing to go back to Machu Picchu must pay transport and entrance fees. You may also enjoy strolling the streets and shops of this quaint town or a visit to the local hot springs.
*Note that regulations limit the number of visitors to Machu Picchu, and therefore, if you wish to return this day, advance notice may be required to ensure a ticket to enter is available.
This afternoon we'll travel by train to Ollantaytambo and by vehicle back to Cusco. We'll check into our hotel and enjoy a farewell dinner at a local restaurant, toasting our incredible adventure. (B, D)
Day 7
Depart Cusco
You're free to enjoy Cusco at your leisure. We include one group transfer to the airport for departing flights. Later transfers can be arranged at an additional cost, or you're welcome to simply arrange a taxi. (B)
If you are arriving in Cusco early/departing at a later date, we can arrange additional tours of the area, airport transfers, and extra nights of accommodation. Contact your OARS Adventure Consultant for more details.
Meeting Time & Place
Location
Cusco, Peru
Meeting time
The morning of Day 1
Return
Anytime on Day 7
Trip Map
Dates & Prices
| 2023 Departures | Price |
| --- | --- |
| September 24 | $2,749 – $3,149 |
| October 8, 22 | $2,749 – $3,149 |
| 2024 Departures | Price |
| --- | --- |
| April 7, 21 | $3,370 – $3,980 |
| May 5, 19 | $3,370 – $3,980 |
| June 2, 16, 30 | $3,370 – $3,980 |
| July 14, 28 | $3,370 – $3,980 |
| August 11, 25 | $3,370 – $3,980 |
| September 8, 22 | $3,370 – $3,980 |
| October 6, 20 | $3,370 – $3,980 |
Price per person based on double occupancy and group size.
Deposit
$1000
Additional Costs
• Mandatory emergency medical & evacuation coverage
Single Supplement
2023 – $525
2024 – $785
The Need-to-Know Info
Trip Details
Included in Your Trip Cost
Skilled, professional guide service provided by our affiliate operator
6 nights lodging (based on double occupancy)
All meals as outlined in the itinerary (B-breakfast; L-lunch; D-dinner)
Airport arrival transfer on day 1 and one group transfer on day 7
All activities and related equipment as outlined in the itinerary
Machu Picchu entrance fees on day 5 (includes a ticket to hike Huayna Picchu)
Ground transportation as outlined in the itinerary
Not Included in Your Trip Cost
Flights to and from Cusco, Peru
Airport transfers outside days 1 & 7, and additional accommodation
Single supplement fee
Additional beverages at meals, such as soda and alcohol
Return to Machu Picchu on day 6 (entrance, transport, tickets for side hikes)
Insurance of any kind, including a travel protection plan or mandatory emergency medical & evacuation coverage
Medical immunizations (if necessary)
Gratuities
As we travel from Cusco to Machu Picchu and back, we will stay in several different hotels, including the Sonesta Hotel in Cusco, Pakaritampu Hotel in the village of Ollantaytambo, and Inkaterra Machu Picchu Pueblo Hotel. If unavailable at the time of our scheduled trip, we may book similar accommodations nearby.
Meals are provided as outlined in the itinerary. Breakfast, lunch, and dinner on days 2 through 5, plus breakfast and dinner on day 6 and breakfast on your final day. There are several opportunities to enjoy meals on your own at a local restaurant in town where we're staying.
We need to know as soon as possible about any dietary restrictions we must consider in planning your trip. If you have food allergies or necessary restrictions, we will do our best to accommodate your needs.
Peruvian Cuisine
Peru is known worldwide for its unique and varied cuisine. You will be able to experience a great variety of regional foods during your adventure. Peru's variety in cuisines is based on the ancient cultural traditions of the Incas and their predecessors, the diversity of its ecosystems, and the more recent influence of European and Asian culinary traditions. In the markets, you will discover a great festival of colors, aromas, and flavors.
The mountainous region is noted for a great variety of corn dishes. There are also countless offerings of potatoes due to Peru's vast variety of the tuber. Researchers believe that Peru is host to over 4,000 varieties of potatoes. Other flavorful offerings of this region include alpaca and guinea pig seasoned with Andean products such as chili peppers, goosefoot, black mint, or pampa savory. Regardless of where you are—urban or rural—you will be delighted by the incredible variety of traditional foods served.
The highlands of the Andes—the locale of Cusco, the Sacred Valley, Machu Picchu, and the Urubamba River—usually have very little rain from May to September and a rainy season that lasts from November to March, with heaviest rains in January and February. Temperatures remain fairly constant year-round with daytime averages in the upper 60s, and nighttime lows to the mid-30s. Please note that there are sudden temperature drops after sunset. Cusco is 11,200 feet above sea level and the Sacred Valley area is from 7,000-9,000 feet above sea level.
Average High/Low Temperature & Rainfall for Cusco:
| | Temp. °F | Rainfall | | Temp. °F | Rainfall |
| --- | --- | --- | --- | --- | --- |
| January | 68/46 | 6.1″ | July | 68/34 | 0.3″ |
| February | 68/46 | 4.7″ | August | 69/37 | 0.4″ |
| March | 68/46 | 4.4″ | September | 71/41 | 0.5″ |
| April | 69/43 | 1.6″ | October | 71/44 | 1.8″ |
| May | 70/38 | 0.3″ | November | 71/45 | 3.0″ |
| June | 69/35 | 0.7″ | December | 70/46 | 4.5″ |
Average High/Low Temperature & Rainfall for Aguas Calientes:
| | Temp. °F | Rainfall | | Temp. °F | Rainfall |
| --- | --- | --- | --- | --- | --- |
| January | 65/42 | 5.9″ | July | 66/32 | 2.0″ |
| February | 65/42 | 7.6″ | August | 66/34 | 2.5″ |
| March | 66/42 | 6.6″ | September | 68/39 | 3.5″ |
| April | 66/41 | 6.1″ | October | 68/41 | 4.7″ |
| May | 66/36 | 3.2″ | November | 68/42 | 6.1″ |
| June | 66/32 | 3.1″ | December | 68/42 | 6.2″ |
Increasingly popular with our repeat travelers, our multi-sport adventures are an easygoing way to explore—combining rafting and hiking with other fun-filled activities that take advantage of the best this region has to offer.
In addition to rafting and a via ferrata and ziplining tour, much of our time on the Machu Picchu Explorer will be spent on foot, walking through markets, archaeological sites and ruins, terraces, city streets, and more. You even have the option to choose your own Andean adventure to get the most out of your trip, with a cultural exploration of the community of Willoq, an active bike ride from Yanahurra to the Ollyantaytamobo Inca Bridge, or leisurely taking in the beauty and serenity of the Sacred Valley by horseback. This trip is perfect for travelers who enjoy a variety of adventurous activities and are eager for sites and stories of the history and mystery surrounding ancient Peruvian civilizations. Every day brings us to another fascinating location.
Important Info About Traveling at High Altitude
This trip includes time spent at high altitudes. Cusco is 11,200 feet above sea level and the Sacred Valley is from 7,000-9,000 feet above sea level. We design each of our trips for adequate altitude conditioning in the early part of the journey. However, be forewarned that there are no guarantees that your body will acclimatize properly. It is a good idea to come prepared with proper elevation sickness medicine, which can be prescribed by your local doctor before your trip.
Before booking your trip with OARS, there are a few important considerations we'd like you to know about.
Purchase Travel Protection: In order to take part in this trip, each participant must have a minimum of Emergency Medical Evacuation coverage in place for the dates of the trip. Learn more about the plan we recommend.

Essential Travel Documents: A passport is required for travel to Peru.
Physical Requirements: Your outdoor adventure will be an active participatory trip. Please inform us of any physical limitations you may have as soon as possible. If you exceed 260 pounds, please give us a call. Make sure you are exercising frequently in the months leading up to your trip and can meet our Essential Eligibility Criteria.
Whitewater Orientation: To increase your safety, we expect everyone to watch our Whitewater Orientation video before joining us.
Trip Forms: Each participant will need to complete the required trip forms within two weeks of making a booking. Refer to your confirmation email for the link to the online forms. If you prefer to fill out paper forms, please let us know right away. If you are reserving within 60 days of departure, your forms must be completed immediately to ensure we can properly plan for your trip.
Reservations and Deposits
A $500/person deposit is required at the time of reservation. Deposits may be made by check, money order, or Visa/Mastercard (American Express and Discover incur a 3% processing fee). Prices are in US Dollars, and all payments must be made in US Dollars. Payment of the deposit establishes your acceptance of our complete Terms and Conditions. Individual departures and trip capacity are strictly limited by the managing agency.
Canceling your trip after your deposit is processed will incur cancellation fees because OARS has absorbed costs on your behalf and will turn others away who would like to book the spaces we're holding for you. Final payment is due 90 days before departure. Accounts on which final payment has not been received 80 days prior to the departure date will be canceled without exception.
Cancellations and Refunds
Your deposit is fully refundable, less a 3% processing fee, for 7 days after you book when you submit a deposit 7 days or more before the final payment due date.
If you must cancel your reservation after the rescission period described above, your cancellation fee will be determined according to the schedule below. We regret we cannot make exceptions to the cancellation policy for any reason, including foul weather, poor air quality, wildfire activity, acts of terrorism, civil unrest, or personal emergencies. There is no refund for arriving late or leaving a trip early. For these reasons, we strongly urge you to consider purchasing a travel protection plan.
| Date of Cancellation | Cancellation Fee |
| --- | --- |
| 90 or more days prior to your trip | Deposit |
| 89 to 30 days prior | 50% of the trip price/person |
| 29 to 0 days prior to your trip | 100% of the trip price/person |
Requests to transfer a date will be treated as a cancellation, per the terms above.
Canceled Trips
OARS International and the outfitter Apumayo Expediciones reserve the right to cancel any trip due to insufficient registration or other factors that make the trip impractical to operate. Do not make nonrefundable travel arrangements unless you have spoken to your Adventure Consultant regarding the status of your trip.
If a trip must be canceled or postponed due to force majeure (factors outside the control of OARS), OARS will provide full credit for payments made toward future travel, or a refund less a 5% service fee plus any nonrefundable payments made on your behalf to 3rd-party suppliers. OARS will make good faith efforts to recover deposits made on your behalf to 3rd-party suppliers, however, we can't guarantee recovery of any or all of the advance payments made. OARS is not responsible for expenses incurred by participants in preparation for a canceled trip.
Our Machu Picchu Express trips are run by an affiliate company and arranged through O.A.R.S. International, Inc.
For You
You May Also Like
Location: Machu Picchu, Peru
Adventure Level: Challenging
Minimum Age: 12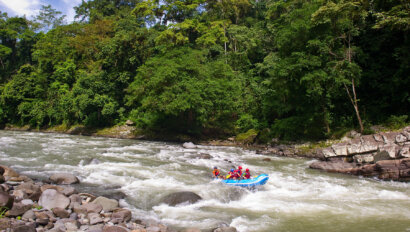 Location: Costa Rica
Adventure Level: Moderately Challenging
Minimum Age: 12

Location: Galápagos Islands, Ecuador
Adventure Level: Easier
Minimum Age: 8

Can't Decide?
Use our Compare tool to find your perfect Adventure.