"When I get back home, I can't wait to book my next rafting trip," Tracey told me. This was her first rafting and camping trip, and despite being a busy professional, hyper-connected to technology, and separated from her business, her experience on the incredible Rogue River in Oregon was amazing enough to inspire her to do it all over again.
After 5 days and 4 nights of rugged luxury rafting, she changed from an apprehensive first-time rafter, to a wilderness enthusiast.
I completely understood her enthusiasm. This was my first rafting trip, too. I loved the idea of spending more time in the mountains, but with 2 small children at home and a fear of adrenaline-rushing experiences, I put off the idea as too risky and hoped to do it "someday."
'Someday' Arrives
Fortunately, I had the opportunity to change that "someday" to "now" and joined a Rogue River rafting trip. As Dan, another member of our rafting trip told me one night while sitting in our camp chairs next to the hypnotic white noise of the river, "You need to live your own adventure — otherwise you'll end up telling other people's stories instead of your own."
Those words would stay with me for the duration of the trip.
There were 17 very diverse members of our group. There were brothers, the eldest at 75 years old, and his younger brother who walked with a cane from injuries incurred in the Vietnam War. There were two women, long time friends, in their mid-70's — one having been on many rafting trips herself, the other excited about being on her first. There were active young married couples, others with physical limitations, and even some single travelers.
Despite our differences, we quickly formed a tribe and connected over delicious camp meals with wine glasses in hand. Like many people who have never been on a rafting trip before, I made up the story of what it would be like and who it would be with without living the real experience. Reality was far more interesting.
The Preparation
There were three different types of rafts that we could choose from while running the river — an oar raft, a paddle boat led by a guide that had seats for six rafters, and inflatable kayaks. The level of effort you put into the rafting experience was similar to an exercise video with a selection of intensity levels — easy, moderate, and challenging. You were never pressured to go beyond your physical abilities.
After an instructional safety meeting with our expert guides, we were ready to paddle onto the Rogue. Helmets on and personal flotation devices snug, we pushed off. Within moments, as we were passing into the Wild and Scenic part of the trip under Grave Creek Bridge, one of the rafters in an inflatable kayak lost control and flipped into the river.
This is when the trip got real. As we were instructed, our guide blew three quick whistles, alerting our tribe that a rafter had become a swimmer. We paid close attention as our guide maneuvered the paddle boat to get the swimmer back to riding the rapids. While initially shocking, it was essentially an effortless non-issue with the guides keeping our trip safe.
Our guide had us lift our paddles in a glistening yellow peak above the paddle raft, "On the count of three —one, two, three — WILD AND SCENIC!" Our adventure got off to an exciting start.
The Magical Journey
We navigated the river through large canyons covered in a thick shag carpet of trees towering above us. We explored waterfalls surrounded by the shimmering emerald leaves of Alder trees, and had fun jumping off cliffs near turquoise pools of creek water. We had a nice mix of rafting time, relaxing moments during our meals, and dry time hiking the banks.
At the end of our days, our guides prepared our gourmet dinner. We sat back and, aside from effortless tent set up, enjoyed a work-free vacation. We delighted in an incredible dinner of ceviche, and caprese salad skewer appetizers paired with Pisco Sours, salmon moussaka entrees paired with Oregon wine, and crème brûlée with a wedge of dark chocolate perched on top. It was unbelievable that we were eating so well on the banks of the river.
After dinner, the early risers hit the sack while the night owls spent the evening laughing and discovering constellations under the starry night sky. Basking in the darkness never got old. We slept soundly, lulled by the waves of the Rogue.
My Own Stories to Tell
I decided to experience the single ducky on my own, paddling exhilarating rapids while Steelhead jumped out of the river next to me, and Osprey circled above watching their every move. The water was refreshing, and the adrenaline now addicting.
At camp, we noticed a black bear meander down from the opposite side of the river, snacking on wild blackberries and happening across a gigantic wild salmon in the water. He scooped it from the river and carried it to a rock, where we watched him eat his dinner — slowly savoring every bite and licking his lips. Meanwhile, we relaxed on the rocks sipping wine and craft beer, enjoying a real life National Geographic moment.
At the end of our rafting journey, people began telling stories of previous adventures to pass the time on the drive back to our cars, and Dan's words echoed in my mind — "You have to live your own adventure, otherwise you'll be telling other people's stories instead of your own." This was certainly not going to be my last wilderness trip, and the next time I go rafting, I'll be able to share my story about my adventure on the Rogue River.
"I went rafting down the wild Rogue River with OARS, and had this amazing adventure with bears, almost tipping a raft, and swimming through a rapid, all while eating incredible gourmet food …"
---
This essay was originally created for the OARS Adventures catalog. For more compelling stories from other renowned writers, request a copy of our most recent catalog today!
---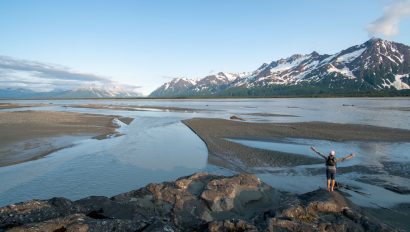 By Jasmine Wilhelm
5 Min.Read
Sign up for Our Newsletter